Protein expression profiling arrays: tools for the multiplexed high-throughput analysis of proteins
Received: 31 May 2003
Accepted: 10 June 2003
Published: 10 June 2003
Abstract
The completion of the human genome sequence has led to a rapid increase in genetic information. The invention of DNA microarrays, which allow for the parallel measurement of thousands of genes on the level of mRNA, has enabled scientists to take a more global view of biological systems. Protein microarrays have a big potential to increase the throughput of proteomic research. Microarrays of antibodies can simultaneously measure the concentration of a multitude of target proteins in a very short period of time. The ability of protein microarrays to increase the quantity of data points in small biological samples on the protein level will have a major impact on basic biological research as well as on the discovery of new drug targets and diagnostic markers. This review highlights the current status of protein expression profiling arrays, their development, applications and limitations.
Keywords
Antibody FragmentProtein MicroarraysSandwich ImmunoassayAttachment StrategyCapture Agent
Introduction
The analysis of the entire set of proteins of a biological system, commonly called proteomics, represents a research area that has emerged in the past decade as a largely technology-driven field [1–4]. Techniques like mass spectrometry in combination with separation tools such as two-dimensional gel electrophoresis or multidimensional liquid chromatography, allow for the parallel analysis of abundances of dozens to hundreds of proteins [5–7]. These techniques, however, are very labor intensive and require a significant amount of biological material. In particular, two-dimensional gel electrophoresis lacks the sensitivity to detect low abundance proteins.
These disadvantages of existing proteomics technologies have driven the development of novel miniaturized tools for the investigation of proteomes. An emerging technology in this field is the protein microarray [8–12]. Depending on the configuration, these arrays can measure protein expression levels, protein-protein interactions, protein-small molecule interactions as well as enzymatic activities. Protein expression profiling arrays are the most advanced in their development and therefore the major focus of this review.
The concept of protein expression profiling arrays was inspired by DNA microarrays, which enable the measurement of mRNA expression level of thousands of genes in a single experiment [13]. DNA microarrays have proven to be very powerful tools for the multiplexed comparative analysis of gene expression and led to important insights into gene expression patterns associated with disease states [14–20]. The possibility of performing similar analyses at the level of proteins – the functional products of almost all genes – is therefore very attractive.
There are, however, several reasons why DNA microarray technology cannot readily be adapted towards the development of protein microarrays. First, design and synthesis of gene-specific capture probes is straightforward since it is based on simple base-pairing rules and standard solid phase phosphoramidite chemistry, respectively. In contrast, the development of capture agents for protein arrays is far more complicated and requires significantly more time for development. Currently the preferred capture agents for protein expression profiling arrays are antibodies or antibody fragments, which have a very long and costly development time (see below). Furthermore protein expression levels span a huge range (up to 8 orders of magnitude). To avoid multiple measurements of the same sample at different dilutions, protein capture agents with different affinities have to be developed to address such dramatic differences in expression level.
Second, an appropriate surface attachment strategy has to be implemented to immobilize the protein capture agents onto the array while retaining their binding activity. Furthermore, during the dispensing and immobilization process, the proteins must remain hydrated to assure the integrity of their three-dimensional structures, an issue not relevant to the production of DNA arrays.
Third, especially for high density protein expression profiling arrays, novel detection schemes with adequate sensitivity are required to monitor the specific binding of proteins by the immobilized capture reagents on the microarray.
This review will summarize these issues and how they are addressed. Despite these limitations, impressive advances have been made towards the development of protein expression profiling arrays and several publications have been appeared over the last years showing the use and power of this technology.
Assay formats
The simplest protein array format consists of a large number of protein capture reagents bound to defined spots on a planar support material. This array is then exposed to a complex protein sample. The binding of the specific analyte proteins to the individual spots can then be monitored using different approaches (Figure
1
). In cases where the analytes have been pre-labeled with a fluorescent dye, the binding can be monitored directly using a fluorescence scanner. A major limitation of this assay configuration lies in the often disappointing sensitivity, which prohibits the measurement of low abundance proteins. More often, however, the classical antibody sandwich type format is used, in which two protein binding reagents simultaneously bind to the same antigen: one antibody is immobilized onto the surface, and the other one is fluorescently labeled or conjugated to an enzyme that can produce a fluorescent, luminescent or colored product when supplied with the appropriate substrate. The disadvantage of this sandwich assay format lies in the fact that two highly specific protein capture agents must be developed. The assay itself, however, is more reliable because direct sample labeling, which is not very consistent between samples, is not required. Furthermore this assay setup has been successfully used to monitor protein expression levels at physiologically relevant concentrations [
21
–
23
].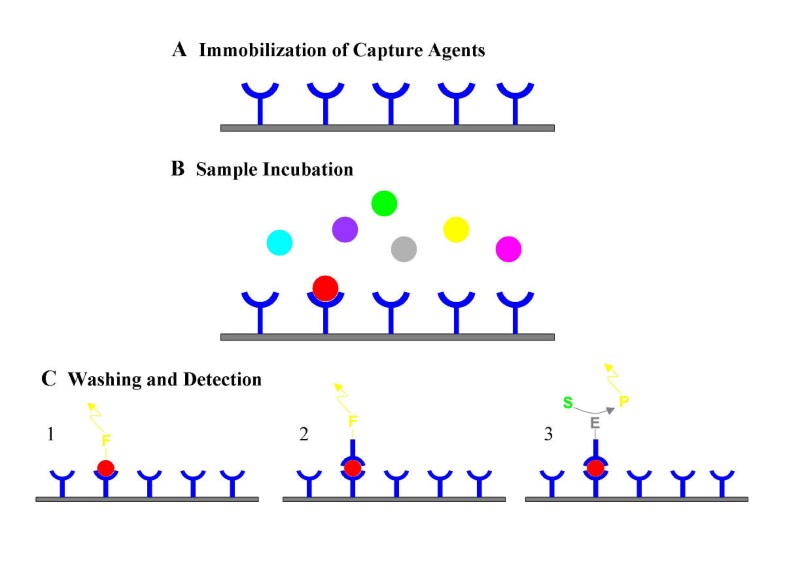 Conclusions
Since the initial conception of microspot assays [58], a variety of advances have been demonstrated for this platform to improve the multiplexing capabilities, reproducibility and sensitivity. In particular, the ongoing development of new techniques for the high-throughput production of protein capture reagents represents a key to the success of multiplexed protein microarrays assays. This technology platform, however, is still not at a stage where it could be compared with the commercial success of DNA microarrays. A few companies, such as Zyomyx, Ciphergen Pierce, Zeptosens, and BD Clontech have commercialized protein microarrays, but their applicability and competitive advantage over other, more macroscopic protein profiling platforms still needs to be proven.
Declarations
Acknowledgement
We would like to thank David Wilson for the critical reading of the manuscript.
Authors' Affiliations
(1)
Promab Biotechnologies Inc., San Leandro, USA
(2)
Infinity Pharmaceuticals, Cambridge, USA
Copyright
© Sydor and Nock; licensee BioMed Central Ltd. 2003
This article is published under license to BioMed Central Ltd. This is an Open Access article: verbatim copying and redistribution of this article are permitted in all media for any purpose, provided this notice is preserved along with the article's original URL.