The proteome of neural stem cells from adult rat hippocampus
Received: 7 May 2003
Accepted: 12 June 2003
Published: 12 June 2003
Abstract
Background
Hippocampal neural stem cells (HNSC) play an important role in cerebral plasticity in the adult brain and may contribute to tissue repair in neurological disease. To describe their biological potential with regard to plasticity, proliferation, or differentiation, it is important to know the cellular composition of their proteins, subsumed by the term proteome.
Results
Here, we present for the first time a proteomic database for HNSC isolated from the brains of adult rats and cultured for 10 weeks. Cytosolic proteins were extracted and subjected to two-dimensional gel electrophoresis followed by protein identification through mass spectrometry, database search, and gel matching. We could map about 1141 ± 209 (N = 5) protein spots for each gel, of which 266 could be identified. We could group the identified proteins into several functional categories including metabolism, protein folding, energy metabolism and cellular respiration, as well as cytoskeleton, Ca2+ signaling pathways, cell cycle regulation, proteasome and protein degradation. We also found proteins belonging to detoxification, neurotransmitter metabolism, intracellular signaling pathways, and regulation of DNA transcription and RNA processing.
Conclusions
The HNSC proteome database is a useful inventory which will allow to specify changes in the cellular protein expression pattern due to specific activated or suppressed pathways during differentiation or proliferation of neural stem cells. Several proteins could be identified in the HNSC proteome which are related to differentiation and plasticity, indicating activated functional pathways. Moreover, we found a protein for which no expression has been described in brain cells before.
Keywords
Neural Stem CellProtein SpotProtein Expression PatternMascot ScoreAdult Neural Stem Cell
Background
Stem cells are cells found in nearly all tissues [1], although generally in small numbers. They are defined by several unique properties [2, 3]: Stem cells are unspecialized cells, they are capable of dividing and renewing themselves for long periods of time, and they can give rise to many types of specialized cells, such as blood, nerve, and muscle cells. Whereas embryonic stem cells, which are derived from very early embryos, are totipotent – that is, they are capable of generating all types of cells in the body during normal development – adult stem cells have lost this potential. When adult stem cells differentiate, they seem to be restricted to produce cells from the tissue they originate, though there are recent publications suggesting a transdifferentiation potential [4–7].
Adult neural stem cells have been isolated from various regions of the adult mammalian brain, where the highest densities of neural stem cells have been found in the hippocampus, the subventricular zone, and the olfactory bulb [8, 9]. It seems that adult neural stem cells have the ability to develop into functional mature neurons [10]. These regions are of special interest as they reveal spontaneous neurogenesis throughout the entire lifetime, suggesting to play a functional role in physiological cell replacement in aging, learning and cognition, as well as proposing a therapeutic potential in neurological disease [5, 11, 12], including neurodegenerative disorders like Alzheimer's and Parkinson's disease, cerebrovascular insults such as stroke, or developmental impairments.
Although proteomic technology has been widely used with regard to different aspects of multiple neurological diseases [13, 14], neural stem cells isolated from the brains of adult mammals have not been subjected to profound proteome analysis. On the other hand, genome-wide approaches have been published recently which were analysing neural stem cells using DNA microarrays or differential display methods [15–18].
To elucidate the functional role of protein interaction in HNSC with regard to plasticity, proliferation, or differentiation, proteomics, based on high-resolution two-dimensional gel electrophoresis (2-DE) combined with mass spectrometry, is a useful tool. Prerequisite of any functional HNSC experiment is the knowledge of the cellular proteome which then allows assessment of differential protein expression. In the present study, we propose a reference database and reference map for neural stem cells from adult rat hippocampus.
Results
Protein expression standard pattern
The two-dimensional (2-D) standard pattern of HNSC isolated from adult rat brain is shown in Fig.
1
[see also
additional file 2
] as revealed by scanning, digitizing, densitometry, and image analysis. Each spot detected by the 2-D software was assigned a unique number to identify spots in a gel matching process. Spots of 5 different experiments were compared to a reference map. Technical replicates of gels from the same experiments showed a high reproducibility when run under the same electrophoretic conditions. In the 2-DE gels analysed, we could map an average of 1141 ± 209 (
N
= 5) protein spots representing the cellular proteome of HNSC, ranging from 967 to 2066 assigned protein spots. Thus we could create a proteome database of 2472 unique spots being present in at least 1 gel.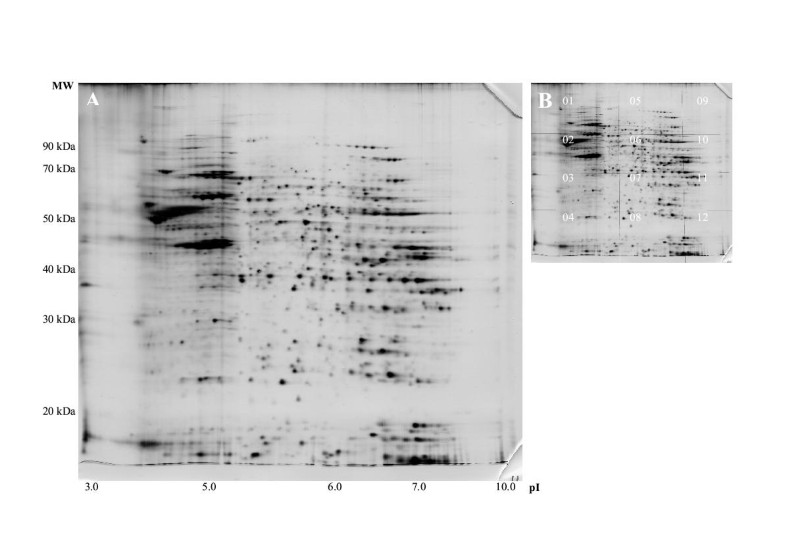 Protein identification
Of the 2472 unique spots in the HNSC database, we could identify 266 protein spots using MS, database search and subsequent gel matching, representing 109 individual proteins.
Table 1 [see additional file 1] lists the identified proteins with their respective SwissProt database accession number, which can be assessed via the internet URL http://www.expasy.ch/sprot, the NCBI GenBank accession number, which can be assessed via the internet URL http://www.ncbi.nlm.nih.gov/Entrez, and the theoretical and experimental pI and molecular weight. Additionally, we added the Mascot score results quantifying the identification probability of the fragment match [19]. A definition and interpretation of the meaning of the Mascot score can be found at the internet URL http://www.matrixscience.com. We have only included statistically significant Mascot score results (P < 0.05) in the table, protein spots with statistically not significant Mascot scores remained unidentified. For inclusion into the HNSC database, we then added only the protein search result with the highest Mascot score.
Classification of spot families
We grouped the identified proteins into several functional categories (Fig.
2
). Most proteins belonged to metabolism pathways, which include glycolysis, tricarboxyic acid cycle, amino acid metabolism, and protein synthesis. The second largest group comprised proteins involved in protein folding. Most proteins in this group were represented chaperones, chaperonines, heat shock proteins, and foldases. A third major group comprehended energy metabolism and cellular respiration, necessary for the cell's ATP turnover. The cytoskeletal group comprehended not only proteins constitutive for the cellular cytoskeleton like actin or tubulin, but also proteins modifying and rearranging the cytoskeleton.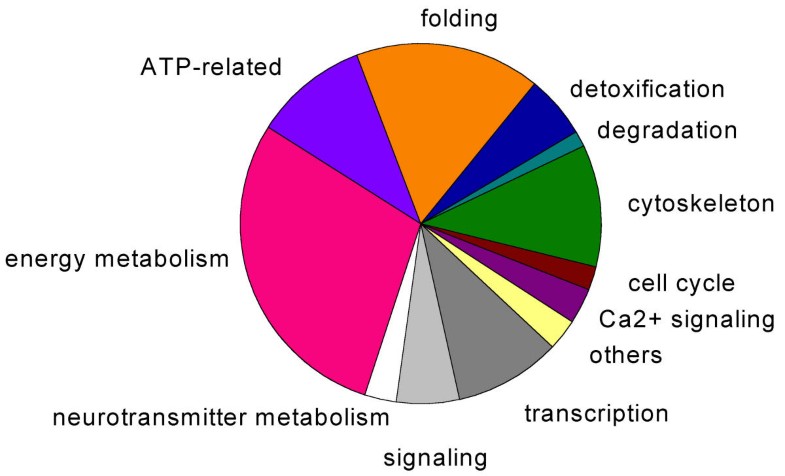 Several other proteins belonged to Ca2+ signaling pathways, cell cycle regulation, proteasome and protein degradation, detoxification, neurotransmitter metabolism with emphasis of glutamate and glycine metabolism, intracellular signaling mechanisms like protein kinase pathways, and regulation of DNA transcription and RNA processing.
Discussion
The aim of the present study was to establish a proteomic database for neural stem cells. We isolated neural stem cells from hippocampi of adult rat brains, as the hippocampal formation is a neurogenic region in the mammalian brain throughout the whole life [20–23], contributing to learning and memory processes.
To our knowledge, nothing is presently known about the cellular proteome of HNSC. With the exception of a preliminary study on human fetal cortical stem cells [24], where only two proteins, i. e. nestin and microtubule-associated protein MAP-2c, have been identified and described, there is no proteomic reference material for adult neural stem cells. Recently, data became available for a 2-DE study in mouse embryonic stem cells differentiated in vitro to neural phenotypes, where 24 protein spots could be identified [25]. In the present study, we describe a comprehensive picture of the HNSC proteome, and, looking into detail, we could identify nearly all of the most abundantly expressed proteins in the neural precursor cells and include these in the database.
Since no study has been performed investigating the protein expression pattern of neural stem cells, we matched our results with murine brain proteome databases. Several studies investigated murine brain proteomes [26, 27], and there is a certain overlap of proteins found both in neural stem cells and mature brain cells. Gauss et al. [26] set up a standard spot pattern for mouse brain consisting of 8767 spots, where they could identify 166 (2%) spots representing 90 different proteins. Tsugita et al. [27] mapped about 1188 spots in the mouse brain, of which 122 could be identified (10%), representing 61 different proteins. Compared to these studies, we could identify 266 out of 2472 protein spots (11%).
Moreover, we could identify additional proteins, which are characteristic to the precursor cells. These include the Neuronal Differentiation-Related Protein (NDRP) [28]. This protein is predominantly expressed in developing and regenerating sensory neurons and has been found in the embryonic retina and olfactory epithelium, as well as in perinatal dorsal root ganglia. Of note, NDRP is inducible in motor neurons after axotomy [28]. It contains 6 WD (tryptophan-aspartate) repeats, which can be found in proteins involved in signal transduction, RNA processing, gene regulation, vesicular traffic and regulation of cytoskeletal assembly and/or cell cycle [29, 30]. With regard to our data, this protein might be involved also in the generation of hippocampal neurons in neural progenitors during the process of differentiation.
We have identified another differentiation-related protein, the Phosphatidyl Ethanolamine-Binding Protein (PEBP) which is highly expressed in the brain but also a major component of epididymal secretions and sperm plasma membranes [31]. PEBP binds ATP, opioids and phosphatidylethanolamine and -with lower affinity-phosphatidylinositol and phosphatidylcholine. Similarity search has revealed that PEBP might be a serine protease inhibitor which inhibits thrombin, neuropsin and chymotrypsin but not trypsin, tissue type plasminogen activator and elastase. This protein was described as hippocampal precursor peptide stimulating cholinergic phenotypes in the developing brain in cooperation with nerve growth factor NGF, where it increases the production of choline acetyltransferase but not acetylcholinesterase [32, 33]. This effect seems to be mediated by a specific receptor [34]. Together with the finding of the present study, that PEBP is also expressed in HNSC, is concordant with the finding that hippocampal neural stem and progenitor cells have the ability to produce cholinergic neurons [35–37]. PEBP was associated with memory, learning disorders, dementia [38].
Additionally, we have found the expression of CAP1, or synonymously Sperm Protein SP22, in HNSC. This protein has not been described to be expressed in the brain, or nervous tissue before. This putative intracellular protease/amidase has been found originally in sperm, where it is thought to play a role in fertilization and development [39]. Speculating in neural progenitors, this protein could also contribute to cell differentiation and development.
In summary, this database includes a wide variety of the most abundantly expressed proteins of rat hippocampal neural stem cells. Therefore this database will serve as reference database for future stem cell proteomic experiments.
Conclusions
In the present study, we descibe a proteome database of neural stem cells isolated from adult rat hippocampus. This database provides a protein inventory which will allow to specify changes in the protein expression pattern due to specific activated or suppressed pathways during differentiation or proliferation of the stem cells. Therefore, the present database is a useful tool for further stem cell research.
Moreover, we have identified several proteins which are associated with pathways involved in differentation and plasticity, indicating a functional role for these proteins in HNSC. Additionally, the expression of the fertility protein CAP1 has not been described in brain cells before, indicating a role in cellular maturation.
List of abbreviations
2-D:

two-dimensional
2-DE:

two-dimensional electrophoresis
CHAPS:

3-[(3-cholamidoproplyl)dimethylammonio]-1-propanesulfonate
DTT:

dithiothreitol
HCNP:

hippocampal cholinergic neurostimulating peptide
HNSC:

hippocampal neural stem cell
IEF:

isoelectric focussing
MALDI-TOF:

matrix-assisted laster desorption/ionization-time of flight mass spectrometry
MS:

mass spectrometry
NDRP:

Neuronal differentiation-related protein
PEBP:

phosphatidylethanolamine-binding protein
SDS-PAGE:

sodium dodecylsulfate polyacrylamide gel electrophoresis
Declarations
Acknowledgements
We are indebted to Mrs I Keller, Mrs M Harlacher and Mrs T Lorenz for technical assistance. The authors thank C Hunzinger for mass spectrometry. This study was supported by the German Ministry for Education and Research (BMBF, Kompetenznetz Schlaganfall, B2).
Authors' Affiliations
(1)
Dept. of Physiology and Pathophysiology, University of Heidelberg, Heidelberg, Germany
(2)
Dept. of Anesthesiology and Critical Care Medicine, Faculty of Clinical Medicine Mannheim, University of Heidelberg, Mannheim, Germany
References
National Institutes of Health: Stem cells: a primer. 2000. [http://www.nih.gov/news/stemcell/primer.htm]Google Scholar
Hall PA, Watt FM: Stem cells: the generation and maintenance of cellular diversity. Development 1989, 106: 619–633.PubMedGoogle Scholar
Weissman IL: Stem cells: units of development, units of regeneration, and units in evolution. Cell 2000, 100: 157–168.PubMedView ArticleGoogle Scholar
Price J, Williams BP: Neural stem cells. Curr Opin Neurobiol 2001, 11: 564–567. 10.1016/S0959-4388(00)00250-6PubMedView ArticleGoogle Scholar
Tsai RY, Kittappa R, McKay RD: Plasticity, niches, and the use of stem cells. Dev Cell 2002, 2: 707–712.PubMedView ArticleGoogle Scholar
Vescovi A, Gritti A, Cossu G, Galli R: Neural stem cells: plasticity and their transdifferentiation potential. Cells Tissues Organs 2002, 171: 64–76. 10.1159/000057692PubMedView ArticleGoogle Scholar
Wulf GG, Jackson KA, Goodell MA: Somatic stem cell plasticity: current evidence and emerging concepts. Exp Hematol 2001, 29: 1361–1370. 10.1016/S0301-472X(01)00752-4PubMedView ArticleGoogle Scholar
Gage FH: Mammalian neural stem cells. Science 2000, 287: 1433–1438. 10.1126/science.287.5457.1433PubMedView ArticleGoogle Scholar
Okano H: Stem cell biology of the central nervous system. J Neurosci Res 2002, 69: 698–707. 10.1002/jnr.10343PubMedView ArticleGoogle Scholar
van Praag H, Schinder AF, Christie BR, Toni N, Palmer TD, Gage FH: Functional neurogenesis in the adult hippocampus. Nature 2002, 415: 1030–1034. 10.1038/4151030aPubMedView ArticleGoogle Scholar
Brüstle O, McKay RD: Neuronal progenitors as tools for cell replacement in the nervous system. Curr Opin Neurobiol 1996, 6: 688–695. 10.1016/S0959-4388(96)80104-8PubMedView ArticleGoogle Scholar
Abe K: Therapeutic potential of neurotrophic factors and neural stem cells against ischemic brain injury. J Cereb Blood Flow Metab 2000, 20: 1393–1408. 10.1097/00004647-200010000-00001PubMedView ArticleGoogle Scholar
Rohlff C: Proteomics in molecular medicine: applications in central nervous systems disorders. Electrophoresis 2000, 21: 1227–1234. 10.1002/(SICI)1522-2683(20000401)21:6<1227::AID-ELPS1227>3.3.CO;2-CPubMedView ArticleGoogle Scholar
Morrison RS, Kinoshita Y, Johnson MD, Uo T, Ho JT, McBee JK, Conrads TP, Veenstra TD: Proteomic analysis in the neurosciences. Mol Cell Proteomics 2002, 1: 553–560. 10.1074/mcp.R200004-MCP200PubMedView ArticleGoogle Scholar
Ivanova NB, Dimos JT, Schaniel C, Hackney JA, Moore KA, Lemischka IR: A stem cell molecular signature. Science 2002, 298: 601–604. 10.1126/science.1073823PubMedView ArticleGoogle Scholar
Pazman C, Castelli JC, Wen X, Somogyi R: Large-scale identification of differentially expressed genes during neurogenesis. Neuroreport 2000, 11: 719–724.PubMedView ArticleGoogle Scholar
Ramalho-Santos M, Yoon S, Matsuzaki Y, Mulligan RC, Melton DA: "Stemness": transcriptional profiling of embryonic and adult stem cells. Science 2002, 298: 597–600. 10.1126/science.1072530PubMedView ArticleGoogle Scholar
Burns CE, Zon LI: Portrait of a stem cell. Dev Cell 2002, 3: 612–613.PubMedView ArticleGoogle Scholar
Perkins DN, Pappin DJ, Creasy DM, Cottrell JS: Probability-based protein identification by searching sequence databases using mass spectrometry data. Electrophoresis 1999, 20: 3551–3567. 10.1002/(SICI)1522-2683(19991201)20:18<3551::AID-ELPS3551>3.0.CO;2-2PubMedView ArticleGoogle Scholar
Gage FH, Coates PW, Palmer TD, Kuhn HG, Fisher LJ, Suhonen JO, Peterson DA, Suhr ST, Ray J: Survival and differentiation of adult neuronal progenitor cells transplanted to the adult brain. Proc Natl Acad Sci USA 1995, 92: 11879–11883.PubMed CentralPubMedView ArticleGoogle Scholar
Johansson CB, Svensson M, Wallstedt L, Janson AM, Frisen J: Neural stem cells in the adult human brain. Exp Cell Res 1999, 253: 733–736. 10.1006/excr.1999.4678PubMedView ArticleGoogle Scholar
Eriksson PS, Perfilieva E, Bjork-Eriksson T, Alborn AM, Nordborg C, Peterson DA, Gage FH: Neurogenesis in the adult human hippocampus. Nat Med 1998, 4: 1313–1317. 10.1038/3305PubMedView ArticleGoogle Scholar
Antel JP, Nalbantoglu J, Olivier A: Neuronal progenitors-learning from the hippocampus. Nat Med 2000, 6: 249–250. 10.1038/73076PubMedView ArticleGoogle Scholar
Pearce A, Svendsen CN: Characterisation of stem cell expression using two-dimensional electrophoresis. Electrophoresis 1999, 20: 969–970. 10.1002/(SICI)1522-2683(19990101)20:4/5<969::AID-ELPS969>3.0.CO;2-FPubMedView ArticleGoogle Scholar
Guo X, Ying W, Wan J, Hu Z, Qian X, Zhang H, He F: Proteomic characterization of early-stage differentiation of mouse embryonic stem cells into neural cells induced by all-trans retinoic acid in vitro. Electrophoresis 2001, 22: 3067–3075. 10.1002/1522-2683(200108)22:14<3067::AID-ELPS3067>3.0.CO;2-VPubMedView ArticleGoogle Scholar
Gauss C, Kalkum M, Löwe M, Lehrach H, Klose J: Analysis of the mouse proteome. (I) Brain proteins: separation by two- dimensional electrophoresis and identification by mass spectrometry and genetic variation. Electrophoresis 1999, 20: 575–600.PubMedView ArticleGoogle Scholar
Tsugita A, Kawakami T, Uchida T, Sakai T, Kamo M, Matsui T, Watanabe Y, Morimasa T, Hosokawa K, Toda T: Proteome analysis of mouse brain: two-dimensional electrophoresis profiles of tissue proteins during the course of aging. Electrophoresis 2000, 21: 1853–1871. 10.1002/(SICI)1522-2683(20000501)21:9<1853::AID-ELPS1853>3.3.CO;2-PPubMedView ArticleGoogle Scholar
Kato H, Chen S, Kiyama H, Ikeda K, Kimura N, Nakashima K, Taga T: Identification of a novel WD repeat-containing gene predominantly expressed in developing and regenerating neurons. J Biochem (Tokyo) 2000, 128: 923–932.View ArticleGoogle Scholar
Smith TF, Gaitatzes C, Saxena K, Neer EJ: The WD repeat: a common architecture for diverse functions. Trends Biochem Sci 1999, 24: 181–185. 10.1016/S0968-0004(99)01384-5PubMedView ArticleGoogle Scholar
Li D, Roberts R: WD-repeat proteins: structure characteristics, biological function, and their involvement in human diseases. Cell Mol Life Sci 2001, 58: 2085–2097.PubMedView ArticleGoogle Scholar
Katada E, Mitake S, Matsukawa N, Otsuka Y, Tsugu Y, Fujimori O, Ojika K: Distribution of hippocampal cholinergic neurostimulating peptide (HCNP)-like immunoreactivity in organs and tissues of young Wistar rats. Histochem Cell Biol 1996, 105: 43–51.PubMedView ArticleGoogle Scholar
Ojika K, Mitake S, Tohdoh N, Appel SH, Otsuka Y, Katada E, Matsukawa N: Hippocampal cholinergic neurostimulating peptides (HCNP). Prog Neurobiol 2000, 60: 37–83. 10.1016/S0301-0082(99)00021-0PubMedView ArticleGoogle Scholar
Ojika K, Mitake S, Kamiya T, Kosuge N, Taiji M: Two different molecules, NGF and free-HCNP, stimulate cholinergic activity in septal nuclei in vitro in a different manner. Brain Res Dev Brain Res 1994, 79: 1–9. 10.1016/0165-3806(94)90043-4PubMedView ArticleGoogle Scholar
Morishita M, Otsuka Y, Matsukawa N, Suzuki H, Nakazawa H, Maki M, Katou H, Ueda R, Ojika K: Specific binding of 125I-hippocampal cholinergic neurostimulating peptide (HCNP) to rat brain membranes: characterization and regional distribution. Brain Res 2003, 965: 194–202. 10.1016/S0006-8993(02)04194-XPubMedView ArticleGoogle Scholar
Gray JA, Grigoryan G, Virley D, Patel S, Sinden JD, Hodges H: Conditionally immortalized, multipotential and multifunctional neural stem cell lines as an approach to clinical transplantation. Cell Transplant 2000, 9: 153–168.PubMedGoogle Scholar
Doering LC, Snyder EY: Cholinergic expression by a neural stem cell line grafted to the adult medial septum/diagonal band complex. J Neurosci Res 2000, 61: 597–604. 10.1002/1097-4547(20000915)61:6<597::AID-JNR3>3.0.CO;2-LPubMedView ArticleGoogle Scholar
Wu P, Tarasenko YI, Gu Y, Huang LY, Coggeshall RE, Yu Y: Region-specific generation of cholinergic neurons from fetal human neural stem cells grafted in adult rat. Nat Neurosci 2002, 5: 1271–1278. 10.1038/nn974PubMedView ArticleGoogle Scholar
Maki M, Matsukawa N, Yuasa H, Otsuka Y, Yamamoto T, Akatsu H, Okamoto T, Ueda R, Ojika K: Decreased expression of hippocampal cholinergic neurostimulating peptide precursor protein mRNA in the hippocampus in Alzheimer disease. J Neuropathol Exp Neurol 2002, 61: 176–185.PubMedGoogle Scholar
Welch JE, Barbee RR, Roberts NL, Suarez JD, Klinefelter GR: SP22: a novel fertility protein from a highly conserved gene family. J Androl 1998, 19: 385–393.PubMedGoogle Scholar
Ray J, Peterson DA, Schinstine M, Gage FH: Proliferation, differentiation, and long-term culture of primary hippocampal neurons. Proc Natl Acad Sci USA 1993, 90: 3602–3606.PubMed CentralPubMedView ArticleGoogle Scholar
Reynolds BA, Weiss S: Generation of neurons and astrocytes from isolated cells of the adult mammalian central nervous system. Science 1992, 255: 1707–1710.PubMedView ArticleGoogle Scholar
Bradford MM: A rapid and sensitive method for the quantitation of microgram quantities of protein utilizing the principle of protein-dye binding. Anal Biochem 1976, 72: 248–254. 10.1006/abio.1976.9999PubMedView ArticleGoogle Scholar
Ramagli LS: Quantifying protein in 2-D PAGE solubilization buffers. Methods Mol Biol 1999, 112: 99–103.PubMedGoogle Scholar
Görg A, Obermaier C, Boguth G, Harder A, Scheibe B, Wildgruber R, Weiss W: The current state of two-dimensional electrophoresis with immobilized pH gradients. Electrophoresis 2000, 21: 1037–1053. 10.1002/(SICI)1522-2683(20000401)21:6<1037::AID-ELPS1037>3.3.CO;2-MPubMedView ArticleGoogle Scholar
Berkelman T, Stenstedt T: 2-D Electrophoresis using Immobilized pH Gradients: Principles & Methods. 2 Edition Uppsala, Sweden, Amersham Biosciences 2002.Google Scholar
Link AJ: 2-D proteome analysis protocols. Totowa, NJ, Humana Press 1999.Google Scholar
Blum H, Beier H, Gross HJ: Improved silver staining of plant proteins, RNA ans DNA in polyacrylamide gels. Electrophoresis 1987, 8: 93–99.View ArticleGoogle Scholar
Gharahdaghi F, Weinberg CR, Meagher DA, Imai BS, Mische SM: Mass spectrometric identification of proteins from silver-stained polyacrylamide gel: a method for the removal of silver ions to enhance sensitivity. Electrophoresis 1999, 20: 601–605. 10.1002/(SICI)1522-2683(19990301)20:3<601::AID-ELPS601>3.3.CO;2-YPubMedView ArticleGoogle Scholar
Shevchenko A, Wilm M, Vorm O, Mann M: Mass spectrometric sequencing of proteins silver-stained polyacrylamide gels. Anal Chem 1996, 68: 850–858. 10.1021/ac950914hPubMedView ArticleGoogle Scholar
Castegna A, Aksenov M, Aksenova M, Thongboonkerd V, Klein JB, Pierce WM, Booze R, Markesbery WR, Butterfield DA: Proteomic identification of oxidatively modified proteins in alzheimer's disease brain. Part I: creatine kinase BB, glutamine synthase, and ubiquitin carboxy-terminal hydrolase L-1. Free Radic Biol Med 2002, 33: 562–571. 10.1016/S0891-5849(02)00914-0PubMedView ArticleGoogle Scholar
Tilleman K, Stevens I, Spittaels K, Haute CV, Clerens S, Van Den Bergh G, Geerts H, Van Leuven F, Vandesande F, Moens L: Differential expression of brain proteins in glycogen synthase kinase-3 transgenic mice: a proteomics point of view. Proteomics 2002, 2: 94–104. 10.1002/1615-9861(200201)2:1<94::AID-PROT94>3.3.CO;2-NPubMedView ArticleGoogle Scholar
Molloy MP, Herbert BR, Walsh BJ, Tyler MI, Traini M, Sanchez JC, Hochstrasser DF, Williams KL, Gooley AA: Extraction of membrane proteins by differential solubilization for separation using two-dimensional gel electrophoresis. Electrophoresis 1998, 19: 837–844.PubMedView ArticleGoogle Scholar
Copyright
© Maurer et al; licensee BioMed Central Ltd. 2003
This article is published under license to BioMed Central Ltd. This is an Open Access article: verbatim copying and redistribution of this article are permitted in all media for any purpose, provided this notice is preserved along with the article's original URL.