Proteome analysis of a recombinant Bacillus megaterium strain during heterologous production of a glucosyltransferase
Received: 10 February 2005
Accepted: 31 May 2005
Published: 31 May 2005
Abstract
A recombinant B. megaterium strain was used for the heterologous production of a glucosyltransferase (dextransucrase). To better understand the physiological and metabolic responses of the host cell to cultivation and induction conditions, proteomic analysis was carried out by combined use of two-dimensional gel electrophoresis and mass spectrometry (2-DE/MS) for protein separation and identification.
2-DE method was optimized for the separation of intracellular proteins. Since the genome of B. megaterium is not yet available, peptide sequencing using peptide fragment information obtained from nanoelectrospray ionization quadrupole-time-of-flight tandem mass spectrometry (ESI-QqTOF MS/MS) was applied for protein identification. 167 protein spots were identified as 149 individual proteins, including most enzymes involved in the central carbon metabolic pathways and many enzymes related to amino acid synthesis and protein synthesis. Based on the results a 2-DE reference map and a corresponding protein database were constructed for further proteomic approaches on B. megaterium.
For the first time it became possible to perform comparative proteomic analysis on B. megaterium in a batch culture grown on glucose with xylose induction for dextrasucrase production. No significant differences were observed in the expression changes of enzymes of the glycolysis and TCA cycle, indicating that dextransucrase production, which amounted to only 2 % of the entire protein production, did not impose notable metabolic or energetic burdens on the central carbon metabolic pathway of the cells. However, a short-term up-regulation of aspartate aminotransferase, an enzyme closely related to dextransucrase production, in the induced culture demonstrated the feasibility to use 2-DE method for monitoring dextransucrase production. It was also observed that under the cultivation conditions used in this study B. megaterium tended to channel acetyl-CoA into pathways of polyhydroxybutyrate production. No expression increases were found with cytosolic chaperones such as GroEL and DnaK during dextransucrase production and secretion, whereas a strong up-regulation of the oligopeptide-binding protein OppA was observed in correlation with an increased secretion of dextransucrase into the culture medium.
Keywords
Protein SpotCentral Carbon MetabolismFumarate HydrataseFutile CycleMegaterium Strain
Background
The Gram-positive bacterium B. megaterium has been proven as a promising host for the production of diverse heterologous proteins and vitamins due to its intrinsic favourable properties such as low protease activity and high secretion capability [1]. Using recombinant B. megaterium strains for the heterologous production of a glucosyltransferase, namely dextransucrase from Leuconostoc mesenteroides NRRL B-512F, has been under investigation and improved production and secretion of dextransucrase was achieved compared with the recombinant production of dextransucrase in E. coli [2]. Dextransucrase can be used to catalyze polymerization reactions leading to the production of dextran. Dextran is widely used as a blood plasma substitute or as a basic chromatographic support material.
To optimize the cell cultivation and the recombinant protein production processes, it is important to understand the physiological and metabolic responses of the host cell to the cultivation and induction conditions. To this end we carried out proteomic analysis with a recombinant B. megaterium strain. Unlike Bacillus subtilis, which is the best characterized Gram-positive bacterium with its genome already completely sequenced in 1997 [3] and comprehensive proteomic analysis has been since accomplished [4–6], the genome of B. megaterium has not yet been sequenced and to our knowledge no information on proteomic analysis of B. megaterium has been published. In this work for the first time proteomic analysis of a recombinant B. megaterium strain based on two-dimensional gel electrophoresis in combination with mass spectrometric techniques (2-DE/MS) for protein separation and characterization was carried out. Comparative proteomic analysis was performed to study cellular protein expression changes related to defined cultivation and induction conditions for the production of recombinant dextransucrase by the recombinant B. megaterium strain.
Results and discussion
1. Proteome mapping of the strain B. megaterium MS941dsrS by 2-DE/MS
Methods used for the proteomic mapping of
B. megaterium
are the characterization of protein expression changes by 2-DE and the identification of proteins of interest by MS. This is aimed at establishing a functional metabolic network of
B. megaterium
, especially those involved in the central carbon metabolism, amino acid biosynthesis and protein biosynthesis, as well as the identification of metabolic pathways and cellular processes closely related to the production and secretion of the recombinant protein. Figure
1
shows a typical image of 2-DE separation of intracellular proteins of
B. megaterium
in the pH range of 4–7. When 250 μg of a protein sample were applied, about 580 – 800 protein spots can be detected on the different gels after coomasie staining, The spots matching rates between individual gels were between 58% to 75%.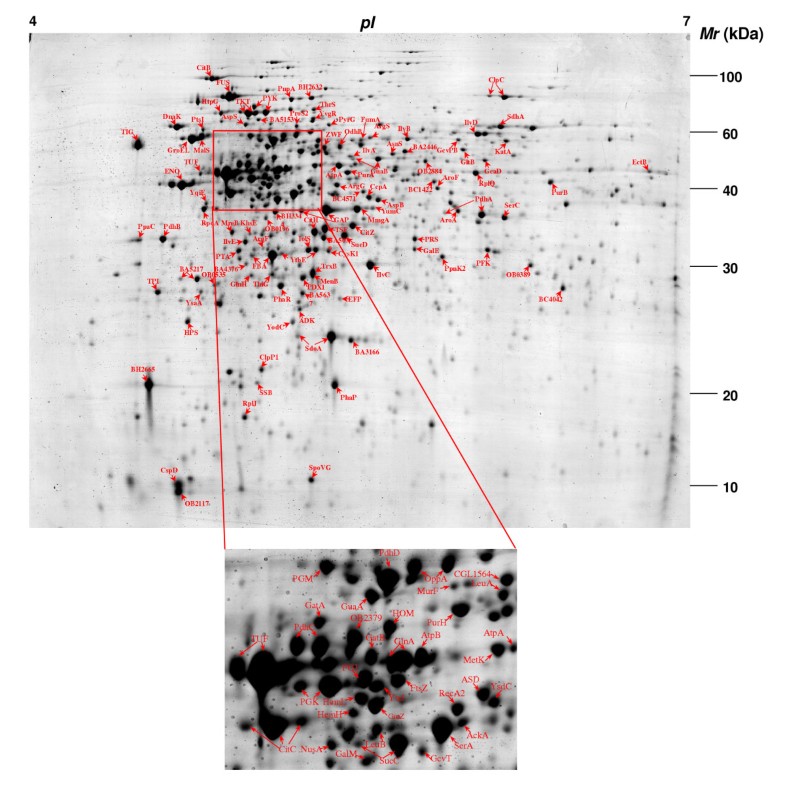 1.1 Peptide mass fingerprinting with MALDI-TOF MS
At present, the most straightforward and real high-throughput mass spectrometric method of protein identification is peptide mass fingerprinting. This approach of stringent matching of measured peptide masses with computer-generated masses relies, however, to a large degree on the availability of a completely sequenced genome of the investigated organism. Alternatively, if a protein of interest is not present in a database, peptide sequences deduced from tandem mass spectra can be employed for protein identification via sequence similarity searching. In this way a putative function can also be assigned to an unknown protein. Because of the rapid growth of completed genome sequences, it is becoming increasing possible to identify proteins of an unsequenced organism via sequence similarity searching, especially when sequences of organisms within the same kingdom or related species already exist in any of the public-accessible protein sequence databases [7–10].
In the case of B. megaterium its genome is not yet available. Up to now 76 protein sequences of B. megaterium can be found in the annotated protein database Swiss-Prot. However, only four of them are enzymes directly involved in the central carbon metabolic pathways, namely glyceraldehyde-3-phosphate dehydrogenase (GAP), 2,3-biphosphoglycerate-independent phosphoglycerate mutase (PGM), phosphoglycerate kinase (PGK) and triphosphate isomerase (TPI) for glycolysis. Another 215 protein sequences exist in the protein database TrEMBL, a computer-annotated supplement of Swiss-Prot http://www.expasy.org/sprot/. However, most of these proteins are hypothetical proteins and almost no enzymes of the central carbon metabolism or amino acid and protein biosynthesis are present. On the other hand, genome sequencing of several microorganisms from the genus Bacillus, i.e. B. subtilis [3], B. halodurans [11], Oceanobacillus iheyensis [12], B. anthracis [13], B. cereus [14] and recently B. licheniformis [15] have been finished. These Bacillus species show highly conserved orthologous genes, including those for central carbon metabolism and for amino acid and protein biosynthesis. In addition, as a model system of gram-positive bacteria the genome sequence of B. subtilis has been well annotated. Therefore, it is conceivable that the sequence information of these Bacilli can help the identification of unknown proteins of B. megaterium through sequence similarity searching.
At first, about 200 relatively highly expressed protein spots excised from 2-D gels were subjected to in-gel tryptic digestion and MALDI-TOF-MS analysis, followed by cross-species peptide mass fingerprinting against the protein sequence databases NCBInr and SWISS-PROT/TrEMBL. Regardless whether or not a constraint on species of origin was imposed, only 30 protein spots could be identified with significant scoring as 10 B.megaterium own proteins and 8 proteins showing high similarities to homologous proteins of other Bacillus species. Among the B.megaterium proteins identified are the four enzymes GAP, PGM, PGK and TPI present in the Swiss-Prot database.
1.2 Peptide sequencing with ESI-QqTOF MS/MS
The result indicates that the homology between B. megaterium and other Bacilli species with completed genome sequences are still not high enough for an unambiguous identification of most of the unknown proteins of B. megaterium only through peptide mass fingerprinting. Consequently, ESI-QqTOF MS/MS analysis was carried out to acquire additional peptide sequence information for protein identification via sequence similarity searching for homologous proteins.
Among the available sequence similarity searching programs using peptide sequences produced by MS/MS analysis, MS BLAST has been developed to overcome specific limitations imposed by mass spectrometric data, such as the limited completeness and confidence of predicted sequences. It is targeted at matching of closely related short peptides typically obtained from, for example, ESI-QqTOF MS/MS analysis [7–10, 16]. However, the success of MS BLAST identification still depends on the number and quality of sequenced peptides. In our study, two to four tandem mass spectra of peptide precursors were normally available for a protein of interest from ESI-QqTOF MS/MS measurements. To obtain peptide sequences of better quality and to improve the possibility of protein identification, performing manual sequencing was still necessary for the interpretation of most of the MS/MS spectra. Peptide sequences obtained were assembled into query strings and subjected to MS BLAST searching. The results are presented as high-scoring pairs (HSPs) which are defined as regions of high local sequence similarity between individual peptides in the query and a protein sequence from the database entry. Homologous proteins shown in a hit list were sorted by their total scores, which are the sum of the scores of high-scoring pairs for each protein, and categorized according to their statistic significance into three groups: positive hit, borderline hit and negative hit. In this work we set the criteria for a positive identification as follows: the candidate protein is generally the top hit protein and the score of its top-ranked HSP should be higher than the statistic threshold. In addition, the candidate protein is normally a homologous protein from an organism of the genus Bacillus. Figure 2A shows, as an example, a MS spectrum of peptide precursors of an unknown protein digested with trypsin. Three double charged precursors of m/z 702.81, 784.31 and 892.43 (arrow indicated) were further fragmented to obtain their MS/MS spectra. Figure 2B is the MS/MS spectrum of the precursor m/z 892.43. Three amino acid sequences derived by manual sequencing of the three MS/MS spectra were used for similarity searching of homologous proteins. The NAD-dependent malic enzyme 3 of B. subtilis (MalS) was found as the top homologue protein candidate with a high score of 94 for the best aligned HSP and a total score of 242 which are significant enough for functional assignment of the unknown protein of B. megaterium as a malic enzyme.
About 300 relatively highly expressed protein spots were excised from 2-D gels and subjected to the ESI-QqTOF MS/MS analysis. 167 spot were identified as 149 individual proteins, because some proteins appeared as isoforms on the 2-D gels, namely as several spots having similar molecular weights (Mw) but different isoelectric points (pI). According to the categorization used in the KEGG PATHWAY database
http://www.genome.jp/kegg/metabolism.html
most identified proteins can be classified into the following functional categories based on their functions or, at least, putative functions assigned: 53 proteins of the carbohydrate metabolism, mainly enzymes for the central carbon metabolism, including nearly all enzymes involved in the glycolysis and tricarboxylic acid cycle (TCA cycle), 4 enzymes of the pentose phosphate pathways, as well as 12 enzymes related to pyruvate metabolism; 31 proteins related to amino acid biosynthesis and metabolism; 14 proteins associated with protein biosynthesis; 15 proteins for nucleotide metabolism and genetic information (DNA, RNA) processing; as well as proteins involved in energy metabolism (3), cellular processes (5), membrane transport (9), stress responses (14) and other pathways like metabolism of complex carbohydrates (1), biosynthesis of secondary metabolites (2) and metabolism of cofactors and vitamins (3). Only 8 proteins can not be assigned any functions or putative functions. The identified proteins are summarized in Table 1 (see
additional file 1
).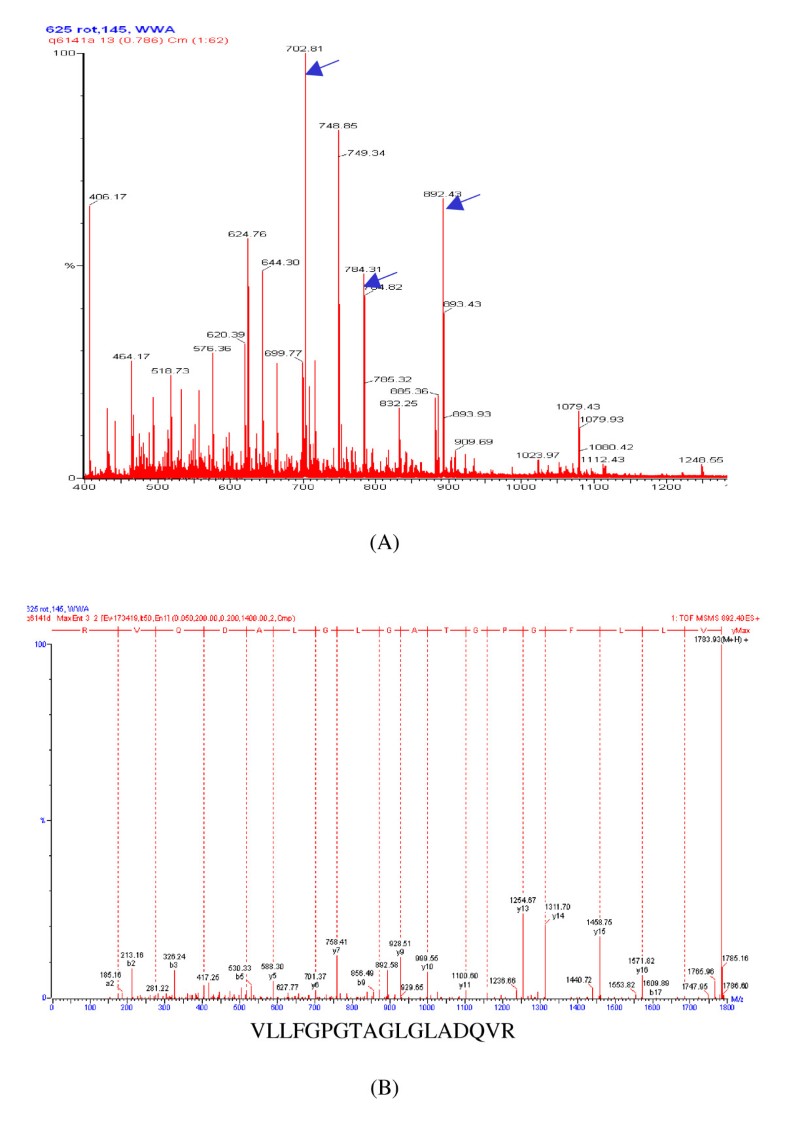 This work represents the first effect of large scale 2-DE separation and quantification of intracellular proteins of
B. megaterium
combined with identification of many of these proteins by tandem mass spectrometric analysis. This enabled us to create a 2-DE reference map as highlighted in Figure
1
and a corresponding protein database of
B. megaterium
. Based on these information a metabolic network of the central carbon metabolism as well as a part of the amino acid biosynthesis and metabolism are constructed (Figure
3
).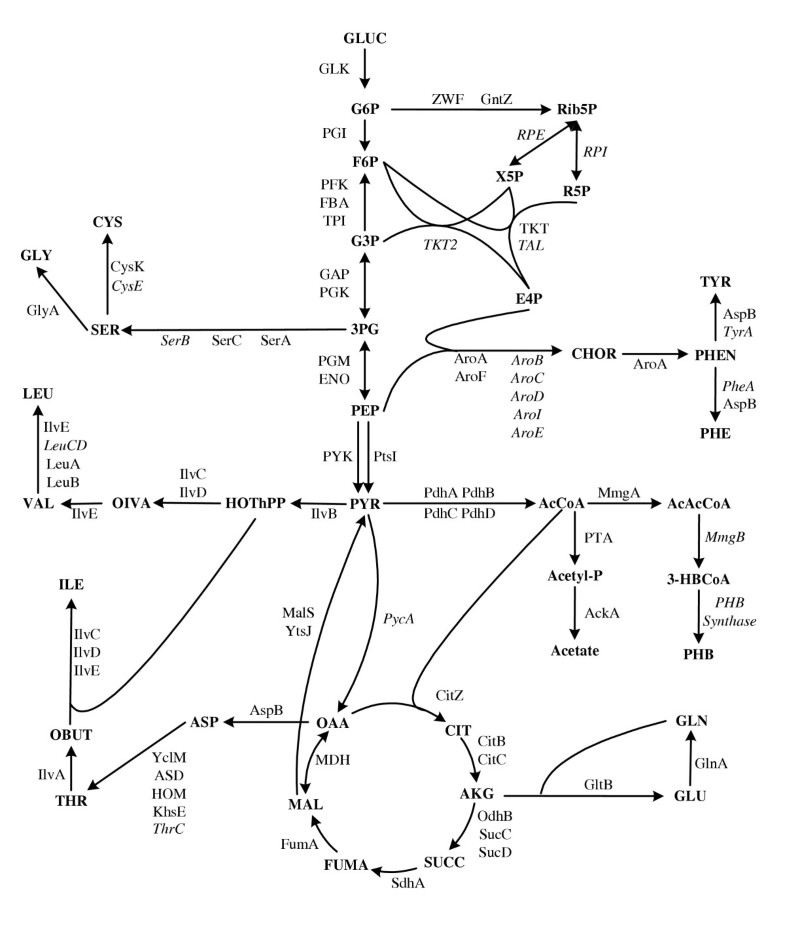 2. Batch culture of the B. megaterim strain MS941dsrS for recombinant dextransucrase production
Our previous study on batch cultures of
B. megaterium
MS941
dsrS
revealed that an early xylose induction at OD
578
of 0.3 and cultivation at pH 5.2 gave the best production and secretion of dextransucrase (data not published). Consequently, for proteomic analysis two batch cultures with B.
megaterium
MS941
dsrS
, one with xylose induction and the other one without xylose induction as control, were carried out under the same conditions. Conducting the control culture was aimed at distinguishing between protein expression changes resulting from recombinant dextransucrase production and those aroused from cell growth. As shown in Figure
4(A)
, the two batch cultures demonstrate very similar time course of cell growth and glucose consumption. Xylose added for induction was not consumed by the cells because of carbon catabolic repression by glucose.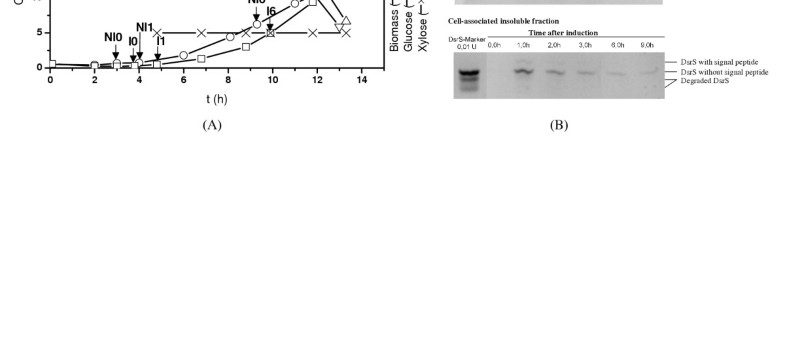 To determine the formation and secretion of dextransucrase in B. megaterium cell samples were taken from the induced culture shortly before xylose induction, then 1 h, 2 h, 3 h, 6 h and 9 h after the induction. Three protein fractions, namely secretion fraction, cell-associated soluble fraction and cell-associated insoluble fraction, were prepared according to the method described in the Materials and Methods section and separated on SDS-PAGE activity staining gels to obtain dextransucrase in the different fractions. The results are shown in Figure 4(B). Three forms of dextransucrase of different molecular weights can be distinguished. They represent the precursor dextransucrase with signal peptide (200 kDa) that is still localized in the cytoplasm, the mature dextransucrase without signal peptide (188 KDa) that is already secreted outside the cell membrane and the degraded dextransucrase (165 kDa), respectively. A maximal production of dextransucrase reached already 1 h after the xylose induction which is shown as two thickest bands in the cell-associated soluble and insoluble fractions on the activity staining gels, respectively. In addition, the produced dextransucrase was readily translocated over the cell membrane, as is evidenced by the fact that no precursor dextransucrase is visible on the activity staining gels. However, dextransucrase aggregated in the space between cell membrane and cell wall, since no bands could be detected in the secretion fraction. The further passage of dextransucrase through the cell wall was hampered as it was also observed by Malten et al. [2]. Afterwards both cell-associated soluble and insoluble dextransucrase decreased steadily with time. Meanwhile the mature dextransucrase diffused continually through the cell wall to the surrounding growth medium. The diffusion barrier of the cell wall explains the time delay between maximal dextransucrase production and its maximal secretion into the medium which was reached 9 hours after induction.
3. Comparative proteomic analysis of metabolism
Conclusion
In this work a 2DE method and a protein reference map for the proteomic analysis of B. megaterium were established. Despite the missing of genome sequence 149 individual proteins were identified through public protein database supported homologue protein searching using peptide fragmentation information acquired from ESI-QqTOF MS/MS analysis. Out of them 35 proteins could be assigned to enzyme functions of the central carbon metabolism (glycolysis, pentose phosphate pathway, TCA cycle and pyruvate metabolism) and 31 to amino acid synthesis and metabolism, leading to the construction of a partial metabolic network which is useful for metabolic pathway analysis.
During batch growth of B. megaterium on glucose expressions of glycolytic enzymes remained approximately constant, while most enzymes of the TCA cycle were up-regulated. The components of the PDH complex enzyme as well as phosphate acetyltransferase (PTA) were remarkably down-regulated, whereas some enzymes related to PHB synthesis were strongly up-regulated, indicating a metabolic discrepancy between glycolysis and TCA cycle of this B. megaterium strain and the channeling of acetyl-CoA into the biosynthesis of PHB as a carbon and energy storage source
Except for a few cases the protein expression profiles of the non-induced and induced B. megaterium batch cultures, the latter producing additionally the heterologous protein dextransucrase, did not differ significantly. This indicates that protein expression of B. megaterium concerning the central carbon metabolism was predominantly governed by growth and little affected by the xylose induced generation of the heterologous gene product. Indeed, the mass of dextransucrase was estimated as only 2% of the entire protein produced. Only some enzymes of amino acid synthesis exhibited discrepancies between induced and non-induced cultures. Specifically, the aspartate aminotransferase (AspB) was up-regulated in the induced culture. This enzyme channels oxaloacetate into a large family of amino acids which is strong required (37%) in dextransucrase synthesis. Expression levels of cytosolic chaperones needed for posttranslational processing hardly changed, whereas the oligopeptide-binding protein (OppA) exhibited increased expression in the induced culture, suggesting that this protein may be involved in the translocation of the heterologous dextransucrase.
Declarations
Acknowledgements
This work was financially supported by the Sonderforschungsbereich 578 der Deutschen Forschungsgemeischaft (DFG). The authors thank P. Westphal for her excellent technical assistance in 2-DE experiments. The authors are grateful to the GBF MS analytic group, especially A. Abrahamik, U. Felgenträger and J. Majewski for their help in the ESI-QqTOF MS/MS and MALDI-TOF MS analysis.
Authors' Affiliations
(1)
TU-BCE, German Research Centre for Biotechnology, Braunschweig, Germany
(2)
Department of Structural Biology, German Research Centre for Biotechnology, Braunschweig, Germany
(3)
Institute of Microbiology, Technical University Braunschweig, Braunschweig, Germany
Copyright
© Wang et al; licensee BioMed Central Ltd. 2005
This article is published under license to BioMed Central Ltd. This is an Open Access article distributed under the terms of the Creative Commons Attribution License (http://creativecommons.org/licenses/by/2.0), which permits unrestricted use, distribution, and reproduction in any medium, provided the original work is properly cited.