The sea urchin (Strongylocentrotus purpuratus) test and spine proteomes
Received: 18 April 2008
Accepted: 11 August 2008
Published: 11 August 2008
Abstract
Background
The organic matrix of biominerals plays an important role in biomineral formation and in determining biomineral properties. However, most components of biomineral matrices remain unknown at present. In sea urchin, which is an important model organism for developmental biology and biomineralization, only few matrix components have been identified and characterized at the protein level. The recent publication of the Strongylocentrotus purpuratus genome sequence rendered possible not only the identification of possible matrix proteins at the gene level, but also the direct identification of proteins contained in matrices of skeletal elements by in-depth, high-accuracy, proteomic analysis.
Results
We identified 110 proteins as components of sea urchin test and spine organic matrix. Fourty of these proteins occurred in both compartments while others were unique to their respective compartment. More than 95% of the proteins were detected in sea urchin skeletal matrices for the first time. The most abundant protein in both matrices was the previously characterized spicule matrix protein SM50, but at least eight other members of this group, many of them only known as conceptual translation products previously, were identified by mass spectrometric sequence analysis of peptides derived from in vitro matrix degradation. The matrices also contained proteins implicated in biomineralization processes previously by inhibition studies using antibodies or specific enzyme inhibitors, such as matrix metalloproteases and members of the mesenchyme-specific MSP130 family. Other components were carbonic anhydrase, collagens, echinonectin, a α2-macroglobulin-like protein and several proteins containing scavenger receptor cysteine-rich domains. A few possible signal transduction pathway components, such as GTP-binding proteins, a semaphorin and a possible tyrosine kinase were also identified.
Conclusion
This report presents the most comprehensive list of sea urchin skeletal matrix proteins available at present. The complex mixture of proteins identified in matrices of the sea urchin skeleton may reflect many different aspects of the mineralization process. Because LC-MS/MS-based methods directly measures peptides our results validate many predicted genes and confirm the existence of the corresponding proteins. Considering the many newly identified matrix proteins, this proteomic study may serve as a road map for the further exploration of biomineralization processes in an important model organism.
Keywords
Skeletal ElementTest MatrixAmorphous Calcium CarbonateSpine MatrixAstacin
Background
Biominerals contain an organic matrix which is believed to organize a 3-dimensional framework for mineralization, to provide crystal nucleation sites, to contain molecules which determine crystal shape and mineral polymorph, and crystallization inhibitors for termination of crystal growth [1–3]. The sea urchin skeleton consists of calcite rich in magnesium ions and contains less than 0.1% of organic matrix in larval spicules. The skeletal parts analyzed in this report were the shell (test) and the spines of adult animals. The sea urchin test, which protects the internal organs and takes over skeletal functions, consists of small plates which are bound together by an extracellular matrix rich in collagen. The spines, which are used for defense and locomotion, are attached to the test plates by soft tissue at small protuberances called tubercles. The skeletal elements are covered by an epidermis [4]. Both test and spines contain a network of channels and pores, the stereom. The stereom is filled with connective tissue cells, phagocytes, and sclerocytes involved in mineral production and repair [5, 6]. Several proteins of the organic matrix were identified by immunological screening of expression libraries, in situ hybridization in spicule-forming cells and immunohistochemical methods [7], and their amino acid sequences were predicted from cloned cDNA. However, most of this research concentrated on embryonic spicules [7–10], where skeletogenesis is performed by primary mesenchyme cells (PMCs). The PMCs form syncytia confining the space where biomineralization takes place. During growth, the spicules are enveloped almost completely by a PMC syncytium with plasma membranes in close contact to the extracellular spicule. The PMCs provide the mineral, which is delivered in the form of amorphous calcium carbonate accumulated in intracellular vesicles [11], and the protein precursors for matrix formation. Adult skeletal elements appear to be formed by similar syncytia enclosing a vacuolar cavity containing an organic matrix for mineralization [12]. Amorphous calcium carbonate was also shown to be the mineral precursor in the repair of adult spines [13].
More than 45 spots have been detected by 2-dimensional electrophoresis of the embryonic spicule matrix, but only few of them were identified [14]. Furthermore, only three of the larval spicule matrix proteins, SM50, PM27 and at least one form of SM30, were shown to occur in adult skeletal elements, such as teeth, spines and test, by immunochemical methods [15–17]. Another matrix protein of adult test was carbonic anhydrase [18] which catalyzes the hydration of CO2 providing carbonate for mineralization. Recently a genome-wide search for biomineralization-related proteins was performed using the Strongylocentrotus purpuratus genome. Genomic sequences were queried with the sequences of known biomineralization-related sequences and the C-type lectin-like domain, which is widespread among sea urchin spicule matrix proteins, to detect related proteins [19]. Special attention was paid to new sequences within genomic clusters of matrix protein genes, genes expressed in biomineral-forming cells at the time of biomineralization, and by screening for sequences similar to vertebrate biomineral matrix proteins. The combined approaches led to the discovery of eight new candidate spicule matrix proteins and several proteins which may not be incorporated into the biomineral but may be involved in the mineralization process. However, the recent completion of the S. purpuratus genome [20] also makes possible high-throughput, high-accuracy proteomic analysis of the skeletal matrix and can provide an important complement to genetic studies. In the present report we describe the proteomic analysis of S. purpuratus test (shell) and spines by mass spectrometry-based proteomic analysis.
Methods
Matrix preparation
Sea urchins were killed by freezing and the tissues were removed mechanically. Three tests were cut into two halves and cleaned by brushing under a jet of de-ionized water. Primary spines were washed by swirling in de-ionized water for approximately 30 min. Further cleaning was done by soaking of tests and spines in 200 ml of sodium hypochlorite solution (NaClO4; 6–14% active chlorine; Merck, Darmstadt, Germany) for 30 min at 4–6°C, with changes after 10 and 20 min, followed by extensive washing with de-ionized water. The dried tests and spines were de-mineralized in 50% acetic acid (20 ml/g of dry biomineral) overnight at 4–6°C. The turbid suspension was dialyzed against 10% acetic acid at 4–6°C, and lyophilized.
Peptide preparation and data acquisition
SDS-PAGE was done using pre-cast 4–12% Novex Bis-Tris gels in the MES buffer system using reagents and protocols supplied by the manufacturer (Invitrogen, Carlsbad, CA). The kit sample buffer was modified by adding SDS and β-mercaptoethanol to a final concentration of 5%, and the sample was suspended in 40 μl sample buffer/200 μg organic matrix, boiled for 5 min, cooled to room temperature, and centrifuged. Gels were loaded with 200 μg of matrix per lane and stained with colloidal Coomassie (Invitrogen) after electrophoresis. Gel slices were cut out as indicated (Fig.
1
) and slices of three lanes were used for in-gel digestion with trypsin [
21
] in each of three experiments. For analysis of an "empty proteome" sample buffer not containing sea urchin protein was used as input for PAGE. The peptides were cleaned with C18 STAGE-tips before MS analysis [
22
]. The peptide mixture was separated by nanoscale C18 RP-LC (Agilent 1200; Agilent Technologies, Waldbronn, Germany) coupled on-line to a 7-T LTQ-FT mass spectrometer (Thermo Electron, Bremen, Germany) for LC-MS, MS/MS and MS/MS/MS (MS
3
) analysis [
23
,
24
].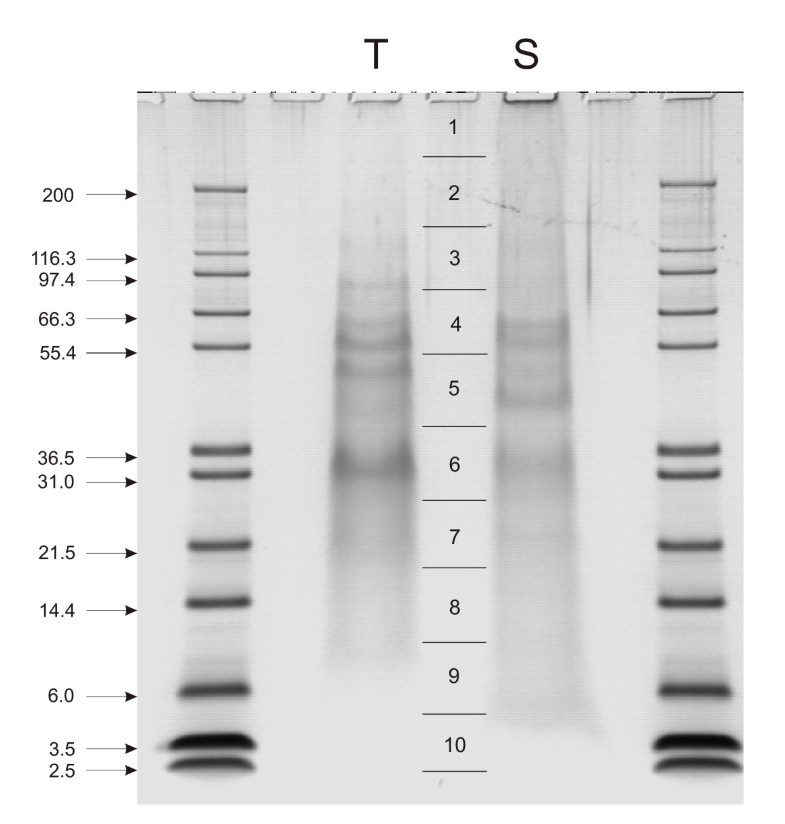 Data analysis
Raw data were transformed to msm-files using the in-house-made software RAW2MSM, v.1.10 [25]. The msm-files were used for database searches with the MASCOT search engine (Matrix Science, London, UK; version 2.1) against the Strongylocentrotus purpuratus annotated gene models (Glean3) protein sequence database ftp://ftp.hgsc.bcm.tmc.edu/pub/data/Spurpuratus/fasta/Annotation[20] (see also http://goblet.molgen.mpg.de/cgi-bin/seaurchin-genombase.cgi for further information about Glean [26]), the corresponding reversed database, and the sequences of common contaminants, including human keratins from IPIhuman. Carbamidomethylation was set as fixed modification. Variable modifications were oxidation (M), N-acetyl (protein), pyro (N-term QC), amide (C-terminal) and hydroxylation (P). The peptide tolerance was set to 5 ppm and the MS/MS tolerance was set to 0.5 Da. One miss-cleavage was allowed. MS3 scoring, counting of unique and total peptides, and calculation of protein scores was done with MSQuant, v.1.4.2a13 http://msquant.sourceforge.net. Each raw-file was analyzed separately. Msm-files containing data of accepted peptides were then merged into one single msm-file for another Mascot search to obtain summed sequence coverage, scores and peptide numbers. This file was also used to search the IPIhuman database v.3.13 to find shared peptides. The score threshold for peptide acceptance in each Mascot results file was chosen such as to eliminate any reversed hits at p < 0.05 and was between 38 and 54 for different searches. Peptide hits with one unique peptide were accepted only if confirmed by MS3 [23] with a score at least twice the threshold value for MS/MS, and after manual validation. Quality criteria were the assignment of major peaks, occurrence of uninterrupted y- or b-ion series of at least 3 consecutive amino acids, preferred cleavages N-terminal to proline bonds and C-terminal to Asp or Glu bonds, and the presence of a2/b2 ion pairs. The minimal length required for a peptide was seven amino acids.
The abundance of proteins was estimated by calculating the exponentially modified Protein Abundance Index (emPAI) [27] without using retention time data. BLAST analysis was performed with the program provided by NCBI and searching against the non-redundant database for all organisms. FASTA and MPsrch search programs were used as provided by the European Bioinformatics Institute (EBI, http://www.ebi.ac.uk), searching against UniProt Knowledgebase and UniProtKB/Swiss-Prot protein sequence databases. Signal peptides were predicted with SignalP 3.0 http://www.cbs.dtu.dk/services/SignalP/ and domains were predicted with NCBI Conserved Domain Search [28] and PROSITE [29].
Results and discussion
Skeletal elements were cleaned with sodium hypochlorite before demineralization. This is an established method to destroy organic material located at the surface of biominerals and leaves intact only intra-crystalline proteins. The yield of organic matrix after demineralization with acetic acid was approximately 8 mg of matrix per g of cleaned, air-dried test and 7.4 mg/g of spines. Part of the matrix was insoluble in 10% acetic acid and precipitated during dialysis. However, we did not separate acid-soluble and acid-insoluble matrix before electrophoresis. Separation of the proteins by PAGE showed a few discrete bands in a background smear of CBB-stainable material (Fig. 1). The gel lanes were cut into 10 slices of approximately equal size for in-gel digestion (Fig. 1) and the eluted peptides were analyzed after extraction and cleaning on a C18 reversed phase. Treatment of all slices was identical and did not depend on staining intensity or stain binding capacity of the separated proteins.
Not counting tentative identifications, we identified 60–70 proteins in each of the matrices. Exact numbers cannot be provided because some proteins appeared to be encoded in several entries while other entries appeared to contain sequences of more than one protein. At least 37 of these proteins occurred in both matrices (See additional file 1: Proteins identified in test and spines). Some additional identifications were classified tentative (See additional file 2: Proteins tentatively identified in test and spine matrix) because they did not meet the stringent criteria applied to identifications shown in the table of Additional file 1 (additional file 1: Proteins identified in test and spines). Tentative identifications were hits with one unique peptide showing high quality spectra and high MASCOT scores, but lacked confirmation by MS3 data. Altogether these numbers were in good agreement with the 40–50 protein spots detected after separation of the larval spicule matrix [14]. We did not observe sequenced peptides passing the applied thresholds and which were not assigned to a protein.
The abundance of proteins was determined by calculating the emPAI [27] which yields a rough estimate of relative concentrations of the proteins. It should, however, not be confounded with exact protein concentration determination which is not yet possible with complex mixtures. Previous experience [30, 31] showed that emPAI can be used to classify proteins as major and minor components, but may be misleading for highly modified proteins. However, peptides with modifications such as phosphorylation or glycosylation need specialized techniques of enrichment and detection and were not included in this general survey and therefore did not contribute to emPAI calculation. Selected proteins or protein families will be discussed in the following sections.
Conclusion
Using high-throughput, high-accuracy proteomic techniques we have identified more than 100 proteins in the organic matrices of spines and test (See additional file 1: Proteins identified in test and spines; additional file 5: Sequences of unique peptides identified in spine matrix and additional file 6: Sequences of unique peptides identified in test matrix). Many of the identified proteins occurred in both compartments, but we also observed clear qualitative and quantitative differences which may be important for future research. The sea urchin test and spine matrix apparently did not contain only previously known or supposed specific matrix components, but also proteins possibly involved in the regulation of mineral or matrix formation, such as matrix metalloproteases, carboanhydrase, MSP130 family members and fibroblast growth factor receptor-2. We also identified some intracellular proteins (see previous section) and common extracellular matrix components such as collagens. We cannot exclude the possibility that these proteins represent some cellular remnants or extracellular matrix material that may have survived bleaching in stereom cavities, although the stereom is not a closed space and should be accessible to cleaning solutions. The relatively low abundance of collagen, which is a major component of unbleached test and constitutes up to 65% of the total test protein in some sea urchin species [37, 38], indicated that the extent of possible contamination by such proteins was limited. Furthermore, the only other biomineral thoroughly analyzed by proteomic methods, the chicken eggshell, is completely devoid of cells but nevertheless contains intracellular proteins, such as endoplasmatic reticulum and Golgi constituents, and extracellular matrix components [30]. Thus it seems possible that these proteins were true components of the intracrystalline matrix and were included into the matrix because they were present in the mineralization compartment when mineral growth was proceeding. Some of these proteins may have reached the mineralization space as by-products of the secretion of specific matrix proteins or of mineral precursors, others were possibly derived from damaged cells of the cell layer confining the mineralization space. We do not believe that their presence in the mineral matrix automatically indicates a function for these proteins in the mineralization process or in the mature biomineral. Rather, the composition of the matrix seemed to reflect the complex processes taking place in and around the mineralization space upon mineral formation and growth. Nevertheless, we hope that the list of sea urchin spine and test matrix proteins, which is the most comprehensive one available at present, may serve as a road map to others interested in biomineralization processes.
Availability & requirements
Abbreviations
aa:

amino acid
CLECT:

C-type lectin (CTL)/C-type lectin-like
MMP:

Matrix metalloprotease
PMC:

Primary mesenchymal cell
SM:

Spicule matrix.
Declarations
Acknowledgements
We thank our colleagues at the Department of Proteomics and Signal Transduction in Martinsried for their constant support and invaluable help. This work was supported by the Max Planck Society for the Advancement of Science e.V. (AJP).
Authors' Affiliations
(1)
Max-Planck-Institut für Biochemie, Abteilung Proteomics und Signaltransduktion, Martinsried, Germany
(2)
Max-Planck-Institut für Molekulare Genetik, Evolution and Development Group, Berlin, Germany
Copyright
© Mann et al; licensee BioMed Central Ltd. 2008
This article is published under license to BioMed Central Ltd. This is an Open Access article distributed under the terms of the Creative Commons Attribution License (http://creativecommons.org/licenses/by/2.0), which permits unrestricted use, distribution, and reproduction in any medium, provided the original work is properly cited.