Proteome analysis of the hyaluronic acid-producing bacterium, Streptococcus zooepidemicus
Received: 15 October 2008
Accepted: 28 March 2009
Published: 28 March 2009
Abstract
Background
Streptococcus equi subsp. zooepidemicus (S. zooepidemicus) is a commensal of horses and an opportunistic pathogen in many animals and humans. Some strains produce copious amounts of hyaluronic acid, making S. zooepidemicus an important industrial microorganism for the production of this valuable biopolymer used in the pharmaceutical and cosmetic industry. Encapsulation by hyaluronic acid is considered an important virulence factor in other streptococci, though the importance in S. zooepidemicus remains poorly understood. Proteomics may provide a better understanding of virulence factors in S. zooepidemicus, facilitate the design of better diagnostics and treatments, and guide engineering of superior production strains.
Results
Using hyaluronidase to remove the capsule and by optimising cellular lysis, a reference map for S. zooepidemicus was completed. This protocol significantly increased protein recovery, allowing for visualisation of 682 spots and the identification of 86 proteins using mass spectrometry (LC-ESI-MS/MS and MALDI-TOF/TOF); of which 16 were membrane proteins.
Conclusion
The data presented constitute the first reference map for S. zooepidemicus and provide new information on the identity and characteristics of the more abundantly expressed proteins.
Keywords
Hyaluronic AcidHyaluronidasePhosphoglycerate KinaseAqueous Formic AcidStreptococcal Toxic Shock Syndrome
Background
Streptococcus equi subsp. zooepidemicus (S. zooepidemicus) is a commensal of the upper respiratory tract, skin and urogenital tract of horses, some other animals and humans. It is a primarily opportunistic pathogen in many animal species, including domesticated animals such as horses, cows, pigs, sheep, and dogs. It is the primary cause of equine respiratory tract infections in foals and the leading cause of infertility in mares [1, 2]. Sequencing of strain H70 by the Sanger Institute was sponsored by The Horserace Betting Levy Board in UK.
S. zooepidemicus also infects humans, typically through zoonotic transmission from domesticated animals or by ingestion of improperly pasteurised dairy products [3]. Clinical manifestations in humans include mild respiratory disease, pneumonia, endocarditis, endophthalmitis, septic arthritis, meningitis, septicemia, streptococcal toxic shock syndrome and post-streptococcal glomerulonephritis. A large outbreak with 253 cases of acute nephritis in Brazil was linked to the consumption of unpasteurised cheese and a strain isolate, MGCS10565, was recently sequenced [4].
Lancefield Group A and C streptococci produce the exopolysaccharide hyaluronic acid (HA). The HA capsule protects streptococci from phagocytosis [5–8] and may facilitate tissue adherence and invasion [5, 9]. The HA capsule is an important virulence factor for S. pyogenes and disruption of the has operon results in a significant reduction in pathogenicity [10, 11]. Similarly, the HA capsule significantly enhances virulence of S. equi subsp. equi (S. equi), a pathogenic biovar of S. zooepidemicus that causes strangles in horses [8, 12]. Whereas virulent isolates of S. equi are generally highly encapsulated, capsule synthesis is highly variable in S. zooepidemicus and usually lost following primary culture, suggesting that encapsulation is under regulation by host factors [13]. In S. pyogenes, HA production as well as other virulence factors, are regulated by the CsrRS protein (also known as CovRS). CsrRS is a two-component regulator of extracellular virulence factors in Group A streptococcus [14, 15] and can be induced by a human antimicrobial peptide [16].
The strain used in this study, ATCC 35246, was isolated during 1975 Sichuan province swine streptococcosis outbreak, in which over 300,000 pigs died [17, 18]. ATCC 35246 is a highly encapsulated S. zooepidemicus strain with a stable mucoid phenotype even in the absence of selection [19]. Non-mucoid variants generated in continuous culture on complex medium are similarly stable in serial passage without selection, but revert to a mucoid phenotype when exposed to horse serum [19].
The objective of this study was to develop a proteomics protocol and a reference map. The results can be used for comparative analysis of mucoid and non-mucoid strains, in order to better understand the role of HA regulation in S. zooepidemicus virulence, facilitate the design of better diagnostics and treatments [20], and guide engineering of superior HA production strains [21].
Despite advances in mass spectrometry-based techniques for proteomics analysis, two dimension gel electrophoresis (2-DE) is still the most commonly used protein separation technique, especially with the use of new fluorescent dye systems which enable differential gel electrophoresis (2-D DIGE) [22]. 2-DE-based proteome analyses have been performed for many microorganisms including the closely related S. mutans [23], S. pneumoniae [24], S. thermophilus [25, 26], S. pyogenes [27–31] and more recently S. suis [32]. There is currently no reference map for S. zooepidemicus, though an extracellular immunoproteome map was recently reported for ATCC 35246 [18].
Obtaining high quality 2-DE gels and harvesting protein extracts from encapsulated bacteria has proven to be technically challenging [24]. S. zooepidemicus ATCC 35246 produces very large amounts of high molecular weight HA, which presents several technical challenges not found in other streptococci: first, the buoyancy of HA limits the formation of a cellular pellet by centrifugation; second, the complex structure of the cell envelope enables the cell to resist conventional lysis methods [24]; and thirdly, HA interferes with standard protein extraction techniques.
In this paper we present a novel method that combines capsular removal using enzymatic digestion (hyaluronidase) with mechanical cell lysis, followed by protein extraction and a precipitation technique that minimizes protein loss. Proteins resolved from S. zooepidemicus strain ATCC 35246 were further identified using LC-MS/MS and MALDI-TOF/TOF to create the first reference map compatible with DIGE of any streptococcal species.
Results and discussion
Hyaluronidase treatment combined with optimised extraction and precipitation techniques yields high-quality proteomic gels
Proteomic investigation of HA-encapsulated bacteria is problematic because HA buoyancy limits the formation of a cellular pellet by centrifugation and residual HA in protein extractions can interfere with subsequent analyses. In HA-contaminated samples, protein quantification by Bradford assay and 2D-Quant (GE Healthcare) were inaccurate, resulting in overloaded gels. HA also interfered with iso-electric focusing and poor quality 2-D gels were observed even after protein precipitation (Figure
1A
). In solution, HA folds into a helical structure formed by hydrogen bonds between carboxyl groups and N-acetyl groups [
33
]. These hydrogen bonds form protein aggregates and secondary structures that interfere with the mobility in the gel; therefore, in our samples it was necessary to remove HA prior to protein extraction. The use of hyaluronidase to remove the HA capsule prior to protein extraction allowed accurate protein quantification using 2D-Quant and improved iso-electric focussing.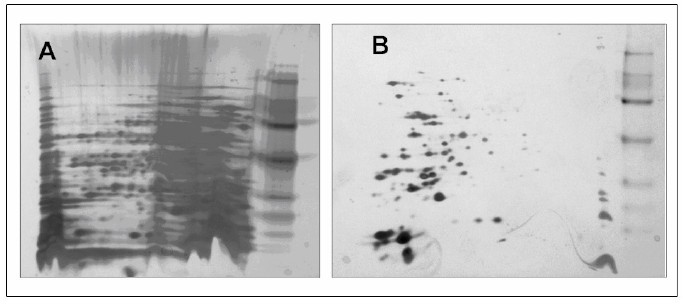 Surface proteins are often immunogenic [30, 31, 34], and are important in a proteome study. However, a lysis buffer designed to isolate streptococcal membrane proteins [24, 35] (lysis buffer B) did not effectively denature proteins and gave poor DIGE results (data not shown). Therefore, a conventional lysis buffer (buffer A), which is compatible with DIGE, was used. In combination with hyaluronidase treatment, the conventional lysis buffer A allowed us to obtain high quality gels suitable for proteomic analysis (Figure 1B).
Samples for 2-DE should also be free of contaminants (salts, ionic detergents, lipids, polysaccharides, DNA and RNA). Furthermore, for 2-D DIGE, high protein concentrations are required. Protein precipitation has proven to be a valuable tool to concentrate samples and remove impurities; however, it is necessary that the precipitation technique does not cause artifacts such as variable protein losses resulting in a change in relative abundance of proteins. We compared precipitation protocols based on acetone or TCA as well as a commercial precipitation kit (2-D Clean-Up; GE-Healthcare). The best results were obtained with the 2-D Clean-Up kit; we observed a two-fold increase in protein recovery, clearer gels and better-resolved spots compared to the other techniques (data not shown). The combination of hyaluronidase treatment, conventional lysis (using buffer A) and 2-D Clean-Up allowed for separation of 682 proteins of
S. zooepidemicus
(Figure
2
). The procedure was also reproducible between replicate extractions, showing only slight variation in spot numbers detected on each gel (625,622 and 619). Resulting protein spots were also compatible with DIGE and MS identification techniques (see below). This protocol can be used for comparative analysis of mucoid and non-mucoid strains, in order to elucidate the role of HA in
S. zooepidemicus
virulence.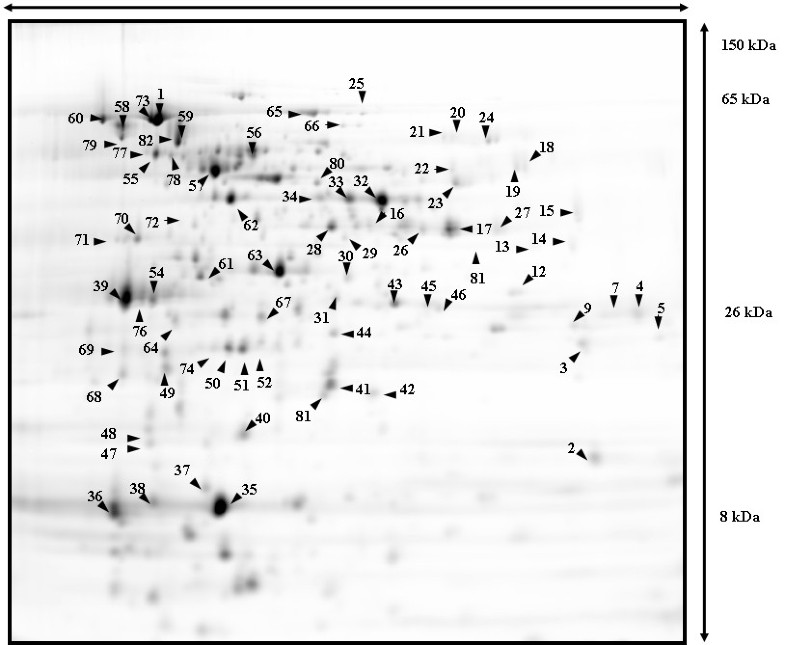 Reference Map of the S. zooepidemicus proteome
Protein reference maps have proven to be valuable tools to investigate protein expression in cells, tissues and whole microorganisms. After obtaining good quality 2-DE gels, proteins need to be identified and MS remains the best technique to achieve this. The most abundant spots in the gel were digested with trypsin and analysed with LC-ESI-MS/MS. Where LC-ESI-MS/MS identified proteins with less than our threshold of 99% confidence, results were confirmed by MALDI-MS-TOF/TOF. From the 682 visualised proteins, a total of 86 proteins were identified from the reference map in 73 spots; 18 spots contained more than one protein and eight proteins were identified in multiple spots (Figure
2
). The number of identified proteins is similar to the 77 proteins recently identified in the reference map for
S. suis
[
32
]. Enzymes were grouped according to source pathway (glycolysis, pentose phosphate, and HA pathways) or biomass product type (amino acids, lipids and peptidoglycan synthesis) (Figure
3
). Identified proteins included four enzymes of the HA pathway: UDP-N-acetyl-glucosamine pyrophosphorylase (EC 2.7.7.23; Spot 20), UDP-glucose pyrophosphorylase (EC 2.7.7.9; Spot 31), phosphoglucosamine mutase (EC 5.4.2.10; Spot 55) and UDP-glucose dehydrogenase (EC 1.1.1.22; Spot 80 and 34).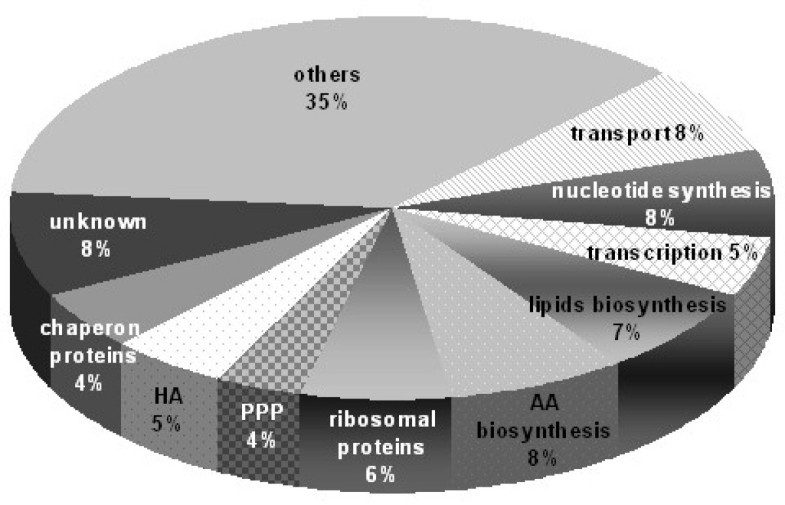 Good proteome reference maps are needed because in silico predictions fail to predict post-translational modifications, proteolyic cleavage and non-ideal electrophoretic separation. Eight proteins were identified in multiple spots (195978702, 195977350, 195978812, 19597756, 195977347, 195978812, 195977545, 195977347). Such shifts can be caused by modifications such as phosphorylation, glycosylation or acetylation, which can alter molecular weight and/or pI. For all identified proteins, theoretical pI and molecular masses were calculated using an ExPASy tool and compared with experimental data. The variation between predicted and measured pI was less than 0.5 for most proteins with greater pI variation seen towards the most basic region of the gel. The variation between calculated molecular mass and experimental data was low (within 10%) with the greatest variation observed for masses greater than 55 kDa. It is possible that some of the observed differences are due to genomic variations between MGCS10565 and ATCC 35246.
Seven of the proteins isolated were identified as hypothetical proteins. Using InterProScan Sequence Search (EMBL-EBI; http://www.ebi.ac.uk/Tools/InterProScan/) to identify protein properties (families, domains, repeats and sites), one protein was identified as belonging to a phosphotransferase system (195977564) and another containing the catalytic region of a diacylglycerol kinase (195978835). The function of the other proteins remains unknown; localising these proteins on our reference map may contribute to future understanding of their function.
Curiously, one of the proteins isolated (spot 2; Additional file 1) could not be identified in the S. zooepidemicus genome. When BLASTed against the Swiss Prot database, the protein was most closely related to a Cu-Zn superoxide dismutase (SOD) (EC 1.15.1.1) from Bos mutus grunniens. Identification was confirmed by MALDI-MS-TOF/TOF. We suspected this to be a contamination from the hyaluronidase that was used to digest HA, which was derived from a bovine source. Upon further review, two bands were observed in SDS-PAGE of the hyaluronidase and MS identification of the second band confirmed that the SOD was a contaminant from the hyaluronidase preparation (data not shown).
Surface proteome
The surface proteome is important for the identification of vaccine candidates and virulence factors involved in invasive infection [20, 36]. In the complete S. zooepidemicus genome MGCS10565, 45 (2%) cell wall proteins, 1002 (44%) cytoplasmic proteins, 379 (16%) cytoplasmic membrane proteins, 185 (7%) extracellular proteins and 703 (31%) undetermined localization proteins were identified using the PSORTb 2.0 algorithm [37]. Of the 86 proteins identified in this study, 16 were predicted to be membrane proteins and two to be extracellular proteins (Additional file 1).
The surface proteome of S. zooepidemicus ATCC 35246 has recently been assessed for immunogenicity [18]. 2-DE gels of extracted extracellular proteins were blotted with convalescent sera raised in S. zooepidemicus-immunized SFP minipigs and eight immunoreactive proteins identified. Of these eight proteins, four were also identified in our analysis: phosphoglycerate kinase (EC 2.7.2.3; PGK; Spot 34), UDP-N-acetyl-glucosamine pyrophosphorylase (E2.7.7.23; Spot 20), UDP-glucose pyrophosphorylase (EC 2.7.7.9; Spot 31) and phosphofructokinase (EC 2.7.1.11; Spot 28). Moreover, the strain has also recently been used to develop a vaccine that protected mice [38] and the M-protein of S. zooepidemicus has been found to be distinct from other subspecies [17].
Seventeen of the proteins identified in our study were also found in the extracted surface proteome of S. pyogenes [29]. This represent a quarter of the 66 identified surface proteins with known function and includes 10 out of the 33 immunoreactive proteins. Among these, the two heat shock proteins – DnaK (Spot 1 and 60) and GroEL (Spot 59 and 82) – have previously been shown to be immunogenic for S. pyogenes [39, 40] and were also identified in the extracted surface proteome of S. agalactiae [41]. Phosphoglycerate kinase (EC 2.7.2.3; Spot 34) was also identified in the surface proteome of S. agalactiae and anti-sera against phosphoglycerate kinase offers a degree of protection in a neonatal mice model [41].
2-DE based proteomics – whether based on whole-cell or surface extraction – is not ideal for the identification of surface proteins, due either to hydrophobicity and aggregation during IEF, or their low abundance [20]. Some of the surface exposed proteins of S. zooepidemicus have proline-rich repeats that hinder migration in gels. Moreover, extracted surface proteomes suffer from contamination with abundant cytosolic proteins. Indeed, only 7 of the 66 identified surface proteins in the extracted surface proteome of S. pyogenes had identifiable signal peptides [29]. In contrast, when the S. pyogenes surface proteome was explored by protease treatment of whole-cells and identification of resulting peptides, only 4 of 72 proteins were identified as cytoplasmic [30].
None of the reported S. zooepidemicus surface proteins ZAG, FNZ and SzP previously considered as vaccine components [17, 42, 43] were identified in the extracellular immunoproteome of S. zooepidemicus ATCC 35246 [18] or in our study. The 2-DE protocol developed here for whole-cell extracts should be complemented with a more targeted surface peptide MS method for a complete study of virulence factors and identification of immunogenic proteins capable of contributing to acquired protective immunity.
Conclusion
Presented here is the first proteomic reference map of an important pathogenic microorganism, S. zooepidemicus. We have developed an optimised protocol for HA removal, cell lysis, protein precipitation and solubilisation; the protocol is compatible with DIGE and MS. A comparison with the extracellular immunoproteome of S. zooepidemicus and S. pyogenes suggests that the protocol can be used to identify immunogenic membrane proteins of potential use in vaccines. Both 2-DE approaches, however, suffer from a bias towards abundant membrane proteins and possible contaminants and fail to identify low-abundant, strongly immunogenic surface proteins such as SzP.
The protocol will find immediate use in the comparison of mucoid and non-mucoid strain variants of S. zooepidemicus, which will help to better understand the role of HA regulation in S. zooepidemicus virulence as well as for the design of superior production strains for HA production. Four enzymes from the HA pathway were mapped in this study: UDP-N-acetyl-glucosamine pyrophosphorylase (two copies), phosphoglucosamine mutase, glucose-6-phosphate isomerase and UDP-glucose dehydrogenase. The use of this reference map for metabolic engineering of the strain is currently ongoing in our laboratory, and has resulted in a provisional patent. Results of further studies will be reported in the near future.
List of abbreviations
HA:

hyaluronic acid
2-DE:

two-dimensional gel electrophoresis
DIGE:

differential gel electrophoresis
IEF:

isoelectric focusing
LC:

liquid chromatography
MS:

mass spectrometry
MALDI:

matrix assisted laser desorption/ionization
TOF:

time of flight
ESI:

electrospray ionisation
DTT:

dithiotreitol
IPG:

immobilized pH gradient
TCA:

trichloroacetic acid
EDTA:

ethylenediaminetetraacetic acid
S. :

Streptococcus
UDP:

uridine diphosphate
ORF:

open reading frames
OD:

optical density
Gi:

GenInfo Identifier.
Declarations
Acknowledgements
The authors would like to thank the Sanger Institute for the use of the annotated S. zooepidemicus genome. We are grateful to Alun Jones and Stefanie Karrasch for technical assistance. Furthermore, we thank Claudia Vickers, Graeme Nimmo, Amanda Nouwens, Wendy Chen, Jens Krömer, and Cristiana Dal' Molin for reviewing the manuscript. We also thank CONACYT (Mexican Council of Science and Technology) and AIBN (Australian Institute for Bioengineering and Nanotechnology) for financial support.
Authors' Affiliations
(1)
Australian Institute for Bioengineering and Nanotechnology (AIBN), University of Queensland, Australia
(2)
Institute for Molecular Bioscience (IMB), University of Queensland, Australia
(3)
Center for Biomolecular Medicine and Pharmacology, Medical University of Vienna, Vienna, Austria
Copyright
© Marcellin et al; licensee BioMed Central Ltd. 2009
This article is published under license to BioMed Central Ltd. This is an Open Access article distributed under the terms of the Creative Commons Attribution License (http://creativecommons.org/licenses/by/2.0), which permits unrestricted use, distribution, and reproduction in any medium, provided the original work is properly cited.