Retracted: Clinical and Technical Phosphoproteomic Research
Received: 31 January 2011
Accepted: 2 June 2011
Published: 2 June 2011
The Retraction Note to this article has been published in Proteome Science 2013 11:16
Abstract
An encouraging approach for the diagnosis and effective therapy of immunological pathologies, which would include cancer, is the identification of proteins and phosphorylated proteins. Disease proteomics, in particular, is a potentially useful method for this purpose. A key role is played by protein phosphorylation in the regulation of normal immunology disorders and targets for several new cancer drugs and drug candidates are cancer cells and protein kinases. Protein phosphorylation is a highly dynamic process. The functioning of new drugs is of major importance as is the selection of those patients who would respond best to a specific treatment regime. In all major aspects of cellular life signalling networks are key elements which play a major role in inter- and intracellular communications. They are involved in diverse processes such as cell-cycle progression, cellular metabolism, cell-cell communication and appropriate response to the cellular environment. A whole range of networks that are involved in the regulation of cell development, differentiation, proliferation, apoptosis, and immunologic responses is contained in the latter. It is so necessary to understand and monitor kinase signalling pathways in order to understand many immunology pathologies. Enrichment of phosphorylated proteins or peptides from tissue or bodily fluid samples is required. The application of technologies such as immunoproteomic techniques, phosphoenrichments and mass spectrometry (MS) is crucial for the identification and quantification of protein phosphorylation sites in order to advance in clinical research. Pharmacodynamic readouts of disease states and cellular drug responses in tumour samples will be provided as the field develops. We aim to detail the current and most useful techniques with research examples to isolate and carry out clinical phosphoproteomic studies which may be helpful for immunology and cancer research. Different phosphopeptide enrichment and quantitative techniques need to be combined to achieve good phosphopeptide recovery and good up- and-down phospho-regulation protein studies.
Keywords
Phosphorylation SiteOropharyngeal Squamous Cell CarcinomaPhosphopeptide EnrichmentHydrophilic Interaction ChromatographyiTRAQ Reagent
Background
Importance of the field
The personalized management of diseases has and is being extended and this implies the prescription of specific therapeutics best suited for the individual patient and his/her type of illness. With the combination of different proteomic strategies this can be improved, and this would imply the coupling of proteomic and clinical research.
Areas covered in this review
Clinical and Proteomic research can be carried out in a complementary manner in order to advance and innovate therapies and diagnostics. We also point out the importance of immunology diseases including cancer, especially those which are directly connected to phosphorylated protein kinases and the way in which to isolate and methodologically analyse phosphoproteins-phosphopeptides, with their advantages and disadvantages, when using proteomic tools.
What the reader will gain
An overview of various types of different proteomic strategy-combinations personalized for specific diseases. The principles of phosphoproteomic techniques with examples are also presented in a simple manner. In addition, important mass spectrometry clues will be detailed in order to identify and correctly assign a phosphate group in a phosphorylated protein.
Take home message
A high number of proteomic-combination-approaches are available for clinical research. It is always necessary to test different proteomic tools in order to raise a greater level of efficiency for your clinical proteomic study, especially those related to phosphorylated proteins which are poorly expressed as some kinases. Nowadays it is essential that clinicians and proteomic experts work together in order to improve the therapies and drug candidates development.
We aim to detail the current and most useful techniques with research examples to isolate and carry out clinical phosphoproteomic studies which may be helpful for immunology and cancer research. Different phosphopeptide enrichment and quantitative techniques need to be combined to achieve good phosphopeptide recovery and good up- and-down phospho-regulation protein studies.
(A) Phosphorylation's role in immune disorders and cancer
Phosphorylation and de-phosphorylation at serine, threonine and tyrosine residues are one of the most common mechanisms of activation and/or inactivation signalling pathways. A variety of cellular processes including cellular growth, proliferation, cell cycle control, cytoskeletal mobility and receptor regulation [1] are controlled by this type of modification. Phosphorylation leads to allosteric modifications that may result in conformational changes sufficient to cause activation or inactivation of various proteins and associated altered functioning. It is our hypothesis that identification of phosphoproteins associated with the various stages of different immunological disorders, including cancer, may provide information on the development of the pathology. In addition the mechanism of tumorigenesis gives us insight into the development of diagnostic and therapeutic procedures.
The mitogen activated protein kinase (MAPK) pathways are known to be deregulated in many human malignancies [
2
–
5
]. With relation to malignancy, the best studies MAPKs are the extracellular signal regulated protein kinases (ERK). ERKs phosphorylate cytoplasmic targets migrate to the nucleus where they can activate transcription factors involved in cellular proliferation. Eractic signalling in the MAPK/ERK pathways has been described in prostate, breast and colon cancers
in vitro
as well as
in vivo
models [
6
–
9
]. In cervical cancer, furthermore, a study has described decreased activation of ERK1/2 in invasive cervical carcinoma [
10
]. Annexin A1, which is a calcium dependent phospholipid binding protein that has been linked to membrane trafficking through exocytosis and endocytosis [
11
], is a second relevant example. Other studies have evaluated the role of annexin A1 in the modulation of the MAPK/ERK [
12
]. In fact, many members of the Annexin family are known to undergo alternative splicing yielding a number of isoforms. The resulting variant forms may have different functions and binding capacity in comparison to the native forms [
13
]. The DNA-Protein Kinase catalytic subunit (DNA-PKcs) - another relevant example - a macromolecule found to be involved in the repair of double stranded DNA fractures through activation of p53, found to be expressed in cancer specimens in its tyrosine phosphorylated and cleaved form [
14
]. In contrast, in normal specimens DNA-PKcs existed in its whole, full length in non-phosphorylated form. This study was aimed at identifying differential expression and modification of proteins that could suggest erratic pathways which could serve as novel targets for developing new therapies in the treatment of cervical cancer and help in monitoring disease recurrence or progression. The general principles of signalling pathways are illustrated (Figure
1
) and also, an example of the structure of a relevant phosphorylated protein kinase (Figure
2
).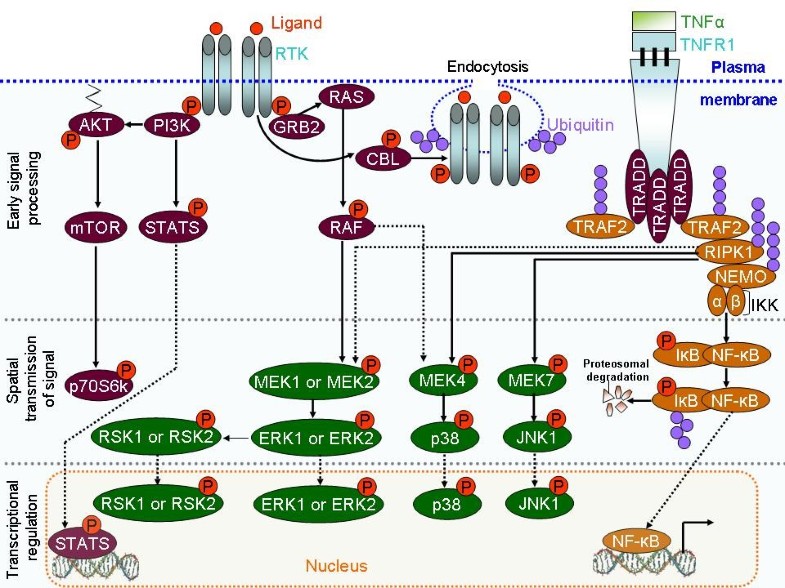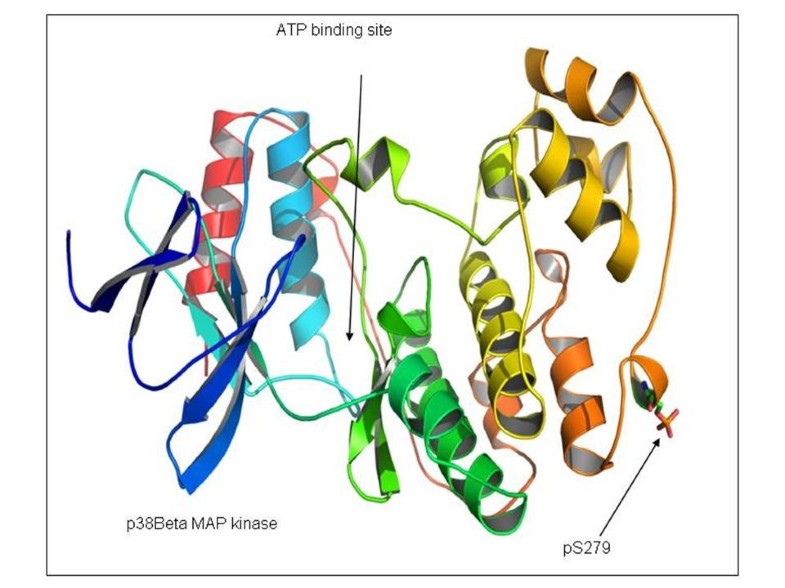 On the other hand, the CDC25 family of proteins consists of dual specificity phosphatases which regulate cell cycle transitions, and they are key targets for the checkpoint machinery to maintain genome stability during DNA damage. Three isoforms of CDC25 have been identified in mammalian cells: CDC25A, CDC25B, and CDC25C. CDC25A and CDC25B over-expression has been reported in many types of human cancers, but these are insufficient to cause cancer, and the mechanism responsible for CDC25 over-expression is unclear [15, 16]. The study of dose-response effects of the anti-cancer drug rapamycin on the phosphoproteomics level has identified hundreds of novel rapamycin-targeted cellular proteins and their phosphorylation sites. This information has enabled us to identify CDC25B as the key enzyme in mediating rapamycin induced oncogenic AKT activation. It is important to point out that we can demonstrate that phosphoproteomic profiling of a certain therapeutic agent does not only identify potential drug target(s) to improve the efficiency of that therapeutic approach in disease treatment, but it can also provide cellular information about possible beneficial and adverse side effects of a specific disease therapy when treating patients [17].
In addition, primary immunodeficiencies (PID) are "nature's experiments" which have allowed, not only the elucidation of many signalling pathways, but also their function an clinical relevance. Bruton's tyrosine kinase, is an interesting example: (Btk; member of the Tec family of kinases) [18, 19], important in B-lymphocyte development, differentiation, and signalling. Btk is predominantly expressed in B lymphocytes and monocytes but not in plasma cells [20, 21]. Btk expression in the B-cell lineage is also developmentally regulated, with bone marrow derived hematopoietic stem cells, common lymphoid progenitor cells, developing B and myeloid lineages showing the highest levels, whereas the remaining mature cells prior to activation have reduced cellular Btk. What remains to be established is the physiological significance of Btk expression in other cell types as B lymphocytes are the only cells known to be affected in X-linked agammaglobulinemia (XLA). Mutations in the Btk gene lead to XLA in humans and X-linked immunodeficiency (Xid) in mice. Activation of Btk triggers a cascade of signalling-events that culminates in the generation of calcium mobilization and fluxes, cytoskeletal rearrangements, and transcriptional regulation involving nuclear factor-κB (NF-κB) and nuclear factor of activated T cells (NFAT). In B cells, NF-κB was shown to bind to the Btk promoter and induce transcription, whereas the B-cell receptor dependent NF-κB signalling pathway requires functional Btk. In addition, Btk activation is strictly regulated by a plethora of other signalling proteins including protein kinase C (PKC), Sab/SH3BP5, and caveolin-1. Additionally, the prolyl isomerase Pin1 negatively regulates Btk by decreasing tyrosine phosphorylation and uniform state levels of Btk [22]. It is of great interest that PKC and Pin1, both of which are negative regulators of Btk, bind to the pleckstrin homology domain of Btk. For this purpose, novel mutations in the pleckstrin homology are under research, in order to design selective and novel drugs [23]. Common variable immunodeficiency (CVID) is a PID disease. CVID is the result of intrinsic deficits affecting immunologic functions. Moreover lymphomas and neoplams are found to be related to CVID. CVID is heterogeneous, can be present early or late in life, and it is associated with specific comorbidities [24, 25]. Efforts to subcategorize CVID to predict outcomes and comorbid-condition, both clinically and based on immunologic phenotypes, are ongoing [26]. B cell-activating factor of the TNF family receptor [27], transmembrane activator, calcium modulator, cyclophilin ligand interactor (TACI) [28–30], and certain HLA haplotypes [31, 32] have been identified as potential gene candidates for susceptibility to CVID. Inducible costimulator [33, 34], CD81 [35], CD19 [36, 37] and CD20 [38] harbour disease-causing mutations that presently explain only a small percentage of cases [39]. Recently, a genome-wide association work [40] has identified diverse causes of common variable immunodeficiency providing new mechanistic insights into immunopathogenesis based on these unique genetic variations. A highly significant number of subjects with duplications in ORC4L, a gene previously associated with B-cell lymphoproliferative disorders was observed. All these new insights could be susceptible to phosphoproteomic analysis in order to clarify the clues of the different pathologies [41].
(B) Analytical techniques used in phosphoproteomics
(C) Quantitative proteomic methodologies used in clinical research; examples of relevant phosphorylated proteins studied
For phosphopeptides proteins containing amino acids with one or more of the stable isotopes of 2H, 13C, 15N or 18O can be used as internal standards by addition, at an early stage of the analysis, of a complex protein sample. There are two approaches for introducing a stable isotope into proteins or peptides: metabolic labelling using whole cells grown in culture (e.g. SILAC) or chemical labelling (e.g. iTRAQ, ICAT). Since protein phosphorylation is very dynamic and constantly changing throughout the life of a cell, measuring the changes in phosphorylation is critical for understanding the biology of a phosphorylation event, We restrict the discussion here to four MS based quantitation strategies which have direct utility towards measuring changes in protein phosphorylation extensively: SILAC, iTRAQ, AQUA and MRM. Other chemical labelling techniques which rely on stable isotope incorporation using e.g. 18O labelled water during trypsin digestions and stable isotope incorporation ICAT can also be considered to contain relevant information, but will not be described here. In addition, we will also include the explanation and examples of 2-D Fluorescence Difference Gel Electrophoresis (2D_DIGE) quantification methodology, which nowadays also provides interesting research studies.
(D) Phosphorylated proteins related to different diseases and the benefits of proteomic strategies in such clinical studies
In a recent study Steen et al. examined the role of phosphorylation in the dynamics of the anaphase promoting complex (APC) [121]. Some drugs that bind to microtubules and block mitosis are ineffective in cancer treatment; others show inexplicable focal efficacy. For example, the vinca alkaloids are useful for treating lymphoma, neuroblastoma and nephroblastomas, whereas taxol is useful for advanced breast cancer and ovarian cancer. It is not known why these drugs are not all equally effective, nor why they have different therapeutic value against different cancers. The authors observed distinct phosphorylation states of the APC in response to different antimitotic drugs and suggest they may explain some of these differences. They also propose it is possible that cells from different tissues, or cells harbouring different mutations, or cells under different physiological stresses, such as hypoxia, may differ in their response to spindle poisons and would thus reflect those differences in different sites of phosphorylation. Differences in spindle checkpoint phosphorylation may reveal new features of the mitotic state. The categorisation of drugs, the discrimination of the response of tumours to drugs and the identification of new means of checkpoint control may be facilitated by the ability to characterise drug candidates based on the spectrum of APC phosphorylations The authors further suggest that the results of the study indicate that the term mitotic arrest is a misnomer: arrest is a dynamic state in which some cells enter apoptosis and other cells revert to interphase. The ability to observe biochemical events during arrest could be very important for understanding antiproliferative treatments. The exploration of the dynamics of phosphorylation, however, makes great demands on the accuracy of quantitation. Most mass spectrometric based quantitative approaches, including stable isotope labelling with amino acids in cell culture (SILAC) and isobaric tag for relative and absolute quantitation (iTRAQ), give relative data, meaning that one state of phosphorylation is determined relative to another phosphorylation state [122–124]; these data can help to establish the kinetics of a pathway. The method used in this work offers a significant advance over earlier techniques. It allowed the measurement of specific quantitative changes in APC phosphorylation in cells arrested in nocodazole for varying periods. If these dynamics can be correlated with the process by which the arrested state is resolved, we may be provided with new tools to understand the mitotic process and to find more effective drug targets in cancer.
The long-held belief in the cancer research community that a precise molecular understanding of cancer can result in cancer therapy is validated by the development of drugs for specific biological pathways with increased specificity and reduced toxicity. The development of Herceptin, a monoclonal antibody against the HER2 receptor for breast cancer therapy is one of the most successful recent examples of cancer-specific drugs. HER2 is an important target in cancer because its overexpression increases tumour cell proliferation, vessel formation and invasiveness, and predicts poor prognosis. Wolf-Yadlin and other scientists [111, 112], [121–124] have used phosphoproteomics and MS to investigate the role of phosphorylation in the effects of HER2 overexpression on EGF- and HRG-mediated signalling of erbB receptors. Identification was possible of specific combinations of phosphorylation sites that correlate with cell proliferation and migration and that potentially represent targets for therapeutic intervention. Unfortunately, owing to sensitivity limitations, only 68 out of 322 phosphorylation sites could be analysed kinetically, so the study does not provide a comprehensive analysis of the multitude of effects produced by HER2 overexpression. It does, however, mark an important breakthrough in the characterisation of the erbB receptor signalling network in tumours and illustrates the importance of understanding protein phosphorylation.
A central role is played by mitochondria in energy metabolism and cellular survival, and consequently mitochondrial dysfunction is associated with a number of human pathologies. Moreover, mitochondrial dysfunction is linked to insulin resistance in humans with obesity and type 2 diabetes. Recently, Zhao and co-workers (2011) [
125
], studied the phosphoproteome of the mitochondria isolated from human skeletal muscle. Zhao and co-workers revealed extensive phosphorylation of inner membrane protein complexes and enzymes combining titanium dioxide (TiO
2
) protocols with reverse phase chromatography coupled to MS analysis. 155 distinct phosphorylation sites in 77 mitochondrial phosphoproteins, including 116 phosphoserine, 23 phosphothreonine, and 16 phosphotyrosine residues were identified. Phosphorylation sites in mitochondrial proteins involved in amino acid degradation, importers and transporters, calcium homeostasis, and apoptosis were also assigned. Furthermore, many of these mitochondrial phosphoproteins are substrates for protein kinase A, protein kinase C, casein kinase II and DNA-dependent protein kinase. The high number of phosphotyrosine residues suggests that tyrosine phosphorylation has an important role in mitochondrial signalling. Many of the mitochondrial phosphoproteins are involved oxidative phosphorylation, tricarboxylic acid cycle, and lipid metabolism, i.e. processes proposed to be involved in insulin resistance. It is well known that mitochondria dysfunction is centrally involved in a number of human pathologies, such as type 2 diabetes, parkinson's disease and cancer [
126
]. In this study, the most prevalent form of cellular protein post-translational modifications (PTMs), reversible phosphorylation [
127
–
134
][135-139], emerges as a central mechanism in the regulation of mitochondrial functions [
130
,
131
]. The steadily increasing numbers of reported mitochondrial kinases, phosphatases and phosphoproteins also imply the important role of protein phosphorylation in different mitochondrial processes [
132
–
134
]. The prototypical proteomics pipe-line useful for clinical research is illustrated (Figure
3
).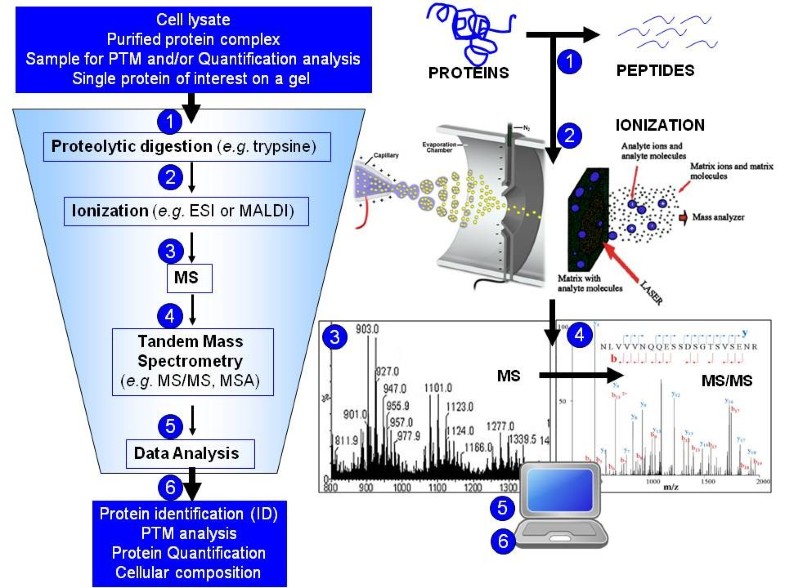 (E) Observations and Future Needs
Cancer and immune disorders are still among the leading causes of death worldwide. Therefore, there is still a need for the identification of useful biomarkers and the improvement of the understanding of the development of these diseases. The immune system is readily affected by the existence of cancer in the body, even at a preclinical stage, and these studies should be expanded and extended in the future to answer the numerous questions concerning (a) the roles of immune cells in cancer surveillance (b) the characteristics of inflammation in association with cancer development, (c) the effects of environment/lifestyle factors on the immune system, and (d) the interaction between aging diseases. The importance of protein kinase-regulated signal transduction pathways in immunology disorders and cancer has led to the development of drugs that inhibit protein kinases at the apex or intermediary levels of these pathways. Protein phosphorylation assignment studies of these signalling pathways will provide important insights into the operation and connectivity of these pathways that will facilitate the identification of the best targets for cancer therapies and immunology diseases (e.g. the identification of a phosphate group on a specific serine, threonine or tyrosine by phosphoenrichments combined with MS). Phosphoproteomic analysis of individual tumours, blood, sera, tissues will also help match targeted therapeutic drugs to the appropriate patients. It is now generally accepted that no single proteomic method is comprehensive, but combinations of different enrichment methods produce distinct overlapping phosphopeptide datasets to enhance the overall results in phosphoproteome analysis. During the last decade, phosphopeptide sequencing by mass spectrometry has seen tremendous advances. For example, MS/MS product ion scanning, multistage activation and precursor ion scanning are effective methods for identifying serine (Ser), threonine (Thr) and tyrosine (Tyr) phosphorylated peptides.
The current phosphoproteomic goals imply the identification of phosphoproteins, mapping of phosphorylation sites, quantitation of phosphorylation under different conditions, and the determination of the stoichiometry of the phosphorylation. In addition, knowing when a protein is phosphorylated, which kinase/s is-are involved, and how each phosphorylation fits into the signalling network, are also important challenges for researchers in order to understand the significance of different biological events. The new MS technologies are fundamental for cataloguing all this information, and it is heading towards the collection of accurate data on phosphopeptides on a global scale. In addition, the possible difficulties to get sufficient amount of specific phosphorylated proteins of specific low abundant protein-kinases in vivo which might limit the usability of the phosphoproteome analysis, must be pointed out.
Finally, it is important to state that to develop clinical proteomic applications using the identified proteins and phosphoproteins, collaboration between research scientists, clinicians and diagnostic companies, and proteomic experts is essential, particularly in the early phases of the biomarker development projects. The proteomics modalities currently available have the potential to lead to the development of clinical applications, and channelling the wealth of the information produced towards concrete and specific clinical purposes is urgent.
Abbreviations
AQUA :

Absolute Quantitation
CID :

Collision-Induced Dissociation
Da :

Dalton (molecular mass)
DIGE 2-D :

Fluorescence Difference Gel Electrophoresis
ECD :

Electron Capture Dissociation
ESI :

Electron Spray Ionization
ETD :

Electron Transfer Dissociation
FT-ICR :

Fourier transform-Ion Cyclotron Resonance
HILIC :

Hydrophilic interaction chromatography
HPLC :

High-performance liquid chromatography or high-pressure liquid chromatography
H 3 PO 4 :

Phosphoric acid
ICR :

Ion Cyclotron Resonance
IMAC :

Immobilized Metal Affinity Capture
IT :

Ion Trap
iTRAQ :

Isobaric Tag for Relative and Absolute Quantitation
kDa :

kilodalton (molecular mass)
LC :

Liquid Chromatography
MALDI :

Matrix-Assisted Laser Desorption/Ionization
MOAC :

Metal Oxide Affinity Chromatography
Mr :

Relative molecular mass (dimensionless)
MRM :

Multiple reaction monitoring
MS :

Mass Spectrometry
MSA :

MultiStage Activation
MS/MS :

tandem mass spectrometry
m/z :

Mass to charge ratio
PID :

Primary Immunodeficiencies
PTM :

Post-Translational Modification
SILAC :

Stable Isotope Labelling with Amino acid in cell Culture
SIMAC :

Sequential Elution from IMAC
TiO 2 :

Titanium dioxide
TOF :

Time Of Flight
ZrO 2 :

Zirconium dioxide
Declarations
Acknowledgements
EL PhD was a recipient of a Post-doctoral fellowship of Ministerio de Ciencia e Innovación de España. IL PhD was a recipient of a FLL (Fundación Leucemia y Linfoma) grant. AF and JL are M.D. PhD with permanent positions from Spanish National Hospitals La Paz and Carlos III respectively.
Authors' Affiliations
(1)
Inflammatory core, Centro de Investigación i+12 del Hospital Universitario 12 de Octubre, Madrid, Spain
(2)
Hematology Department, Hospital Universitario 12 Octubre, Madrid, Spain
(3)
Immunology Department, Hospital Universitario La Paz, Madrid, Spain
(4)
Immunology Department, Hospital Carlos III, Madrid, Spain
Copyright
© López et al.; licensee BioMed Central Ltd. 2011
This article is published under license to BioMed Central Ltd. This is an Open Access article distributed under the terms of the Creative Commons Attribution License (http://creativecommons.org/licenses/by/2.0), which permits unrestricted use, distribution, and reproduction in any medium, provided the original work is properly cited.