An automated growth enclosure for metabolic labeling of Arabidopsis thaliana with 13C-carbon dioxide - an in vivo labeling system for proteomics and metabolomics research
Received: 25 January 2011
Accepted: 10 February 2011
Published: 10 February 2011
Abstract
Background
Labeling whole Arabidopsis (Arabidopsis thaliana) plants to high enrichment with 13C for proteomics and metabolomics applications would facilitate experimental approaches not possible by conventional methods. Such a system would use the plant's native capacity for carbon fixation to ubiquitously incorporate 13C from 13CO2 gas. Because of the high cost of 13CO2 it is critical that the design conserve the labeled gas.
Results
A fully enclosed automated plant growth enclosure has been designed and assembled where the system simultaneously monitors humidity, temperature, pressure and 13CO2 concentration with continuous adjustment of humidity, pressure and 13CO2 levels controlled by a computer running LabView software. The enclosure is mounted on a movable cart for mobility among growth environments. Arabidopsis was grown in the enclosure for up to 8 weeks and obtained on average >95 atom% enrichment for small metabolites, such as amino acids and >91 atom% for large metabolites, including proteins and peptides.
Conclusion
The capability of this labeling system for isotope dilution experiments was demonstrated by evaluation of amino acid turnover using GC-MS as well as protein turnover using LC-MS/MS. Because this 'open source' Arabidopsis13C-labeling growth environment was built using readily available materials and software, it can be adapted easily to accommodate many different experimental designs.
Keywords
Isotopic DistributionLabel Amino AcidCold PlatePressure Relief ValveRubisco Large Subunit
Background
Radioactive and stable isotope tracing techniques have been used for decades and have yielded revolutionary insights into plant metabolism, including photorespiration [1–3] and photosynthetic carbon assimilation [4–6]. These techniques have also been utilized to study secondary plant metabolites [2, 7, 8] and to understand carbon flux from plants to soil organisms [9] or within plants in different seasons [10] or under stress [11]. Similarly, the pioneering work of Rittenberg and Foster [12] on stable isotope dilution analysis revolutionized the ability for quantitative analysis of low abundance labile compounds and quantitative analysis of such compounds in vivo [13–15]. Stable isotope dilution has become the de facto standard for analysis of phytohormones and related compounds in plant tissues [16, 17].
In the post-genomic era of biological research, there has been increasing interest in making the connections between gene expression and the mechanisms of metabolic regulation in response to internal stimulation and external perturbation. Because carbon atoms are present in virtually all metabolites and cellular macromolecules, labeling plants with [13C]-labeled tracers, such as 13CO2 [18, 19] and [13C]glucose [20–23] has been used to monitor fluxes of metabolites in isotopologue perturbation/relaxation experiments as well as to generate universal and highly enriched internal standards for metabolite profiling in whole biological systems [24, 25]. Using [13C]-labeled metabolites extracted from labeled plants for the quantification of multiple metabolites in plants has significant advantages over using single internal standards despite the fact that single compound standards have been routinely used for metabolite profiling [26–29]. Recent labeling studies with [13C]glucose and 13CO2 suggest that the 13C isotope effects are of insufficient magnitude to detectably perturb the fluxes and enzymatic kinetics of the metabolic networks within the error found in typical analyses [19, 22]. Flux analysis using [13C]-labeled tracers needs to be performed with care; however, as the omission of reaction pathways or a failure to account for metabolite channeling can result in significant errors [30].
Plants can be easily labeled with 13CO2 or 14CO2 because the tracers can be readily assimilated into the metabolic systems either via ribulose-1,5-bisphosphate carboxylase oxygenase (Rubisco; EC 4.1.1.39) or phosphoenolpyruvate carboxylase (EC 4.1.1.31). Various methods for partial or ubiquitous 13C labeling have previously been reported for plants using different labeling systems, as summarized below. 13CO2 tracer experiments have been conducted by short exposure (ranging from few minutes to few days) of plant leaves to a 13CO2 environment using simple leaf clamps or cuvettes [2, 31], a plastic bag [10], or delicate leaf chambers [1, 3, 7, 32] with or without humidity control. Labeling has also been accomplished using a simple sealed flask containing 13CO2 for plant tissue cultures [6]. Air-tight enclosures with basic humidity regulation have been designed to partially label whole plants with 13CO2 for metabolite flux studies [8, 9, 33]. Pulse labeling studies with 13CO2 usually resulted in low [13C]-enrichments of the metabolites of interest. Even though the final [13C]-enrichment may not directly influence the accuracy of flux determination, there is no doubt that increasing labeling homogeneity and 13C enrichment for all metabolite pools will lead to higher experimental reproducibility for isotope dilution studies. Recently, a commercially available enclosure, called BioBox, was shown to label whole plants with 13CO2. Plants from BioBox experiments were subsequently used for flux studies [18, 19] and to generate highly labeled metabolites to be used as internal standards for metabolite profiling [25]. However, as the BioBox is a proprietary commercial product, there is minimal information available in the public domain regarding specifications, components or functional characteristics.
In this study, we describe an automated growth enclosure for the [13C]-labeling of whole Arabidopsis plants. In contrast to the commercial system, this 'open source' enclosure was constructed using components that are either readily available from suppliers or can be easily manufactured from available materials. Additionally, the control software was implemented using the readily accessible and easily modified LabView environment (National Instruments, Austin, TX, USA) with the code included in Additional file 1. An expandable modular enclosure design was used to provide flexibility for optimal use of space and to maximize 13CO2 use efficiency. The enclosure is portable and is designed for placement within a larger environmental growth chamber to allow for ease of control of external light quantity as well as quality and to allow better temperature control than is possible with internal enclosure lighting systems.
Highly enriched metabolites, such as amino acids, as well as larger molecules, such as proteins, were obtained from Arabidopsis after a 3-week labeling period with 99atom% 13CO2. We also demonstrated that the plants generated by this enclosed system could be used to study amino acid and protein turnover in isotopic dilution experiments after a 13CO2 labeling period. Our results indicate that the 13CO2 enclosure is suitable for the analysis of metabolic and protein flux and for the generation of highly enriched plant metabolites usable as universal internal standards for metabolic and protein profiling research.
Results
Construction of the 13CO2 labeling system
Our interest in using stable isotope labeling coupled with LC-MS/MS for determination of protein and metabolite turnover necessitated the construction of an automated and versatile
13
CO
2
labeling enclosure. The system we designed consists of a closed growth box assembled using predominately commercially available components. The enclosure itself and the housing for the Peltier-based dehumidifier were constructed in the university shop from Plexiglass
®
acrylic sheets. Figure
1A
and B show a schematic and photographic image, respectively, of the completed system.
13
CO
2
labeling using the system has been successfully tested by growing
Arabidopsis
as shown in Figure
1C
. The controlled growth environment can accommodate 25
Arabidopsis
plants seedlings grown hydroponically with a maximum head-space volume of ~50 L.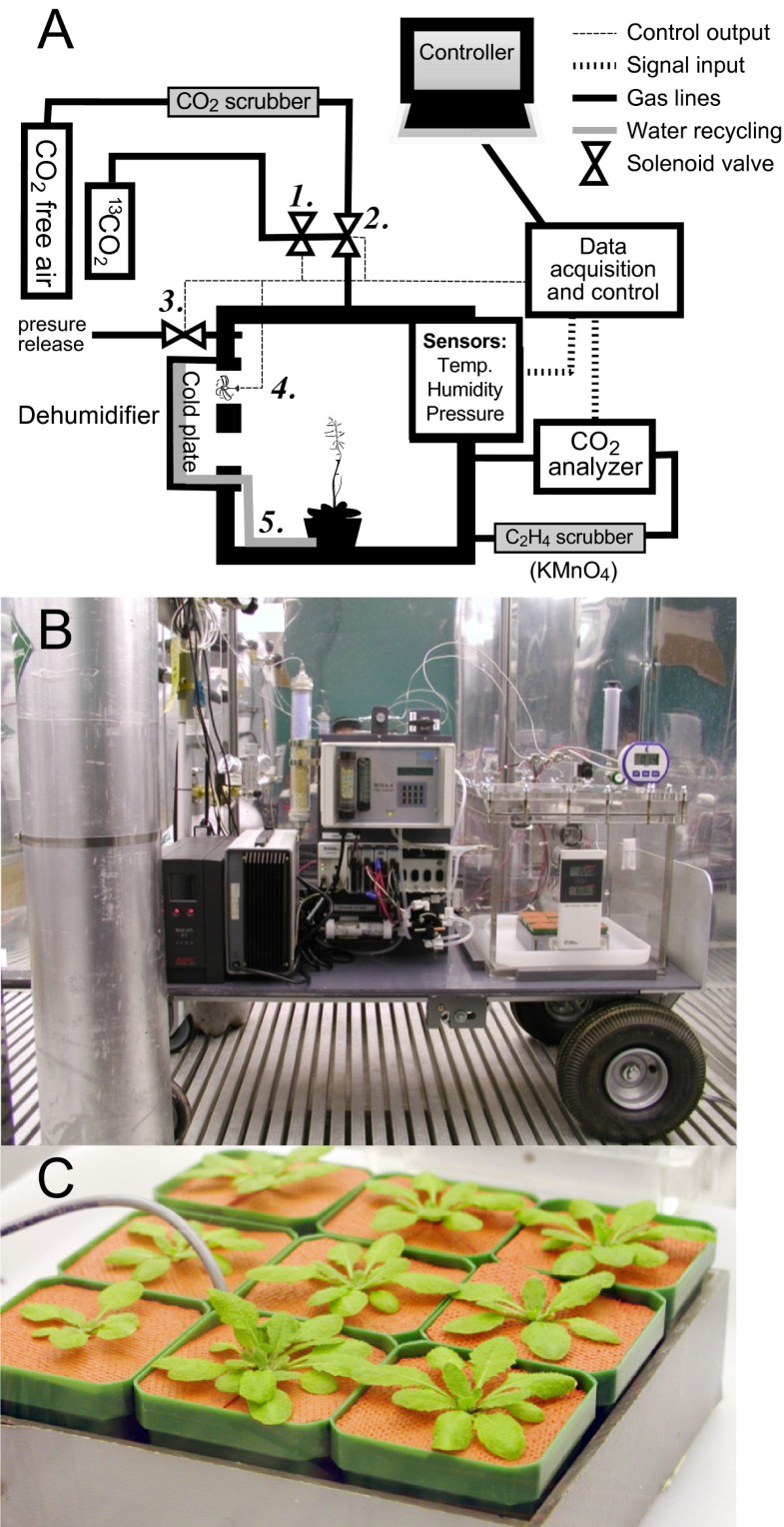 Initial tests of this system with Arabidopsis plants revealed that even very young seedlings (< 5-day old) emitted sufficient ethylene to result in significant stunting of growth and aborted embryo development (data not shown). Potassium permanganate is a strong oxidizing agent and can readily oxidize ethylene into CO2 and H2O. It has been used to delay the ripening of fruits and extend the freshness of cut flowers and vegetables by removal of ethylene from the air. The inclusion of potassium permanganate-based adsorbent packets (Power Pellet sachets, Ethylene Control, Selma, CA) to the system completely overcame these ethylene-mediated growth and developmental consequences and enabled us to grow Arabidopsis plants from seed to seed.
The design of the enclosure provided an environment where available CO2 had a high 13C enrichment (~99%) for growing whole plants. This was accomplished by repeated purges of the complete system with CO2-free air followed by a cycle of equilibration with 300 ppm 13CO2, a second purge, and re-equilibration. This was routinely performed to ensure the lowest contamination of ambient CO2 in the enclosure prior to initiating labeling experiments.
13C enrichment of plant derived compounds obtained using the enclosure
To investigate the efficiency of 13CO2 labeling using this enclosure, the enrichments in individual amino acids and peptides derived from proteins were monitored using GC-MS and LC-MS/MS, respectively.
Amino acids serve as precursors to many metabolites, including proteins, primary metabolites, plant hormones and nucleic acids, and function as the main carriers for nitrogen metabolism. In plants, photosynthesis plays a vital role in amino acid synthesis as it does in the production of all carbon containing metabolites. Monitoring amino acid enrichment and turnover should thus provide an excellent indication of how completely plants are labeled with 13CO2. We employed a rapid and highly sensitive methyl chloroformate derivatization GC-MS method for amino acid profiling [34] which, due to the low mass of the added groups and the stability of the derivatized amino acids, was well suited for such isotopic enrichment studies. We first determined the total number of carbon atoms in most of the major fragments of the methyl chloroformate-derivatized amino acids by using unlabeled and fully labeled amino acid standards (Additional file 2). The molecular or, alternatively, major fragment ions (typically [M-59]+) of sufficient intensity were used to provide isotopomer distribution information for the enrichment calculations.
In order to measure amino acid turnover, after an initial
13
CO
2
labeling period beginning at germination, [
13
C]-enrichment was monitored immediately after removal from the
13
CO
2
enclosure and at various periods of growth in ambient air (with
12
CO
2
) to allow dilution of the isotope pools. Samples of [
13
C]-labeled
Arabidopsis
leaves were harvested at least 4 h after the start of the light period to reduce major metabolic changes due to the diurnal cycle [
19
]. No significant differences in plant morphology were observable throughout the three-week growth period between plants grown inside and outside the [
13
C]-enclosure (using otherwise identical conditions, in the same walk-in growth chamber). Of 17 amino acids monitored, 9 amino acids, including serine, glycine, alanine, methionine, glutamine, histidine, tyrosine, phenylalanine and tryptophan, were essentially fully enriched (> 98%) after
13
CO
2
labeling from the time of seed germination (Figure
2
). The remaining observable amino acids showed enrichments of >93%, except for proline, which had only 85% enrichment.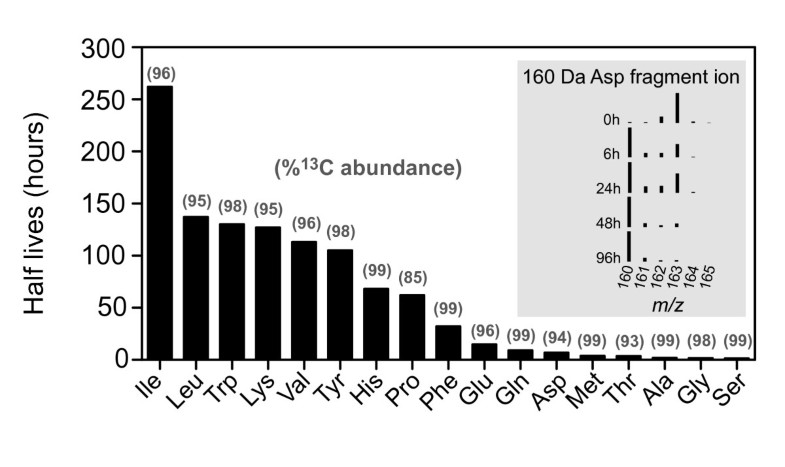 Amino acid half-lives in Arabidopsis leaves were determined using changes in isotopic distributions observed in mass spectra of labeled amino acid ions monitored over time. An example (aspartic acid, m/z 160) of just such a time course is illustrated in Figure 2. The specific fragment ion (m/z 160) contains six carbon atoms but only three of these were derived from aspartic acid. The other three carbon atoms originate from the methyl chloroformate derivatizing reagent. As shown, after being fully labeled with 13C, the peak at m/z = 163 becomes the most abundant peak in the isotopic cluster. After isotopic dilution with ambient CO2 for 96 h, the most abundant peak shifts back to m/z = 160, which is the [12C]-monoisotopic ion of this specific Asp fragment. The rate at which the isotopic distribution shifted back toward a natural isotopic abundance distribution reflected the turnover rate of this amino acid. Figure 2 shows the half-lives of a total of 17 amino acids measured and fitted to the equation for first order exponential decay. Among the amino acids, glycine, serine and alanine had the shortest half-lives (< 2 h). Glutamic acid, glutamine and aspartic acid, which are involved in nitrogen assimilation, had medium turnover rates that ranged from 7-15 h. Several amino acids had half-lives of over 4 d, including tyrosine, valine, lysine, tryptophan and leucine; isoleucine had the longest half-life. It is worth noting that the time course of isotope dilution was found to be biphasic in many cases. The carbon partition was initially fast, but then slowed down dramatically (data not shown). This phenomenon might be due to the recycling of labeled carbon for the newly synthesized amino acids followed by a slower phase approaching equilibrium after the initial linear dilution phase. In addition, amino acids might be present in multiple pools, which exhibit differing rates of exchange between pools. This biphasic isotopic dilution phenomenon has been described previously using 13CO2 in plants and with highly-enriched water (δ2H = 340 ± 1% or δ18O = 15.0 ± 0.1%) in animals [19, 35].
Protein enrichment and turnover measurement using the enclosure
As discussed above, an important goal of this research was to develop a high throughput method to measure protein turnover using whole plant stable isotope labeling via LC-MS/MS on a proteomic scale. A protein turnover measurement using this enclosure with
13
CO
2
was demonstrated as shown in Figure
3
. To assist the identification of partially labeled peptides in the raw MS/MS using a standard search algorithm, unlabeled proteins were added to [
13
C]-labeled proteins in a 1:4 ratio (unlabeled to labeled) before being separated by SDS-PAGE. A predominant protein band around 52 kDa containing mostly Rubisco large subunit was excised and subjected to in-gel trypsinization prior to LC-MS/MS analysis. Several proteins including Rubisco large subunit and ATP synthase CF1 β-subunit were identified in these samples with multiple high confidence peptide assignments. We are interested in measuring the turnover of β-subunit of ATP synthase because we have previously observed this protein to be modified by the plant hormone indole 3-acetic acid in other plant species [
36
]. Once unlabeled peptides from this protein were identified, both unlabeled and labeled peptides were confirmed as coeluting sets of isotopic distributions by linear correlation of extracted isotopic channels within known retention time windows.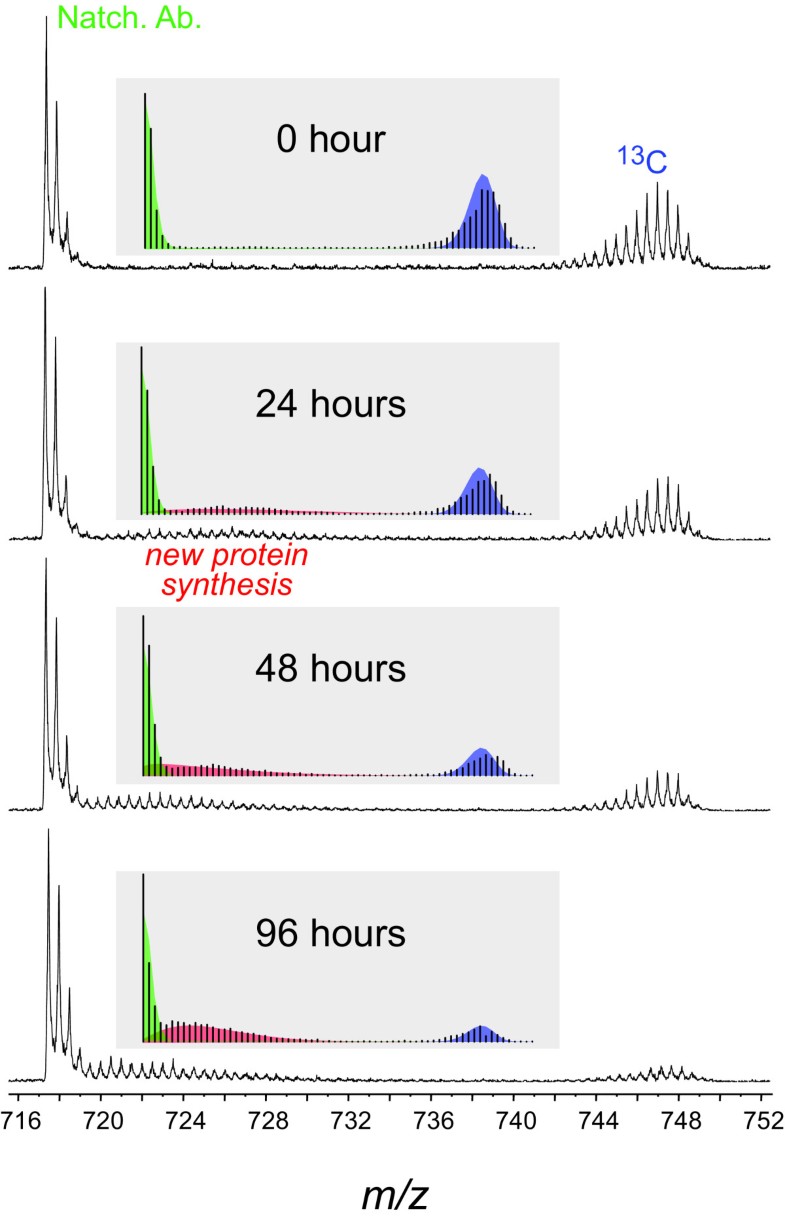 Figure 3 shows the changes in isotopic distributions for a peptide of Arabidopsis ATP synthase CF1 β-subunit (FVQAGSEVSALLGR, C63H104N18O20) as they occur in discreet time points after switching from growth using 13C-labeled to unlabeled carbon dioxide. At time 0 only natural abundance (from the spike) and fully-labeled peptide distributions were present in the spectra. The [13C]-enrichment of the labeled peptide was estimated to be 93atom%. Twenty-four hours after plants were transferred to ambient air, an additional peptide distribution appeared. For this peptide the new distribution was clearly visible above noise following 24 hours of growth under unlabeled CO2. A pronounced shift in the isotopic distribution of this newly synthesized peptide toward natural abundance can also be observed over time and can be described using the rate of change in fractional isotopic abundance for this distribution. Perhaps a more important measurement with respect to protein turnover kinetics is the distribution abundance ratio of old peptide (synthesized prior to label change) to new peptide (synthesized after label change). This value can be measured by taking the ratios of modeled distributions for the old peptide (envelope on the right) and the newly synthesized peptide (envelope on the left next to the spiked natural abundance) and may be expected to decrease following first order kinetics.
When isotopic peak intensities are modeled as mixed β-binomial distributions, the observed spectra can be fitted and parameterized by a maximum likelihood estimate (MLE) into three isotopic distributions: natural abundance, newly synthesized peptide and old peptide distributions as highlighted by green, red and blue colors, respectively, in the insets of each spectrum. The mass shift of newly synthesized peptide distribution and the relative abundance of newly synthesized peptide and old peptide distributions can be derived from the fitted distribution parameters at each time point. As expected, we found that the distribution abundance ratio of newly synthesized peptides decreased following first order kinetics and could be fitted by non-linear regression to calculate half-life. However, the kinetics of fractional isotopic abundance of the newly synthesized peptide distribution seemed to be biphasic with a fast initial phase followed by a slow phase. In theory, the fractional isotopic abundance kinetics reflects a combination of amino acid turnover, protein turnover as well as the recycling of label compounds in the system. The half-life of Arabidopsis ATP synthase CF1 β-subunit in Arabidopsis leaves was calculated to be 57 hours using distribution abundance ratio measurements from 5 peptides (Additional file 3). The entire data analysis procedure has been implemented in R code for high-throughput calculations (further information available at website: http://www.proteinturnover.umn.edu/).
Discussion
While most intact plants are limited in their capacity to absorb and utilize chemically complex labeled nutrients, they can be provided with chemically simple labeled nutrients (nitrate, carbon dioxide, water, phosphate etc.) to accomplish ubiquitous metabolic incorporation of isotopically labeled elements during the growth process [37]. While it is relatively easy to label many plants to high enrichment of 15N by simply providing labeled nitrogen nutrients in hydroponics media, [13C]-labeling from 13CO2 is much more difficult because of the need for atmospheric gas control. Other means of [13C]-labeling have been accomplished as described earlier and from non-volatile carbon sources such as glucose, but these methods result in rather extreme physiological perturbations that may be confounding for many experimental questions. In many cases, especially in protein analysis, [15N]-labeling is ideal, but for the analysis of metabolites, where nitrogen is not always present, or for investigations where nitrogen inputs cannot be modified as in nitrogen starvation, [13C]-labeling is required. For those situations where 15N is not a useful label we have developed a 13CO2 growth enclosure for propagation of Arabidopsis with ubiquitous carbon labeling to a high atom% enrichment of 13C.
Introduction of isotopic labels into biological systems can accomplish three fundamentally different types of experimental objectives: 1) Signal enhancement (e.g. radiolabeling, [15N]- or [13C]-labeling for NMR); 2) Molecular flux measurement (by following changes in isotope composition over time following changes in labeling inputs); and 3) Mass resolvable internal control (chemically identical but isotopically distinct samples are combined prior to extraction and mass spectral analysis). For signal enhancement, it is often not necessary or desirable to have high atom% isotope enrichment as this may result in undesirable excessive radiation or spin coupling in NMR. In contrast, for flux analysis or for relative quantification via mass spectrometry it is usually highly advantageous to be able to label molecules to near 100% atom substitution. To ensure a significantly high [13C]-enrichment of the plant material, the enclosure was designed to allow for the complete purging with CO2 free air. We found that the circulation of 13CO2 (300 ppm) during the purging cycle, before the start of the labeling experiments, helped increase the [13C]-enrichment of plants grown in the enclosure due possibly to the exchange of surface-bound and residual free 12CO2 in the system with 13CO2. This purging step was typically performed before seed germination, but could be used at any additional steps in the growth process as well. Especially for seeds with large nutrient stores, the enclosure could be purged at various times after germination to remove 12CO2 contamination produced during respirative consumption of seed carbon stores during the earliest stages of plant growth. Such a purge of a growing system would be expected to be best conducted just prior to the transition from dark to light in the photoperiod cycle so that the products of respiration are cleared prior to initiation of new photosynthetic carbon assimilation [19]. With our current design we noted when using the CO2-free air inlet, that the relative humidity could drop to as low as 40% with the introduction of the dry gas into the enclosure during purging steps. This drop may be avoided either by simply pre-humidification of the air, as with a gas sparger or alternatively, as we have found effective, by using only short purges (30 min) with dry air thus avoiding drought stress at the sensitive seedling stages of growth.
In plants, 13CO2, unlike [13C]glucose [21], should rapidly label cellular carbon with little discrimination at high enrichments [18, 19, 25] because CO2 enters the plant metabolic systems via photosynthesis where carbon backbones of all organic compounds are synthesized. Transfer from labeled to unlabeled environments should rapidly change the form of fixed carbon entering into the plant's metabolic system [19]. In addition, consistent with previous studies [18, 25], the high percentage labeling with 13CO2 procedures yielded very clean mass spectral data making analysis of amino acid and protein turnover more efficient and accurate.
There are two important potential concerns regarding the use of 13CO2 for labeling that must be considered. First, since the plants will be completely labeled with 13C, the extent of carbon recycling will be an issue, especially under conditions where a dark period is required in the experimental protocol or where very young seedlings are used. In a series of amino acid turnover experiments (data not shown) as well as protein turnover experiments (Additional file 3), we observed dilution plateaus at various levels for most of the amino acids and peptides, suggestive of a significant level of carbon recycling. A similar observation of a plateau for various metabolites had been reported previously [19]. Second, both the cost and the limitations of the growth environment are important concerns since these may limit the application of the methods in specific cases. While seedling data should be possible to obtain using seeds produced on plants raised in the 13CO2 environment, changing the carbon isotopic composition during seedling growth might be a challenge due to the extensive use of stored reserves. Potentially either the seedlings could be grown on labeled sugars or the seedlings could be shifted to continuous autotrophic conditions to decrease the influence of stored seed reserves. Previously, we showed both the utility and limitations of using 2H2O for measurement of protein turnover in young seedlings [38].
Early seedling growth heavily depends on stored nutrients in seed endosperm including carbon resources. This mostly 12C carbon source in endosperm is very likely to cause reduction of final [13C] enrichment in plants. We found that Arabidopsis in this study as well as tomato plants (unpublished data) could be highly [13C] enriched within a month of growth in the enclosure regardless of the stored carbon resources in their endosperms and without intensively purging the enclosure after seed germinated. These results were likely due largely to the dilution effect of the high ratios of final fresh weight over seed weight in both plant species. However, for plants with larger carbon capacity within the seed, such as corn, rice and soybean, the residual endosperm for monocots or the cotyledons on dicots will likely need to be removed from the seeds prior to planting or from young seedlings to maximize the enrichment achieved. Such extra caution has been taken previously in rice labeling with 13CO2 and has been shown to increase [13C] enrichment [19].
Conclusion
We have designed, tested and described an open source 13C-labeling growth environment for Arabidopsis. Our testing results demonstrate that this system provides an excellent general labeling system for Arabidopsis and allows minimal alteration of the plant due to the labeling procedure per se. In addition to being used for turnover or flux studies, the highly enriched protein and metabolite fractions from plants grown under 13CO2 can be used for quantitative studies of protein and metabolite levels in plants. This system is highly adaptable and can be readily modified for a variety of research procedures that require an enclosed growth environment. The software that controls the system is readily available and easily modified with tools provided with the software package.
List of abbreviations
DAQ:

data acquisition
DTT:

dithiothreitol
GC:

gas chromatography
ID:

inner diameter
IDA:

information: dependent acquisition
LC:

liquid chromatography
MCF:

methyl chloroformate
MIDA:

mass isotopomer distribution analysis
MLE:

maximum likelihood estimate
MS:

mass spectrometry
MS/MS:

tandem mass spectrometry
NMR:

nuclear magnetic resonance
OD:

outer diameter
PID:

proportional integral derivative
PWM:

pulse: width modulation
Rubisco:

ribulose: 1,5: bisphosphate carboxylase oxygenase
SCX:

strong cation exchange
SDS:

sodium dodecyl sulfate (detergent)
SDS:

PAGE: sodium dodecyl sulfate polyacrylamide gel electrophoresis
SIM:

selected ion monitoring
SPE:

solid phase extraction
TAIR:

The Arabidopsis Information Resource
TE:

buffer containing 10 mM tris(hydroxymethyl)aminomethane and 1 mM ethylenediaminetetraacetate with pH adjusted to pH 8.0 by addition of HCl
TOF MS:

time: of-flight mass spectrometry.
Declarations
Acknowledgements and funding
Protein mass spectrometry was conducted at the Center for Mass Spectrometry and Proteomics at the University of Minnesota and we thank both Todd Markowski and Bruce Witthuhn for their help with sample preparation and LC-MS/MS analysis. We also acknowledge Sanford Weisberg and Aaron Rendahl from the School of Statistics and Thomas F. McGowan from the Center for Mass Spectrometry and Proteomics for their contributions toward development of methods for amino acid and protein data analysis. We thank Michael Emerick for his help with the construction of the enclosure system and Doug Brinkman for the assistance with light spectrum measurement. We are grateful for funding provided by the NSF Plant Genome Research Program grants DBI-0606666 and IOS-0923960, as well as NSF grant IOS-0820940 and by the Gordon and Margaret Bailey Endowment for Environmental Horticulture.
Authors' Affiliations
(1)
Department of Horticultural Science, University of Minnesota, Saint Paul, USA
(2)
Department of Plant Biology, University of Minnesota, Saint Paul, USA
(3)
Microbial and Plant Genomics Institute, University of Minnesota, Saint Paul, USA
(4)
Saint Paul Apparatus Shop, University of Minnesota, Saint Paul, USA
(5)
Yeastern Biotech Co., Ltd., Shijr, Taipei, Taiwan
(6)
Room S1-411, Institute of Genetics and Developmental Biology, Chinese Academy of Sciences, ChaoYang district, Beijing, PR China
Copyright
© Chen et al; licensee BioMed Central Ltd. 2011
This article is published under license to BioMed Central Ltd. This is an Open Access article distributed under the terms of the Creative Commons Attribution License (http://creativecommons.org/licenses/by/2.0), which permits unrestricted use, distribution, and reproduction in any medium, provided the original work is properly cited.