A combined approach for genome wide protein function annotation/prediction
Proteome Science
2013
11(Suppl 1):S1
Published: 7 November 2013
Abstract
Background
Today large scale genome sequencing technologies are uncovering an increasing amount of new genes and proteins, which remain uncharacterized. Experimental procedures for protein function prediction are low throughput by nature and thus can't be used to keep up with the rate at which new proteins are discovered. On the other hand, proteins are the prominent stakeholders in almost all biological processes, and therefore the need to precisely know their functions for a better understanding of the underlying biological mechanism is inevitable. The challenge of annotating uncharacterized proteins in functional genomics and biology in general motivates the use of computational techniques well orchestrated to accurately predict their functions.
Methods
We propose a computational flow for the functional annotation of a protein able to assign the most probable functions to a protein by aggregating heterogeneous information. Considered information include: protein motifs, protein sequence similarity, and protein homology data gathered from interacting proteins, combined with data from highly similar non-interacting proteins (hereinafter called Similactors). Moreover, to increase the predictive power of our model we also compute and integrate term specific relationships among functional terms based on Gene Ontology (GO).
Results
We tested our method on Saccharomyces Cerevisiae and Homo sapiens species proteins. The aggregation of different structural and functional evidence with GO relationships outperforms, in terms of precision and accuracy of prediction than the other methods reported in literature. The predicted precision and accuracy is 100% for more than half of the input set for both species; overall, we obtained 85.38% precision and 81.95% accuracy for Homo sapiens and 79.73% precision and 80.06% accuracy for Saccharomyces Cerevisiae species proteins.
Keywords
Gene OntologyFunctional TermUncharacterized ProteinProtein Function PredictionProtein Annotation
Background
Proteins are macromolecules that serve as building blocks and functional components of a cell, and account for the second largest fraction of the cellular weight after water. Proteins are responsible for some of the most important functions in an organism and the knowledge of their functions is a crucial link in the development of new drugs, better crops, and even the development of synthetic biochemicals such as biofuels. However, rapid advances in genome sequencing technologies are revealing new proteins at a rate that have resulted in a continually expanding sequence-function gap for the discovered proteins [1]. For example, in Homo sapiens more than half of the total proteins are uncharacterized, likewise about one-third of the proteins in the Saccharomyces Cerevisiae, which is arguably one of the most well characterized model organisms, remain functionally unknown.
This large set of conserved proteins whose function is still unknown, represents one of the main challenges for a deep comprehension of an organism as a biological system. Moreover, better understanding of protein functions can help biologists to successfully investigate new lines of attack against different diseases. Due to their enzymatic nature, proteins are generally among the preferred targets in drug and vaccine manufacturing processes. This makes the knowledge of their functions a critical step in any drug target discovery effort, and fully justifies the necessity of effective computational techniques for the precise annotation of uncharacterized proteins.
Until recently, numerous high-throughput experimental procedures have been developed to investigate the mechanisms leading to the accomplishment of a protein's function. Different information sources including sequence similarity, protein 3D structure, phylogenetic profiles, protein-protein interactions (PPI), gene expression profiles, protein complexes, etc., represent the ground for the development of these techniques [2]. The most widespread approaches utilize proteome-scale PPI networks that have been retrieved for several organisms including yeast and human [3], [4], [5], [6]. Interactions among proteins are mapped into graphs where each node signifies a protein and the edges between nodes represent associated molecular interactions of proteins. An interaction in the network is either a direct physical association between the proteins (typically retrieved via two hybrid analysis [7]), or a functional association in which the two interacting proteins are part of the same multi-protein complex, and cooperate for the same functional goal [8].
Protein function prediction methods that utilize protein interaction networks information can be categorized into three main groups: 1- Module-assisted, 2- Direct methods, and 3- Probabilistic methods [9]. Nevertheless, all methods share the common approach that tries to propagate protein annotations from functionally known proteins of a network to uncharacterized proteins [4].
Module-assisted methods search for protein modules of a network that are involved in a particular biological activity (i.e., versatile protein domains that are frequently used as building blocks in the construction of diverse multidomain proteins). Protein functional annotations are then assigned based on the presence of a protein in a specific module. Instead, direct methods are based on the fact that close proteins in the network are involved in related functional activity. Both direct neighbours [5] and indirect neighbours [10], try to establish functional links in the network by considering first or higher level interacting neighbor proteins.
Module-assisted and direct methods assume that proteins with similar functions are always close to each other in the network. However, this assumption can't be applied to every protein in the network [11]. To model such nature of proteins in the network, methods utilizing probabilistic frameworks based on Markov Random Fields (MRFs) are presented [12], [13], [14]. The fundamental supposition for such methods is that a protein's function is independent of all other proteins in the network given its neighboring proteins [9]. The techniques of this category, in general, estimate prior and conditional probabilities of all functions in the network and then approximate the joint probability of an unannotated protein to these functions.
The elusive nature of protein functions necessitates the use of appropriate function taxonomies to properly identify the set of activities a protein performs. Approaches that utilize PPI data coupled with a standard taxonomy of functions have demonstrated better results compared to those exploiting direct annotation transfers, as shown in [15], [16], [17], [18], and [19]. Most of these techniques use the Gene Ontology (GO) [20] as a functional classification scheme. GO is a structured and controlled vocabulary of terms providing consistency in annotating how a protein behaves in a cellular context. It is arranged in Directed Acyclic Graph (DAG) of nodes, associated in parent child relationships; with each node indicating a functional term. Nodes are connected with "is_a" (special case of the parent node/term) or "part_of" (sub-process of the parent node/term) relationships. Functionally known proteins are related to one or more nodes of the GO hierarchy; and because of parent/child associations if a protein is known to a child term it is also known to all of its parent terms in the hierarchy.
Several techniques have been proposed to use GO term relationships to functionally characterize proteins, e.g., [16], [21], [22] and [23]. Mitrofanova et al. [17] propose a Markov Random Field (MRF) based approach that integrates PPI networks with protein inter-species homology information considering a fixed size ontology. Unfortunately, while the fixed size ontology strongly reduces the computational complexity of the prediction process, it also represents one of the main limitations of this technique. This simplification limits the application of the methodology only to proteins annotated with the same fixed and specific set of GO terms. In fact, a method able to consider all functions of a protein along with their corresponding annotations in the whole GO would provide a more precise picture of the protein's cellular activity enabling for higher predictive power especially in the case of very large data sets of proteins.
Combining functional information from heterogeneous biological sources has also been proven to increase the overall predictive power of automated protein function annotation techniques [15], [19]. For a large set of uncharacterized proteins it is difficult to find enough biological information in PPI network databases for their functional association with other proteins. Moreover, existing interaction information is often unreliable, including a high rate of false positives. Heterogeneous information sources may provide additional functional links between uncharacterized proteins and annotated proteins.
Protein homology among different species could be exploited for this purpose. Many hypothetical proteins show no interactions (i.e., no edges) in their own network, but are associated with high confidence edges to homologs of other species networks. An example of this type of association is shown in Figure
1
. The protein
YKL033W-A
(UniProtID: Q86ZR7) of
Saccharomyces cerevisiae
does not show any interaction in its own network. Nevertheless, it has two interactions with high homolog similarity with protein
HDHD1
(UniProtID: Q08623) of
Homo Sapiens
species and with protein
CG15441
(UniProtID: Q94529) of
Drosophila Melanogaster
species networks. Another type of biological information that could be exploited to link characterized and uncharacterized proteins is the set of motifs conserved in those proteins. Several functionally conserved proteins are found to have motifs that associate them to a particular molecular activity. For example in Table
1
, uncharacterized protein
YIL169C
(UniProtID: P40442) is conserved with Chemotaxis_Transduce_2 and T_SNARE motifs, while uncharacterized protein
Truncated TBY
(UniprotID: E9PAE3) is conserved with INTEGRASE and ASP_PROTEASE motifs. Similar motifs in known proteins can be used to link functional information with these proteins.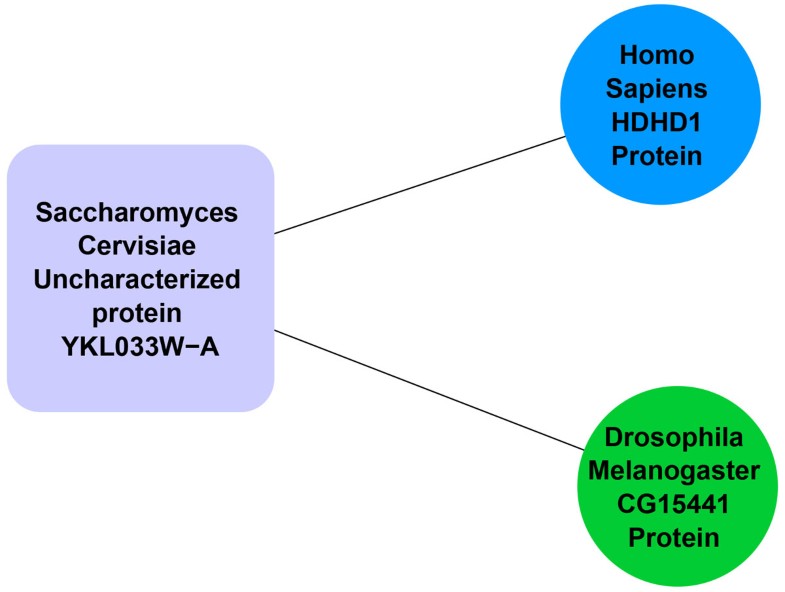 Table 1
An example of Baker Yeast's Hypothetical Proteins conserved with different motifs.
| | Hypothetical Proteins | Motif Pattern and Profiles Conserved |
| --- | --- | --- |
| 1 | YIL169C | Chemotaxis Transduce 2 |
| | | T SNARE |
| 2 | Truncated TYB | INTEGRASE |
| | | ASP PROTEASE |
This work is an extension of our previous work [18]; with the additional concept of network enrichment through similactor proteins which is particularly effective for proteins with relatively small network information. We present a novel high-throughput computational scheme for protein function prediction that aggregates heterogeneous biological information that can be retrieved for a large set of uncharacterized proteins. We build a computational model that integrates protein interaction data with sequence similarity, protein homolog similarity and protein shared motifs to calculate an interaction score exploited to measure the positive evidence of protein interactions and shared functions. The integrated model is then enriched with GO structural information to calculate a context similarity measure among potential protein annotations. The whole GO hierarchy is used without imposing restrictions on the set of considered GO terms, thus overcoming some of the limitations of [17]. The method yields high precision and accuracy over the previously reported methods with a wide protein coverage when applied to Saccharomyces Cerevisiae and Homo sapiens species proteins.
Methods
Our protein annotation pipeline exploits the associative nature of proteins that interact and collaborate on a common biological activity. The functions of an uncharacterized protein can therefore be inferred when the functions of its binding or interacting partners is known. Figure
2
provides a general high-level view of the proposed information flow that comprises four main computational steps: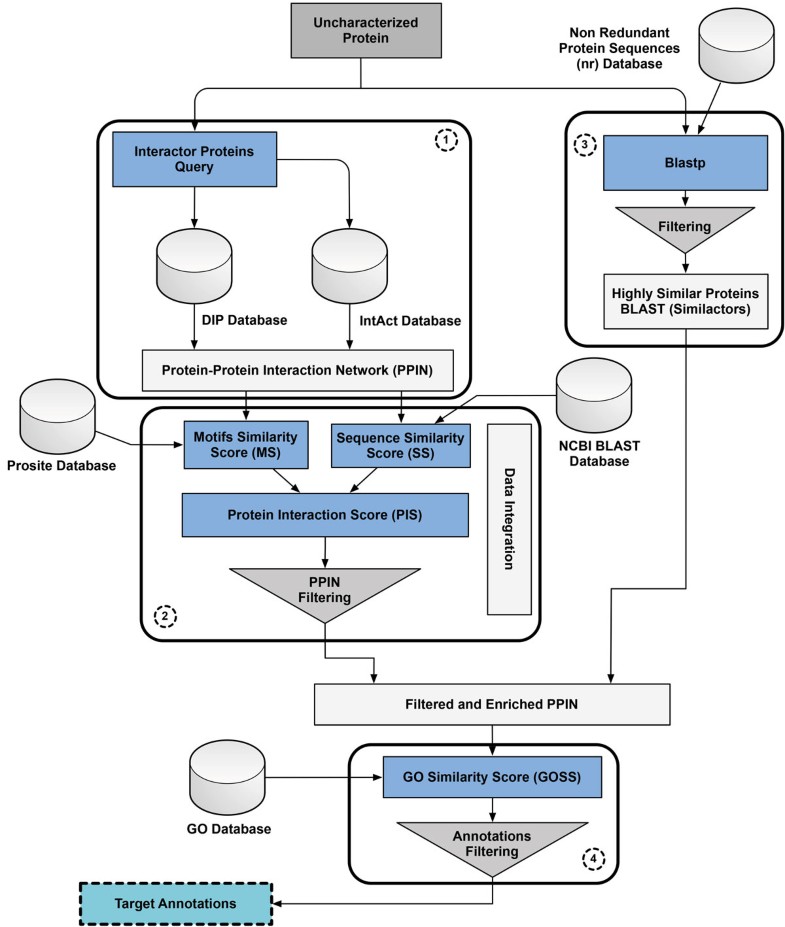 1.

building the protein-protein interaction network,

2.

filtering the network for reliable interactions,

3.

enriching the network with a set of non interacting highly similar proteins, and

4.

computing a GO based function similarity score to propagate functions from characterized to uncharacterized proteins.
Results and discussion
To validate the pipeline described in the Methods section, we applied the annotation process to predict the functions of two Saccharomyces Cerevisiae and Homo sapiens species protein datasets. The protein functional annotation data used for our model were obtained from the Uniprot [24] database for both species, and the functional term-related dependencies were extracted from the GO database [20]. To calculate the prediction performance we used a leave-one-out cross-validation approach: each annotated protein P in our dataset has been selected as a candidate unknown protein and its functional annotations predicted resorting to our methodology. Predicted functions have been then compared with the protein's original annotations in order to understand the overall prediction performance. The process has also been repeated under several different thresholds settings. We present the results for 763 proteins annotated with 2,099 GO terms of Saccharomyces Cerevisiae species, and 793 proteins annotated with 2,178 GO terms of Homo sapiens species.
Conclusion
In this work, we presented a methodology that uses existing biological data with Gene Ontology functional dependencies to infer functions of uncharacterized proteins. We combined different sources of structural and functional information along with Gene Ontology relationships to predict multiple but related functional categories of unannotated proteins. These term-specific relationships, defined to clearly identify the functional contexts of activity of the interacting proteins, enables a dramatical improvement of the annotation accuracy with respect to previous approaches. The presented methodology may be easily extended to integrate more sources of biological information to further improve the function prediction confidence.
Declarations
Declarations
The research activity described in this paper been partially supported by Grant No. CUP B15G13000010006 awarded by the Regione Valle d'Aosta for the project: "Open Health Care Network Analysis". Politecnico di Torino directly supported all the related publication costs.
This article has been published as part of Proteome Science Volume 11 Supplement 1, 2013: Selected articles from the IEEE International Conference on Bioinformatics and Biomedicine 2012: Proteome Science. The full contents of the supplement are available online at http://www.proteomesci.com/supplements/11/S1.
Authors' Affiliations
(1)
Department of Control and Computer Engineering, Politecnico di Torino, Torino, Italy
(2)
Consorzio Interuniversitario Nazionale per l'Informatica, Verres (AO), Italy
(3)
Bioclues Organization, ICICI Knowledge Park, Picket, Secunderabad, India
Copyright
© Benso et al; licensee BioMed Central Ltd. 2013
This article is published under license to BioMed Central Ltd. This is an Open Access article distributed under the terms of the Creative Commons Attribution License (http://creativecommons.org/licenses/by/2.0), which permits unrestricted use, distribution, and reproduction in any medium, provided the original work is properly cited. The Creative Commons Public Domain Dedication waiver (http://creativecommons.org/publicdomain/zero/1.0/) applies to the data made available in this article, unless otherwise stated.