Automated quantitative multiplex immunofluorescence in situ imaging identifies phospho-S6 and phospho-PRAS40 as predictive protein biomarkers for prostate cancer lethality
Proteome Science
2014
12:40
Received: 2 March 2014
Accepted: 18 June 2014
Published: 12 July 2014
Abstract
Background
We have witnessed significant progress in gene-based approaches to cancer prognostication, promising early intervention for high-risk patients and avoidance of overtreatment for low-risk patients. However, there has been less advancement in protein-based approaches, even though perturbed protein levels and post-translational modifications are more directly linked with phenotype. Most current, gene expression-based platforms require tissue lysis resulting in loss of structural and molecular information, and hence are blind to tumor heterogeneity and morphological features.
Results
Here we report an automated, integrated multiplex immunofluorescence in situ imaging approach that quantitatively measures protein biomarker levels and activity states in defined intact tissue regions where the biomarkers of interest exert their phenotype. Using this approach, we confirm that four previously reported prognostic markers, PTEN, SMAD4, CCND1 and SPP1, can predict lethal outcome of human prostate cancer. Furthermore, we show that two PI3K pathway-regulated protein activities, pS6 (RPS6-phosphoserines 235/236) and pPRAS40 (AKT1S1-phosphothreonine 246), correlate with prostate cancer lethal outcome as well (individual marker hazard ratios of 2.04 and 2.03, respectively). Finally, we incorporate these 2 markers into a novel 5-marker protein signature, SMAD4, CCND1, SPP1, pS6, and pPRAS40, which is highly predictive for prostate cancer-specific death. The ability to substitute PTEN with phospho-markers demonstrates the potential of quantitative protein activity state measurements on intact tissue.
Conclusions
In summary, our approach can reproducibly and simultaneously quantify and assess multiple protein levels and functional activities on intact tissue specimens. We believe it is broadly applicable to not only cancer but other diseases, and propose that it should be well suited for prognostication at early stages of pathogenesis where key signaling protein levels and activities are perturbed.
Keywords
Prostate cancerBiomarkersProtein activity statesQuantitative multiplex immunofluorescenceObject recognition
Background
While tests for recurrent, validated gene mutations have great prognostic and predictive value [1–5], these mutations are relatively rare in early stage cancers. Multivariate gene-based tests require homogenized tissue with variable ratios of tumor and benign tissue resulting in less accurate biomarker measurements [6, 7]. In these types of tests, phenotype must be inferred from genetic and mutational patterns. In contrast, direct in situ measurement of protein levels and post-translational modifications should more directly reflect the status of oncogenic signaling pathways. Thus, it is reasonable to expect a protein-based approach to be highly valuable for prognostication.
A number of other issues complicate prognostic testing. In prostate cancer, tumor heterogeneity is pronounced, and sampling error can contribute to incorrect predictions. Pathologist discordance in Gleason grading and tumor staging also renders prognostication in this multifocal disease difficult. In an attempt to address these shortcomings, we set out to develop an automated quantitative multiplex immunofluorescence imaging approach for intact tissue that integrates morphological object recognition and molecular biomarker measurements from defined, relevant tissue regions at the individual slide level where the quantitative nature of the signal intensity is positively correlated with the amount of protein accessible on the tissue. We used this system to predict lethal outcome from radical prostatectomy tissue using four previously reported markers, PTEN, SMAD4, CCND1 and SPP1 [8]. Importantly, we also demonstrate that quantitative measurements of protein activity states reflective of PI3K/AKT and mitogen-activated protein kinase (MAPK) signaling status, specifically pPRAS40 and pS6, are predictive of prostate cancer lethal outcome based on univariate and multivariate analyses. As such, they can substitute for PTEN, a highly validated prognostic marker which itself regulates PI3K/AKT pathway signaling [9–13]. Together these data identify a 5 marker novel lethal outcome predictive signature consisting of SMAD4, CCND1, SPP1, pPRAS40 and pS6.
Results
Platform development
In order to develop an automated multiplex immunofluorescence imaging platform several technical requirements had to be met: 1) ability to quantitate multiple markers in a defined region of interest (i.e. in tumor versus surrounding benign tissue), 2) rigorous tissue quality controls, 3) balanced multiplex assay staining format, and 4) experimental reproducibility.
To address the first, we optimized long-pass diamidino-2-phenylindole (DAPI), fluorescein isothiocyanate (FITC), tetramethylrhodamine isothiocyanate (TRITC) and indodicarbocyanine (Cy5) filter sets to have sufficient excitation energy and emission bandpass with minimal interference between channels. We further separated biomarker signals from endogenous autofluorescence through spectral unmixing of images (Figure
1
A [
14
]). In order to measure biomarkers in tumor epithelium only, we needed to achieve "tissue segmentation", distinguishing tumor from benign areas. Segmentation was achieved using a combination of feature extraction and protein co-localization algorithms. Total epithelium was stained using Alexa488 conjugated anti-KRT8 and KRT18 antibodies, while Alexa555 conjugated anti-KRT5 and TRIM29 antibodies stained basal epithelium (Figure
1
B) [
15
,
16
]. Using automated Definiens (Munich, Germany) image analysis, epithelial structures with an outer layer of basal cells were considered benign, while those lacking basal cells were considered cancer [
16
]. Non-epithelial areas were considered stroma. Ultimately, quantitative biomarker values that correlated with accessible protein were extracted only from cancer epithelium (the 'region of interest'; Figure
1
B-D).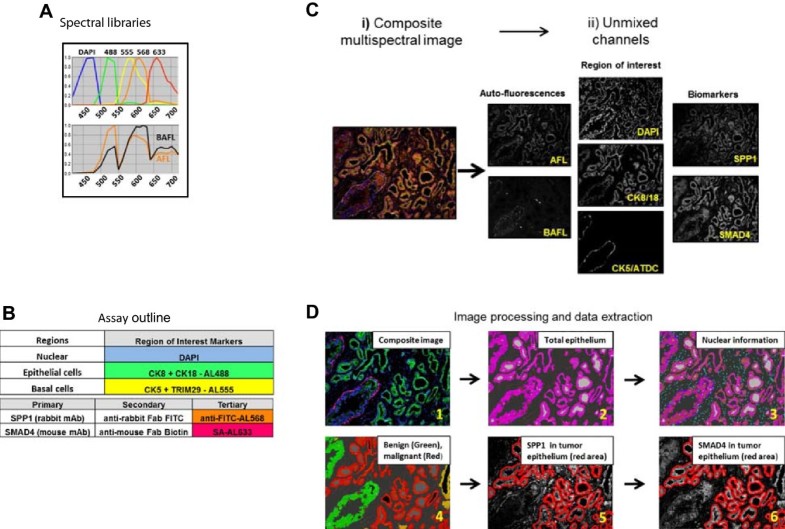 To evaluate tissue sample quality for study inclusion, we assessed staining intensities of several protein markers in benign tissue. Examination of a large number of prostate tissue blocks of variable quality revealed that KRT8, KRT18 and pSTAT3 (STAT3-phosphothreonine 705) intensities in benign epithelial regions and capillary endothelium, respectively, varied from 'high' to 'low' or 'absent' , according to tissue quality. On this basis, we categorized formalin-fixed, paraffin-embedded (FFPE) prostate cancer tissue blocks into four quality groups (Figure
2
A and Additional file
1
: Table S1). Only blocks from the best two groups were used to generate tumor microarray blocks (TMA), thereby controlling for specimen degradation and variability due to pre-analytic variation [
17
–
19
]. In total, we procured and tested 508 unique prostatectomy samples with lethal outcome annotation available (Folio Biosciences, Powell, OH). Of these, 418 passed quality testing and were used for our TMA (Additional file
1
: Table S2).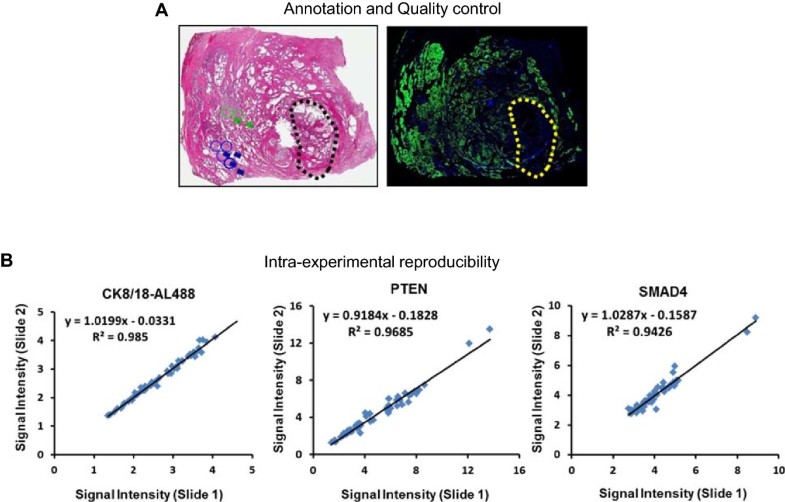 To balance biomarker signal levels in our multiplex assay format, proteins with high expression levels, like cytokeratins and TRIM29 were visualized with directly conjugated antibodies, while biomarkers with lower expression levels required signal amplification through use of secondary and tertiary antibodies. Using a test prostate TMA containing low- and high-grade tumor material, dilutions of each antibody were optimized to minimize background and maximize specificity, and to ensure a dynamic range of at least 3-fold difference between low and high signal values (Figure 2B). Signals from consecutive TMA sections showed high reproducibility with typical R2 correlation values above 0.9 and differences in absolute values typically less than 10% (Figure 2B and data not shown).
Ability to predict lethal outcome
We first tested the platform using a four-protein signature reported in a recent study published by Ding
et al.
[
8
]. Using a TMA comprised of 405 cases derived from the Physician's Health Study (PHS), the authors had demonstrated that a multivariate model based on semi-quantitative, pathologist-evaluated protein levels of PTEN, SMAD4, CCND1 and SPP1 could predict lethal outcome. We asked whether we could predict lethal outcome by evaluating protein levels in an independent prostatectomy cohort using our automated system instead. We acquired monoclonal antibodies against all 4 markers and validated them by specificity analyses as described (see Figure
3
and Methods). Out of the 418 qualified cases in our TMA, 340 were found useful for analysis, attrition primarily being due to cores displaced during sectioning (see Table
1
for cohort description). Quantitative tumor epithelium biomarker levels were extracted from each sample and values were subjected to univariate analyses. PTEN, SMAD4 and CCND1 were all found to be individually lethal outcome-predictive with hazard ratios (HRs) of 2.74, 2.48 and 1.99, respectively, while SPP1 did not have significant predictive performance (Figure
4
A).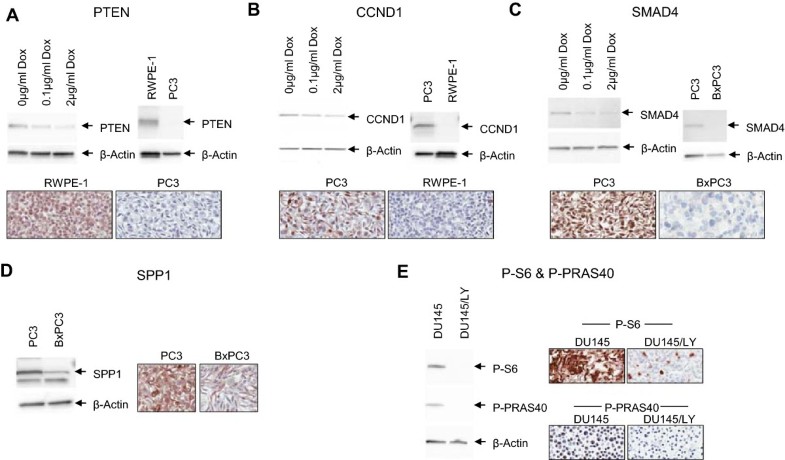 Table 1
Composition of patient prostatectomy cohort used in current study
# Samples

% Samples

Num DOD

% DOD

All

340

100

35

100

Gleason 2-6

124

36.47

2

5.71

Gleason 7

127

37.35

4

11.43

Gleason 8-10

89

26.18

29

82.86

Age at diagnosis - mean (SD)

61.9 (6.7)

Median followup years

11.92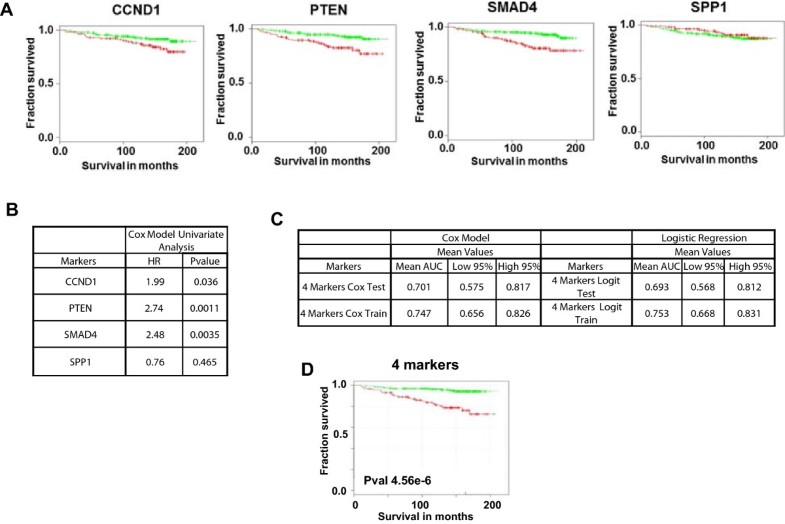 Next, multivariate Cox and logistic regression analyses were conducted. The performance of the four-marker model was determined as an area under the curve (AUC) and a concordance index (CI) (Figure 4B and Additional file 1: Table S3, respectively). For logistic regression analyses, cases were defined as patients that died from prostate cancer. The AUC was approximately 0.75 for the four markers in training mode, and 0.69 to 0.70 in test mode by logistic regression and Cox analyses, respectively (Figure 4B). A Kaplan-Meier curve comparing the top one-third to bottom two-thirds of risk scores based on the four markers was generated by a Cox model trained on the whole cohort. This curve shows a clear survival difference between risk groups (p < 10-5, see Figure 4C). Our mean AUC of 0.75 [95% confidence interval (0.67, 0.83)] is comparable with performance as described by Ding et al., with an AUC of 0.83 [95% confidence interval (0.76, 0.91)] [8], as indicated by the large overlap in confidence intervals.
Incorporation of protein activity states as part of a novel multivariate signature
Since protein activity states reflect functional events in the tumors that are associated with aggressive behavior, we tested whether our approach could quantitatively measure not just protein levels but protein activity states as reflected by post-translational modifications or altered sub-cellular localization. Phosphorylation is a particularly well-studied example of post-translational modification; the stoichiometry of protein phosphorylation at a particular site is an indirect measure of the activity state of the parent signaling pathway [
20
,
21
]. Specifically, we examined whether the activity state of one or more signaling molecules in the core PTEN-regulated signaling pathways PI3K/AKT and MAPK could substitute for PTEN in the four-marker model. PTEN protein, in contrast to the PI3K/AKT pathway, is only altered in a subset of prostate cancers [
11
,
22
], so our goal was to identify replacement phosphomarkers that could be more broadly informative about PI3K/AKT pathway activity states [
22
,
23
]. To this end, we obtained a number of phospho-specific monoclonal antibodies (mAbs) directed against key phosphoproteins and tested them for technical suitability (Additional file
1
: Table S4). Testing included specificity analysis through western blot (WB) and immunohistochemistry (IHC) before and after treatment with the PI3K inhibitor LY294002, signal intensity in human prostate cancer tissue, and, importantly, epitope stability [
19
,
23
] based on signal preservation across prostate cancer FFPE samples (Figure
3
). We included phospho-markers because PI3K/AKT pathway activity is often independent of PTEN protein status [
12
,
13
]. Based on these criteria, the following phospho-specific antibodies were selected and tested for univariate and multivariate lethal outcome predictive performance: p90RSK-T359/S363, pPRAS40-T246, and pS6-S235/236 (Cell Signaling Technology, Danvers, MA [
23
];). We also selected an anti-FOXO3 antibody for testing since it is excluded from the nucleus when the PI3K pathway is activated [
24
]. When subjected to univariate analysis, pPRAS40 and pS6 had significant univariate performance with HRs of 2.03 and 2.04, respectively, comparing signal values of the top one-third to bottom two-thirds in a Kaplan-Meier analysis (Figure
5
A). The other candidate markers did not reach significance level for univariate performance (Figure
5
A).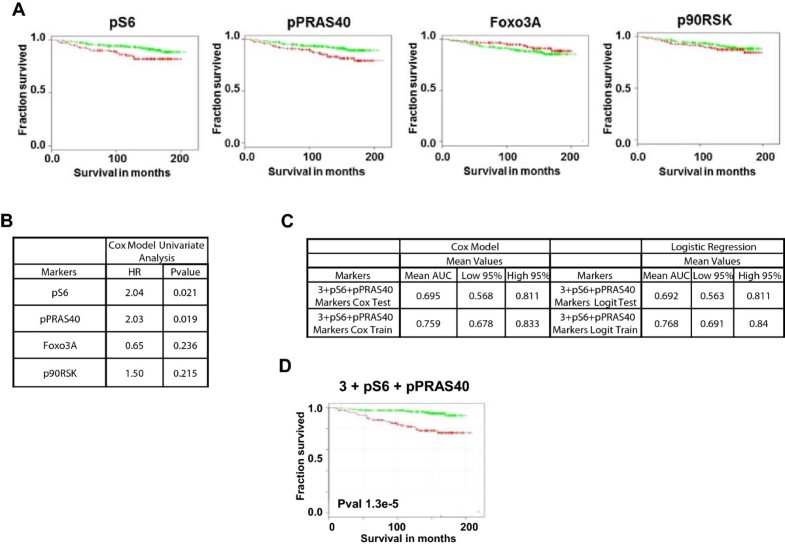 We next examined the performance of the four original markers without PTEN. The AUC (train) dropped from 0.75 to 0.72-0.73, and addition of either pS6 (in essence substituting pS6 for PTEN) or substitution with pPRAS40 did not result in a significant increase of the AUC and CI, despite their univariate performance (data not shown). However, substitution of PTEN with both pS6 and pPRAS40 increased AUC (train) values to between ~0.76 and ~0.77 (Figure 5B). The corresponding Kaplan-Meier curve for the three markers together with pS6 + pPRAS40 showed significant separation of the top 1/3 from the bottom 2/3 of the cohort (p = 1.3 × 10-5; Figure 5C). These results demonstrate that we can successfully replace PTEN, a known lethal outcome-predictive tumor suppressor, with two pathway activity markers, pS6 and pPRAS40, for the development of a new lethal outcome-predictive signature.
Discussion
The goal of this work was to establish an automated imaging platform that accurately and reproducibly integrates morphological and protein-level information. We assessed platform performance through direct comparison with a previous study by using the same 4 markers reported to predict lethal outcome. While paired data comparing the methods are not available, a simple meta-analysis of the two studies estimates a non-significant difference in mean AUC of 0.08 [95% confidence interval (-0.03, 0.19)]. Differences in performance may be due to methodological differences between the two studies. First, we only used monoclonal antibodies validated for specificity through siRNA oligo-mediated knock down in Western blotting and immunohistochemistry (Figure 3), while two of the antibodies used in the PHS study were polyclonal and thus not ideal for continued prospective application. Moreover, the quantitative measurements in this study were fully automated, while theirs relied on pathologist interpretation, and hence overall would be expected to be slightly less reproducible. Finally, our cohort included a higher proportion of Gleason ≤6 cases for which lethal outcome would be more difficult to predict than for higher grade cases and lethal outcome prediction was further limited by a median follow-up of 11.92 years which is not long enough to capture all deaths. Given these methodological distinctions and the assessment of difference in AUCs, we conclude that our results are comparable, demonstrating an important proof-of-concept for this fully automated platform and prognostication independent of human interpretation.
An important application of this platform is the ability to incorporate protein activation states as biomarkers. The tumor suppressor PTEN, a highly outcome-predictive marker, is altered in only 15-20% of early stage prostate cancers, yet is often functionally inactivated through a variety of other mechanisms that would be reflected in altered PI3K/AKT pathway activity [12]. We here show that phospho-specific mAbs measuring activity states of signaling molecules in the core PI3K and MAPK pathways can substitute for PTEN, and identify pPRAS40 and pS6 as novel, lethal outcome-predictive markers for prostate cancer. The phosphorylation of these markers is directly correlated with the pathway activity state of the PI3K pathway, and both of them are required for both PI3K and MTOR complex 1 (mTORC 1) signaling [23, 25]. AKT1S1 (PRAS40) contains a consensus phosphorylation motif and is a direct substrate for AKT, a mediator of PI3K signaling [26], while RPS6 is phosphorylated at Ser235/236 by p70S6 kinase. Interestingly, PRAS40 is required for mTORC 1 signaling to p70S6 kinase, which, in turn, enables p70S6 kinase to phosphorylate RPS6 at Ser235/236. We incorporate these 2 markers into a novel lethal outcome predictive five-marker signature for radical prostatectomy: SMAD4, CCND1, SPP1, pPRAS40 and pS6 and report its performance. To our knowledge, this is the first study that identifies pPRAS40 and pS6 as prognostic markers for prostate cancer.
Over the last few years various quantitative protein-based in situ technologies have been developed with varying degrees of success. The pioneering automated quantitative analysis (AQUA) platform for protein measurements is one example [27]. While useful for tissues where single markers can define region of interest, it does not incorporate spectral unmixing and feature extraction capabilities rendering it less suitable for multiplexing and hence problematic for heterogeneous tumors like prostate cancer. Another example is the Aureon platform, which was specifically developed for prostate cancer prognosis [28]. While in some ways similar to the platform we report here, the Aureon platform was developed prior to recent significant advances in automated imaging and biological discoveries in prostate cancer [8]. In this platform, morphological analyses were done on hematoxylin and eosin (H&E)-stained slides, and biomarkers (AMACR and AR) were measured from tissue regions defined by AMACR, a heterogeneously expressed marker present in only ~70-90% of prostate cancer patients, and hence not informative in all cases [16]. Furthermore, full automation was not possible with the first generation imaging software used at the time of development (Definiens Enterprise Image Intelligence Suite [28, 29];). Robust tissue segmentation algorithm and quantitative biomarker measurements can now be achieved in tumor epithelium regions by combining Vectra multispectral image decomposition with the programmable Definiens Tissue Developer, The resulting automated approach is highly sensitive, operates without subjective intervention, and can successfully evaluate very small amounts of cancer tissue.
We propose that PI3K/AKT pathway activity state measurements might be more informative in early prostate cancer lesions than PTEN. In ongoing clinical studies on early stage prostate cancer biopsy cohorts we are further testing this notion.
Conclusions
In summary, we have developed a multiplex immunofluorescence in situ imaging platform with automated, objective biomarker measurements able to predict lethal outcome using prostatectomy tissue independent of pathologist interpretation. Importantly, we demonstrate the ability to incorporate quantitative measurements of protein activity states, as reflected by post-translational modifications, into a multivariate protein predictor of lethal outcome, and identify pPRAS40 and pS6 as novel predictive markers for prostate cancer-specific death. We believe that this platform is broadly applicable across disease states. We are currently applying it to the development of a prognostic prostate cancer biopsy test for early stage lesions where tissue amounts are often limited.
Abbreviations
AFL:

Tissue autofluorescence signals
AQUA:

Automated quantitative analysis
AUC:

Area under the curve
BAFL:

Bright autofluorescence
CI:

Concordance index
Cy5:

Indodicarbocyanine
DAB:

Diamino benzidine
DAPI:

Diamidino-2-phenylindole
DOD:

Dead of disease
FFPE:

Formalin-fixed, paraffin-embedded
FITC:

Fluorescein isothiocyanate
H&E:

Hematoxylin and eosin
HR:

Hazard ratio
IHC:

Immunohistochemistry
Logit:

Logistic regression
mAb:

Monoclonal antibody
MAPK:

Mitogen-activated protein kinase
mTORC 1:

MTOR complex 1
PHS:

Physician's Health Study
pPRAS40:

AKT1S1 phosphorylated on threonine 246
pS6:

RPS6 phosphorylated on serines 235/236
pSTAT3:

STAT3 phosphorylated on threonine 705
QMIF:

Quantitative multiplex immunofluorescence
SD:

Standard deviation
TMA:

Tumor microarray blocks
TRITC:

Tetramethylrhodamine isothiocyanate
WB:

Western blotting.
Declarations
Acknowledgments
We thank Drs. Raju Kucherlapati, Massimo Loda, Phil Kantoff, Ronald DePinho, Lynda Chin, Sharon Friedlander, and Metamark R&D for suggestions, discussion and comments. Special thanks to Dr. James Dunyak for critical comments and review of the manuscript.
Authors' Affiliations
(1)
Metamark Genetics Inc, Cambridge, USA
(2)
Department of Pathology, Yale University Medical School, New Haven, USA
(3)
Department of Pathology and Molecular Medicine, Queen's University, Kingston, Canada
(4)
Atreca, San Carlos, USA
(5)
Moderna, Cambridge, USA
(6)
XTuit Pharmaceuticals, Inc, Cambridge, USA
Copyright
© Shipitsin et al.; licensee BioMed Central Ltd. 2014
This article is published under license to BioMed Central Ltd. This is an Open Access article distributed under the terms of the Creative Commons Attribution License (http://creativecommons.org/licenses/by/4.0), which permits unrestricted use, distribution, and reproduction in any medium, provided the original work is properly credited. The Creative Commons Public Domain Dedication waiver (http://creativecommons.org/publicdomain/zero/1.0/) applies to the data made available in this article, unless otherwise stated.