A simple and reliable protocol for mouse serum proteome profiling studies by use of two-dimensional electrophoresis and MALDI TOF/TOF mass spectrometry
Received: 21 May 2008
Accepted: 12 September 2008
Published: 12 September 2008
Abstract
Background
Unravelling the serum proteome is the subject of intensified research. In this regard, two-dimensional electrophoresis coupled with MALDI MS analysis is still one of the most commonly used method. Despite some improvements, there is the need for better protocols to enable comprehensive identification of serum proteins.
Here we report a combination of two proteomic strategies, zoom in acidic and neutral part of 2-D gels and an application of two optimised matrix preparations for MALDI-MS analyses to simplify serum proteome mapping.
Results
Mouse serum proteins were separated by 2-D electrophoresis at the pH ranges 3–10 and 4–7, respectively. Then in gel tryptic digests were analysed by MALDI-MS. Notably, sample-matrix preparations consisted of either a thin-layer α-ciano-4-hydroxycinnamic acid (CHCA) matrix deposition or a matrix-layer 2,5-dihydroxybenzoic acid (DHB). This enabled an identification of 90 proteins. The herein reported method enhanced identification of proteins by 32% when compared with previously published studies of mouse serum proteins, using the same approaches. Furthermore, experimental improvements of matrix preparations enabled automatic identification of mouse proteins, even when one of the two matrices failed.
Conclusion
We report a simple and reliable protocol for serum proteome analysis that combines an optimized resolution of 2-D gels spots and improved sample-matrix preparations for MALDI-MS analysis. The protocol allowed automated data acquisition for both CHCA and DHB and simplified the MS data acquisition therefore avoiding time-consuming procedures. The simplicity and reliability of the developed protocol may be applied universally.
Keywords
Mouse SerumSulfate GlucosamineMatched PeptideMascot ScoreAutomate Data Acquisition
Background
From a disease diagnostic and drug monitoring point of view there is great interest in serum proteome mapping of humans and of laboratory animals. Indeed, various mouse strains and genetically engineered animals are considered to be good models for human diseases as they offer unprecedented opportunities for mechanistic studies with new experimental medicines. There is hope that serum proteomics enables an identification of biomarkers of disease and drug safety and serum proteins can be used for therapeutic monitoring. In the past 2-D maps for human serum have been reported [1–4]. And very recently a map for the C57BL6 mouse serum proteome was published [5].
In general, serum proteome profiling is challenging, because of interference by high-abundance proteins such as albumin, immunoglobulins, antitrypsin and transferrin, which typically constitute greater than 90% of total protein mass [1, 2, 6–9]. These abundant proteins may hinder the detection of low-abundance proteins that can be of specific interest in the search of biomarkers of disease. Additionally, protein biochips have been applied to proteomic studies with antibody microarrays offering new possibilities in the simultaneous identification of analytes from complex samples [10].
So far, only a handful of plasma proteins are routinely measured for diagnostic purposes, because an effective technology that rapidly detects and quantifies specific changes of proteins including low-abundance proteins of serum is not available. As summarized elsewhere [11], the most common methods for serum proteome studies include separation of proteins by gel electrophoresis, excision of spots from the gel, enzymatic digestion and analysis by mass spectrometry. In particular, pre-fractionation techniques such as serum albumin depletion are useful procedures in proteome profiling studies, but they may introduce bias as well. There is substantial run-to-run variation after albumin depletion with IgY immunoaffinity spin columns. Likewise, pre-fractionation increases the risk of depletion of low-abundance proteins as has been shown for paraneoplastic antigen MA I, coagulation factor VII precursor, prostate-specific antigen, as a result of multiple protein-protein interactions with IgG, transferrins, and/or gelsolin [11, 12].
In this regard, MALDI-MS is considered to be one of the most powerful techniques for the analysis of proteins and peptides [13–15], but the sample matrix preparation greatly influences the quality of MALDI-MS spectra of peptides and therefore protein identification. Despite considerable knowledge in the use of MALDI-MS [15–18], sample-matrix preparations are basically empirical.
Here we report a protocol for serum proteome profiling based on zoom in gels in the acidic and neutral pH that enabled detection of many serum proteins. Moreover, the developed protocol allowed for an automated data acquisition, and the sample protocol was optimised by the use of two different matrix-sample preparations in sequence [19]. We thus applied tryptic in-gel digest matrix preparation to either α-ciano-4-hydroxycinnamic acid (CHCA) or 2, 5-dihydroxybenzoic acid (DHB) as recently reported by us [19].
Materials and methods
Serum sample preparation
C57/BL6 mice (healthy mice) were obtained from Harlan Winkelman (Borchen, Germany) and kept in an animal house with 12 hour of light and dark cycled. Food and water was given ad libitum. Blood serum was collected from vena cava and allowed to clot for 2 hours at room temperature. The clotted material was removed by centrifugation at 3000 rpm for 15 min. Hemolytic material was not observed. The sera obtained from the blood samples were frozen immediately without any further treatment in liquid nitrogen and stored at -80°C until further analysis. The protein concentration of serum was determined with the Bradford protein assay (Bio-Rad Protein Assay Dye Reagent Concentrate, Bio-Rad), using bovine gamma globulin as the standard. The protein concentration ranged from 80 to 90 μg/μl for wild type mouse serum samples.
Materials
IPG strips of pH 3 to 10 and 4 to 7 (ReadyStrip, 0.5 × 3 × 170 mm; BioRad, Germany), Bio-Lyte (pH 3 to 10), SDS, acrylamide, methylenebisacrylamide, TEMED, ammonium persulfate, DTT, urea, Tris, glycine, glycerol, and CHAPS were purchased from Bio-Rad. Alpha-cyano-4-hydroxycinnamic acid (CHCA) and 2,5 dihydroxybenzoic acid (DHB) from Bruker Daltonics. Methanol, ethanol, phosphoric acid, acetic acid, and formaldehyde were purchased from Merck (Darmstadt, Germany). Sequencing grade modified trypsin was obtained from Promega (Madison, WI, USA).
Coomassie Brilliant Blue G-250, TCA, iodoacetamide and other reagents were obtained from Sigma (St. Louis, MO, USA).
Two-dimensional electrophoresis
IEF was carried out using commercially available, dedicated apparatuses: IPGphor Protean IEF Cell (Bio-Rad). IPG strips were used according to manufacturer instructions [see also [20]]. About 500 μg of serum for gel were diluted to 350 μL with re-hydration solution (5 M urea, 2 M Thiourea, 2% CHAPS, 100 mM DTT, 0.5% v/v pH 3 to 10 IPG buffer, 40 mM Tris Base, 2% SB 3–10 and trace bromophenol blue), and applied to immobilized pH 3 to 10 nonlinear and pH 4 to 7 linear gradient strips by overnight re-hydration at 50 V. With Protean IEF Cell, focusing was done initially at 250 V for 15 min, then the voltage was increased to 10 000 V within 3 h, and maintained at 10 000 V for 7 h for a total of 70 kVh. All IEF steps were carried out at 20°C. After the first-dimensional IEF, IPG gel strips were placed in an equilibration solution (6 M urea, 2% SDS, 30% glycerol, 50 mM Tris-HCl, pH 8.8) containing 1% DTT for 10 min with shaking at 50 rpm on an orbital shaker. The gels were then transferred to the equilibration solution containing 2.5% iodoacetamide and shaken for a further 10 min before placing them on 12% polyacrylamide gel slab (185 × 200 × 1.0 mm).
Separation in the second dimension was carried out using Protean II electrophoresis equipment and Tris-glycine buffer (25 mM Tris, 192 mM glycine) containing 0.1% SDS, at a current setting of 5 mA/gel for the initial 1 h and 10 mA/gel thereafter. The second-dimensional SDS-PAGE was developed until the bromophenol blue dye marker had reached the bottom of the gel.
Protein visualization and image analysis
Following second-dimensional SDS-PAGE, analytical gels were fixed three times in 30% ethanol containing 2% phosphoric acid for 20 min and rinsed three times in 2% phosphoric acid. Gels were then equilibrated in a solution containing 18% ethanol, 2% phosphoric acid, and 15% ammonium sulfate for 30 min and Coomassie Brilliant Blue G-250 was added to a final concentration of 1%. Staining was carried out overnight. Protein patterns in the gels were recorded as digitalized images using a high-resolution scanner (Pharox FX, Bio-Rad). Gel image matching was done with PDQuest software (Version 8.01.40; Bio-Rad). Scanned gel images were processed to remove backgrounds, staining on the gel borders and to automatically detect spots. For all spot intensity calculations, normalized values were used. Normalization of spot intensity was done with Loess Regression Method and normalized spot intensities were expressed in ppm.
In-gel digestion
In-gel digestion of protein spots on Coomassie gels was carried out with 160 ng of Porcine Modified Trypsin (Sigma) in 10% ACN and 25 mM NH4HCO3 and performed essentially as described below.
Briefly, after the completion of staining, the gel were washed twice with water for 15 min, and then twice with water/ACN (1:1 v/v) for 15 min. The solvent volumes were about twice the gel volume. Liquid was removed, ACN was added to the gel pieces and the mixture was left for 5 min. Liquid was removed and the gel pieces were re-hydrated in 0.1 M NH4HCO3 for 5 min. ACN was added to give a 1:1 v/v mixture of 0.1 M NH4HCO3/ACN and the mixture was incubated for 15 min. All liquid was removed the digestion buffer containing 25 mM NH4HCO3 and 10 ng/μL of trypsin was added and all was incubated for 4 hours at 37°C. The supernatant was recovered and the extraction was carried out with 1% TFA/ACN (1:1 v/v).
MALDI-TOF-MS, MS/MS and database search
Tryptic peptides were spotted directly onto a 600 μm/384 well AnchorChip™ sample target (Bruker Daltonics). The matrix CHCA was saturated in 97% Acetone/0.1% TFA solution; DHB matrix was solved in 30% ACN/0.1% TFA solution (5 mg/ml). The matrix-analyte preparations were loaded onto the MALDI plate (AnchorChip™ 600 mm 384 well, Bruker Diagnostic) by the thin layer and the matrix layer (ML) method for CHCA and DHB respectively. A further re-crystallization approach was tested on peptide calibration standard preparation (Bruker Daltonics) and applied for the samples on the AnchorChip™ [19]. An external peptide calibration standard containing the following fragments was used to calibrate the instrument: angiotensin II ([M+H]+ 1046.54); angiotensin I ([M+H]+ 1296.680); substance P ([M+H]+ 1347.740); bombesin ([M+H]+ 1619.820); ACTH clip 1–17 ([M+H]+ 2093.090); ACTH clip 18–39 ([M+H]+ 2465.200); somatostatin 28 ([M+H]+ 1347.470) (Bruker Daltonics). Furthermore, the spectra were calibrated using trypsin autolysis products (m/z s 1045.564, 2211.108 and 2225.119) for three points internal calibration resulting in a mass accuracy of <50 ppm.
The MALDI mass spectra were obtained using an Ultraflex II TOF/TOF mass spectrometer equipped with a 384-sample scout source (Bruker Daltonics) and AutoXecute® software for automatic spectra acquisition (Bruker Daltonics) was used. Peptide masses were searched against SwissProt database employing Mascot (in-house MASCOT-server) for protein identification. Database searches were performed taking into account carbamidomethyl modification of cysteines and possible oxidation of methionine and allowing one missed cleavage. The mass accuracy required for PMF and MS/MS was basically chosen according to peptide mass-tolerance defined by Root Mean Square (RMS) error, since it defines the limit of peptide mass tolerance (Peptide tol +-) for respectively Mascot Peptide Mass Fingerprint and Mascot MS/MS Ion Search to obtain a significant score (p < 0.05) of matched peptides to select protein entry [21].
Peptides were identified using ProteinScape™ database (Protagen, Bruker, Germany) and Mascot search engine to cross-validate or consolidate the identification results through the complementary use of several software packages. We use ProteinScape™ ScoreBooster feature to improve database search results by automatic iterative recalibrations and background eliminations. Identified proteins were checked individually for further considerations.
The criteria used to accept identifications included the extent of sequence coverage, the number of matched peptides, the Mascot score, i.e. the Top Score obtained after Mascot has incorporated the Mowse score into a probabilistic framework. It is defined as -10*LOG10(P), where P is the absolute probability that the observed match is a random event [21]. In case of SwissProt as selected protein sequence database, protein scores greater than 53 were significant (p < 0.05). In addition we requested mouse protein as the top candidates in the first pass search when no restriction was applied to the species of origin. Moreover, when the identification was not possible to reach from PMF, MS/MS data were collected and used as result, if Significant hits were obtained by Probability Based Mowse Score (individual ion scores >25 that indicate identity or extensive homology-p < 0.05-) [21]. In general, false positive evaluation was done by software with randomized searches to remove redundant peptide and protein identification.
The new identifications were furthermore searched in PeptideMap free software (ProWL free software programs, National Resource for the Mass Spectrometric Analysis of Biological Macromolecules, the Rockefeller University) [22] and compared with Mascot results (for details, please refer to Additional files 1, 2).
Conclusion
The combination of zoom in gels and the use of two different sample-matrix preparations in sequence improved protein identification of mouse serum proteins considerably and allowed for automated data acquisition as compared to previous methods using 2-DE and MALDI-MS (an example is given in Figure 4) [7, 8]. Moreover, we obtained a higher number of matched peptides, as compared to sample pre-fractionation methods coupled with LC-MS/MS or other proteomic approaches (Table 1) [9, 32, 33]. Finally, we report an improved mouse serum proteome map and an identification of 13 proteins that were not reported in previous 2-DE studies. Even with the comprehensive study reported in [5], six of them are still novel (Table 2) [5–9, 32, 33]. We validated the newly identified proteins by repeating the searches against different databases (NCBInr and MSDB), as described above (Table 2) [51]. Moreover, the same spectra were further analysed with PeptideMap free software [22]. Altogether, identical results were obtained.
There is a need for a reliable characterization of serum proteomes to enable biomarker discovery. In our opinion, the strength of this work lies in the right combination of protocols and its simplification. We report a simple and reliable identification of mouse serum protein (for instance, see Figure
5
) and as shown in Table
1
, our work evidences an improved identification when compared with previous studies based on pre-treatments of serum or other sophisticated methods.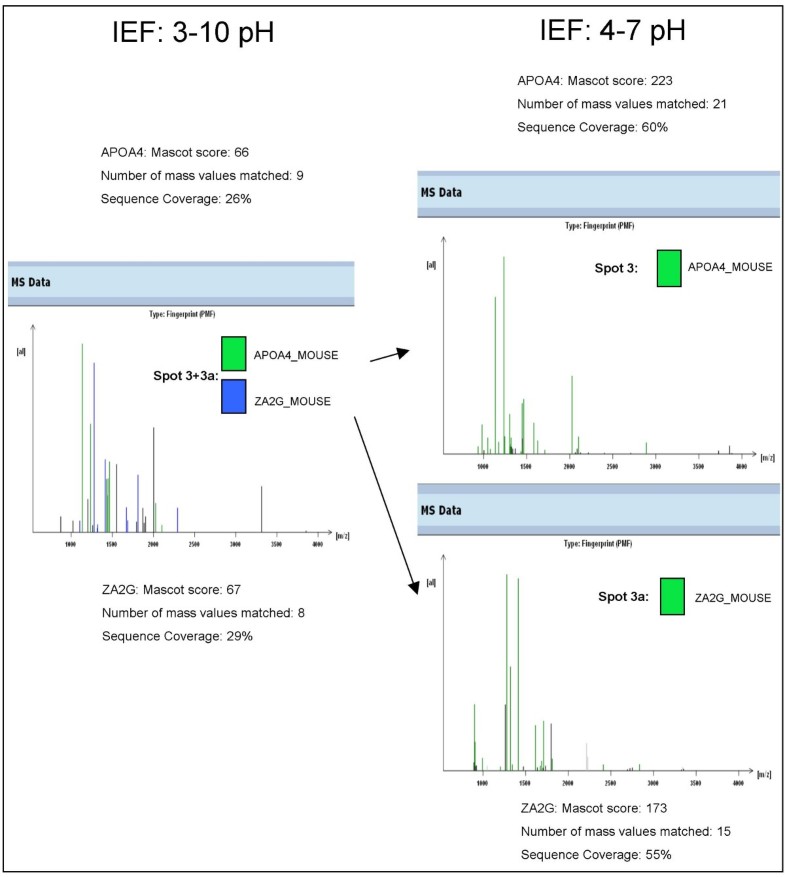 Taken collectively, we view our protocol to be useful in biomarker discovery.
List of abbreviations
ACN:

acetonitril
DTT:

dithiothreitol
IPG:

immobilized pH gradient
MALDI-TOF-MS:

Matrix Assisted Laser Desorption Ionization-Time of Flight-Mass Spectrometry
NH4HCO3 :

ammonium bicarbonate
SDS:

Sodium Dodecyl Sulfate
TCA:

trichloroacetic acid
TFA:

trifluoracetic acid
TEMED:

tetramethylenediamine.
Declarations
Acknowledgements
The authors thank Dott. Ignazio Garaguso for helpful discussions and support in MALDI MS analysis.
Authors' Affiliations
(1)
Department of Drug Research and Medical Biotechnology, Fraunhofer Institute of Toxicology and Experimental Medicine, Hanover, Germany
(2)
Centre for Pharmacology and Toxicology, Hanover Medical School, Hanover, Germany
Copyright
© Ritorto and Borlak; licensee BioMed Central Ltd. 2008
This article is published under license to BioMed Central Ltd. This is an Open Access article distributed under the terms of the Creative Commons Attribution License (http://creativecommons.org/licenses/by/2.0), which permits unrestricted use, distribution, and reproduction in any medium, provided the original work is properly cited.