Photo-affinity labeling (PAL) in chemical proteomics: a handy tool to investigate protein-protein interactions (PPIs)
Proteome Science
2017
15:14
Received: 18 April 2017
Accepted: 15 June 2017
Published: 24 June 2017
Abstract
Protein-protein interactions (PPIs) trigger a wide range of biological signaling pathways that are crucial for biomedical research and drug discovery. Various techniques have been used to study specific proteins, including affinity chromatography, activity-based probes, affinity-based probes and photo-affinity labeling (PAL). PAL has become one of the most powerful strategies to study PPIs. Traditional photocrosslinkers are used in PAL, including benzophenone, aryl azide, and diazirine. Upon photoirradiation, these photocrosslinkers (Pls) generate highly reactive species that react with adjacent molecules, resulting in a direct covalent modification. This review introduces recent examples of chemical proteomics study using PAL for PPIs.
Keywords
Photo-affinity probeProtein-protein interactionQuantitative proteomicsBenzophenoneAryl azideDiazirine
Background
The visualization and monitoring of specific proteins without disturbing their biological function is a major challenge in chemical biology [
1
,
2
]. To achieve the goals of this study, i.e., the localization and trafficking of a protein of interest (POI), researchers commonly use fluorescent labeling. This technique of genetically encoding fluorescent proteins (FPs) is broadly applied because of its intrinsic specificity [
3
,
4
]. However, this method has some limitations, specifically the size of the green fluorescent protein (GFP) (ca. 30 kDa), which is sufficient to disturb the function and localization of the POI, and the fact that FPs can oligomerize [
5
]. As an alternative to this technique, chemical tags have been developed for the POI. The chemical tag method is similar to FP tagging. Different types of chemical tags have been developed to reduce the size of the tag. These chemical tags include fluorogenic bisarsenic tags, such as green fluorescent FlAsH and red fluorescent ReAsH tags [
6
,
7
], as well as Halo-tag [
8
], SNAP-tag [
9
], CLIP-tag [
10
], BirA-tag [
11
,
12
], APEX (enhanced ascorbate peroxidase) tag [
13
], TMP-tag [
14
,
15
], His-tag [
16
–
18
]. A powerful alternative strategy to tagging is utilizing in situ photo-affinity labeling (PAL). PAL, or photocrosslinking, is a unique and emergent technique to study protein-protein interactions in the complex proteome. Upon photoirradiation, a photocrosslinking functional group generates highly reactive species that react with adjacent molecules, resulting in direct covalent modification (Table
1
) [
19
–
38
]. Since PAL can capture noncovalent interaction partners spatio-selectively, photocrosslinking agents have emerged as a critical tool to study PPIs. Despite the significance, few photocrosslinkers are currently available, including benzophenone (BP), aryl azide (AA), and diazirine (DA).
Table 1
Major reviews in the field of PAL
| Sr. No. | Title | Journal | Authors and brief description |
| --- | --- | --- | --- |
| 1 | Benzophenone Photophores in Biochemistry | Biochemistry, 1994, 33(19), 5661–5673. | Glenn D. Prestwich et al. Here they have shown the detail study of the benzophenone photochemistry. The main points discussed are, overview of the BP photochemistry, and biochemical applications of tethered BPs, Site-directed photolabelling with polypeptides containing amino acids 4-benzoylphenylalanine and related amino acids and photo-crosslinking with heterobifunctional cross-linking agents. |
| 2 | Recent Trends in Photoaffinity Labeling | Angew. Chem. Int. Ed. Engl. 1995, 34. 1296–1312. | Maurice Goeldner et al. have talked about the ligand-receptor interactions. |
| 3 | Benzophenone Photoprobes for Phosphoinositides, Peptides and Drugs | Photochemistry and Photobiology, 1997, 65(2), 222–234. | Glenn D. Prestwich et al. have discussed BP photoprobes for Phosphoinositides, Peptides and Drugs. The main headlines include: BP and BP-like photosystems, Photochemical and design considerations, Drugs, substrates and inhibitors, Peptides, nucleotides and nucleosides, Phosphoinositides. |
| 4 | Recent Progress in Diazirine-Based Photoaffinity Labeling | Eur. J. Org. Chem. 2008, 2513–2523. | Makoto Hashimoto et al. In this review authors mostly give emphasis on the PAL of diazirines mostly up to 2008. |
| 5 | Photocrosslinkers illuminate interactions in living cells | Mol. BioSyst. 2008, 4, 473–480. | Jennifer J. Kohler et al. here authors summarized the technology of cellular incorporation of photo-crosslinking amino acids and sugars becomes routine, to analyze crosslinked complexes |
| 6 | Target Identification by Diazirine Photo-Cross-Linking and Click Chemistry | Curr. Protoc. Chem. Biol., 2009, 1, 55. | Jack Taunton et al. In this book chapter authors have given insight into the development of diazirine bases PAL. |
| 7 | Proteome-wide detection of phospholipid-protein interactions in mitochondria by photocrosslinking and click chemistry | Mol. BioSyst., 2010, 6, 1751–1759. | Anton I. P. M. de Kroon et al. Here they summarize phospholipid-protein interactions in mitochondria by photocrosslinking and click chemistry. |
| 8 | Probing small molecule-protein interactions: A new perspective for functional proteomics | Journal of Proteomics, 2011, 75, 100–115. | Mathias Dreger et al. have summarized, probe designs, workflows, and published applications of the three dominant approaches in the field, namely affinity pull-down, activity-based protein profiling, and Capture Compound Mass Spectrometry. |
| 9 | Aliphatic Diazirines as Photoaffinity Probes for Proteins: Recent Developments | Chem. Rev. 2011, 111, 4405–4417. | Joydip Das gave the detail summary in the development of aliphatic diazirines. |
| 10 | Diazirine based photoaffinity labeling | Bioorg. Med. Chem. 2012, 20, 554–570. | M. Meijler et al. reviewed recent advances in the use of diazirines in photoaffinity labeling till 2012. |
| 11 | Recent Advances in Target Characterization and Identification by Photoaffinity Probes | Molecules, 2013, 18, 10425–10451. | Sang J. Chung et al. In this review authors have summarized most of the photoaffinity probes till 2013. |
| 12 | Photo-induced covalent cross-linking for the analysis of biomolecular interactions | Chem. Soc. Rev., 2013, 42, 3289–3301. | Andrew J. Wilson et al. In this review authors have summarized wide range of PAL functionalities involving the covalent cross-linking of biomolecules with the affinity tags. |
| 13 | From noncovalent to covalent bonds: a paradigm shift in target protein identification | Mol. BioSyst., 2013, 9, 544–550. | S B Park et al. have talked about different techniques to identify the target. These techniques include, Affinity-based target identification, Chemo-reactive group-based target identification, Photo reactive group-based target identification and FITGE-based target identification. |
| 14 | Photoactivatable Lipid Probes for Studying Biomembranes by Photoaffinity Labeling | Chem. Rev. 2013, 113, 7880–7929. | Ling Peng et al. have summarized Lipid Probes with Different Reactive Species for Photolabelling. |
| 15 | Photocrosslinking approaches to interactome mapping | Current Opinion in Chemical Biology 2013, 17, 90–101 | Jennifer J Kohler et al. here authors have discussed the application of cell-based photocrosslinking to the study of specific problems in immune cell signaling, transcription, membrane protein dynamics, nucleocytoplasmic transport, and chaperone-assisted protein folding. |
| 16 | Diazirine-based multifunctional photo-probes for Affinity-based elucidation of protein-ligand interaction | Heterocycles 2014, 89 (12), 2697–2727. | Yasumaru Hatanaka et al. have reviewed reflects recent achievements in the chemistry and biological use of the diazirine based PAL reagents. |
| 17 | Photoaffinity labeling in target and binding-site identification | Future Med. Chem. 2015, 7(2), 159–183. | Ian Collins et al. have summarized the principles of PAL including probe design and experimental techniques for in vitro and live cell investigations. |
| 18 | Photoaffinity Probes for Identification of Carbohydrate-Binding Proteins | Asian J. Org. Chem. 2015, 4, 116–126. | Kaori Sakurai has mentioned the PAL for identification carbohydrate-binding proteins. |
| 19 | Genetically Encoded Photocrosslinkers for Identifying and Mapping Protein-Protein Interactions in Living Cells | IUBMB life, 2016, 68(11), 879–886. | Peng R. Chen et al. have reviewed photo-affinity unnatural amino acids that can be site-specifically incorporated into a protein of interest to covalently trap non-covalent PPIs under living conditions. |
| 20 | The Life of Pi Star: Exploring the Exciting and Forbidden Worlds of the Benzophenone Photophore | Chem. Rev. 2016, 116, 15284–15398. | Gyorgy Dormán et al. have reviewed, the "forbidden" (transitions) and excitation-activated world of photoinduced covalent attachment of BP photophores. |
Mode of action of PAL
PAL was developed by Westheimer et al. in 1962 [
39
]. Since its development, different types of photocrosslinkers have emerged as potential photocrosslinkers. These photocrosslinkers are mainly divided into three photoreactive groups: BPs, DAs, and AAs. Upon photoirradiation, these groups generate reactive intermediates to establish a covalent modification with the POI (Fig.
1
).


Benzophenone
BP was introduced as a photocrosslinker in the 1970s and has since become the most popular photocrosslinker because it is more selective and has high affinity towards methionine. BP is converted into an active diradical upon activation by relatively long (350–365 nm) wavelengths. Early work demonstrated that BP was more suitable for biological applications than other simple aryl ketones (e.g., acetophenones) because the conditions required for photolysis are less damaging to the protein primary structure. BP generates a triplet ketyl biradical that can react with protein functional groups via a sequential abstraction–recombination mechanism.
Aryl azide
AAs crosslink through a reactive species called nitrene, which is formed by a loss of N2 upon photoirradiation with wavelengths ranging between 254 and 400 nm. Nitrene can react with neighboring C–H and heteroatom–H bonds, forming a new covalently bonded product. AAs are chemically stable and has superior photophysical properties than its corresponding alkyl and acyl partners.
Diazirine
Trifluoromethyl phenyl DAs and alkyl DAs can both generate the reactive species called carbene via loss of N2 upon photoirradiation at 350 nm. This active species is very reactive and can be inserted into neighboring C–H or heteroatom–H bonds to form a covalent adduct. Additionally, the generated carbene has a typical half-life in the nanosecond range and can react very quickly. DAs and their diazo isomers both have the capacity to generate the reactive species carbene via the irreversible loss of N2.
Among these three photocrosslinkers, BP has the discrete property of repeated photoactivation to form diradicals, but same are not found in the case of the conversion of AAs to nitrenes and DAs to carbenes. This could be the main reason for the increased crosslinking efficiency of BP compared with AA and DA by prolonged UV irradiation.
Benzophenone-based probes to study PPI
BP was first introduced by Printz et al. in 1974 as an effective functional group for PAL, wherein they presented the ability of BP to photocrosslink with glycine [40].
To study PPI in vitro and in vivo, Peter G. Schultz et al. [41, 42] developed photo-affinity-based genetically encoded amino acids (Fig. 2). They selected BP as the photocrosslinker as it is supposed to be the most useful PAL group in biology. They described the pair of aminoacyl-tRNA synthetase and tRNA, which can be used to incorporate p-benzoyl-L-phenylalanine into proteins in Escherichia coli in response to the amber codon, TAG. This unnatural amino acid was easily incorporated into the dimeric protein glutathione S-transferase with high translational efficiency and fidelity. Upon photoirradiation, efficient crosslinking was observed in >50% of the protein subunits. This technology was proved to be useful to study PPI in vitro and in vivo. A similar approach was proposed by Jason W. Chin et al. [43], who demonstrated facile and site-specific incorporation of the photocrosslinking amino acid pBpa into proteins of any length. Stuart Licht et al. [44] developed an activity-based protein profiling probe (ABPP) for the nicotinic acetylcholine receptor. They designed the probe as a candidate ABPP probe, named BPyneTEA (BP-alkyne-triethylammonium). This probe has the ability to bind to open or closed nAChRs for state-dependent binding and photolabeling of nAChRs along with BP for photoirradiation. This Bpa-based technology was further studied by Angela Wittelsberger's group [45], who demonstrated that distance restraints based on photo-affinity crosslinking using Bpa (p-benzoylphenylalanine) must be applied to ligand-receptor systems with full knowledge of the limitations and potential drawbacks. They suggested that a distance restraint of at least 10 A° is vital due to the characteristic properties, including its size, physicochemical properties, and conformational flexibility. The Bpa-based technology should be applied to investigate ligand-receptor systems to gain insight into general landmarks and key contact regions.
In addition to this approach, the same group [56] used the PAL with BP to profile proteins to recognize post-translationally modified histone "tails". They used the protein structure to guide the design of the peptide probes used for irreversible covalent linkages through photocrosslinking. The photocrosslinking groups were incorporated to perturb PPIs. The PAL probe also contained an alkyne handle for "click" chemistry-mediated conjugation of reporter tags for the rapid and sensitive detection (via rhodamine) or affinity enrichment (via biotin) of labeled proteins. To evaluate their approach, the authors prepared an affinity handle by trimethylation of lysine-4 of histone H3 (H3K4me3), an evolutionarily conserved and well-characterized PTM at the N-terminal region of the histone. In combination with their approach using mass spectrometry, they profiled proteins for recognition of histone modifications. This approach could be used to identify the "readers" of combinatorial modifications linked to specific biological states (e.g., lysine-9 trimethyl and phosphorylated ser-10 of histone-3 during mitosis). Additionally, this methodology can be extended to identify the proteins that recognize other PTMs, particularly when these modifications are dynamic or are mediators of weak interactions (Fig. 12a-c).
Diazirine-based probes
The small size of DA makes this PL special because it can be incorporated very close to the active site. The ultimate effect is increased photocrosslinking efficiency compared with other PLs. Different types of DA-based probes have been developed using different approaches to PAL. These probes are reviewed below.
Tetrazole-based probes as PAL reagents
Qing Lin designed tetrazole reagents [
109
] that can be activated using a biocompatible light source (Fig.
42
left). The main features of the design are the robustness, genetically encodable alkene reporters, and the improved understanding of the reaction mechanism. Additionally, they reported that tetrazole-alkene photoclick chemistry could play a major role as a reactivity-based tool in biological systems. They outlined the recent developments in the optimization of 'photoclick chemistry'. The points they considered are the need for a substrate that offers two-photon photoactivatability, superior reaction kinetics, and/or genetic encodability to study the reaction mechanism. Additionally, they demonstrated the application of photoclick chemistry in in vitro and in vivo protein labeling, as well as in preparing 'smart' hydrogels for 3D cell culture. The potential applications of photoclick chemistry may include multiplexed analysis of glycan dynamics with tetrazole ligation. Furthermore, the inherent 'turn-on' fluorescence property makes photoclick chemistry useful for 'no-wash' fluorescent labeling.

In continuation of their primary investigation of tetrazole as a photocrosslinker, the researchers developed a novel PAL reagent, called 2‑Aryl-5-carboxytetrazole (ACT) [110], for drug target identification (Fig. 42 Right). They reported a unique mechanism of this ACT probe, in which the photogenerated carboxynitrile imine reacts with a proximal nucleophile near the target active site. In contrast, traditional photocrosslinkers work through nonspecific C − H/X − H bond insertion reactions with the POI via a highly reactive intermediate. As a proof-of-concept study, they selected dasatinib and JQ-1 as the desired targets. Compared with the most commonly used PAL reagents, such as DA and BP, ACT showed high photocrosslinking yields toward their protein targets in vitro based on mass spectrometry analysis. In the in situ target identification studies, ACT successfully captured the desired targets with an efficiency comparable to that of DA.
Shao Q. Yao et al. recently studied tetrazole photoclick chemistry for PAL [
111
]. As in previous studies, they addressed photolysis of a tetrazole that generates a highly reactive nitrile imine, which undergoes rapid nucleophilic reaction with neighboring nucleophiles in a biological system. They also reported the expected cycloaddition with alkenes. To validate the application of the tetrazole photoclick reaction, different probes were synthesized based on BODIPY and Acedan dyes (Fig.
43
). The researchers used fluorescent dyes conjugated with tetrazole to study novel photocrosslinkers with one- and two-photon fluorescence turn-on properties that were developed into protein-detecting biosensors. The no-wash imaging of the endogenous kinase activity was the reason behind the use of the fluorescent dyes. The authors are hopeful that this novel approach will find a wide range of applications in chemical biology to study PPIs.

Quantitative proteomics to study protein-protein interactions
Quantitative proteomics is the differential study of the abundance of proteins from distinct biological samples. Absolute proteomic quantification utilizes standard peptides of series concentrations. The spectral counts of the target peptide in the sample were compared to the known concentration standard peptide to calculate absolute concentration. On the other hands, relative quantification can be performed by comparisons of spectral counts among the samples. In label-free quantification, the proteins from two different samples are separately analyzed by MS and compared with respect to the spectral counting and peak intensities to determine the protein quantities in the samples (Fig.
44a
). However, the drawback of this approach is the lack of internal standards.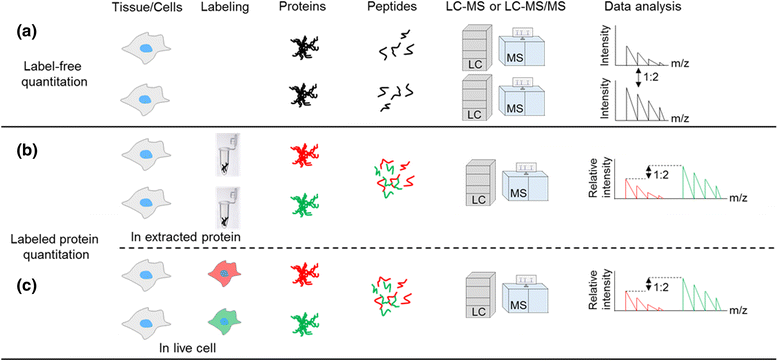 Chemical tag labeling for relative quantitation, such as isotope-coded affinity tags (ICAT), is one strategy to improve proteome-wide quantitation by labeling the samples with MS isotopes to distinguish proteins from different samples (Fig. 44b) [112, 113]. Since the first report of ICAT, similar tagging approaches has been further developed, include tandem mass tags (TMTs) [114], isobaric tags for relative and absolute quantification (iTRAQ) [115], and dimethyl labeling [116, 117]. ICAT mainly uses two reagents with heavy and light isotopes in two different samples to label whole proteomes. The most commonly used isotopes are carbon (13C6/12C6), hydrogen (2H1/1H1), oxygen (18O8/16O8), nitrogen (15N7/14N7), iodine (127I53/126I53). The extracted proteomes from the samples are digested, and isotopes are incorporated into the digested peptides to produce a known mass shift in the MS. Differentially labeled samples are combined, and the differences in the mass peaks of the isotopes are analyzed to reflect the differences in the abundance of the corresponding proteins. The labeling approach is the most diverse due to the covalent chemical labeling [118].
An alternative labeling strategy for quantitative proteomics is the use of stable isotope labeling by/with amino acids in cell culture (SILAC) [119–122], which facilitates the labeling of the protein when it is synthesized in the cell (Fig. 44c) [123]. In this method, mammalian cells are maintained in a growth medium, which contains non-radioactive and isotopically labeled form of amino acids [124]. Double-labeling is also conceivable to ensure the almost ideal labeling of all peptides, for example Arg/Lys (12C6/13C6-arginine/12C6/13C6-lysine) [121].
By applying these quantitative proteomics techniques, photo-affinity tags can lead to the discoveries of unknown PPI or small molecule's off-targets. To maximize the merit of photo-affinity labeling in intact endogenous condition, it should be emphasized to design quantitative proteomic experiment carefully to obtain valid interactions.
Conclusions
The main objective of this review is to present a detailed description of protein-protein interactions using photo-affinity labeling. In this review, we try to cover most of the recently developed PAL agents. The PAL agents are mainly based on diazirine (alkyl and aryl), aryl azide and benzophenone as photocrosslinkers. For the detailed study and ease of reading the article, we have divided the article into different classes based on the PLs. The main outcome that we want to emphasize is that there is no universal PL scaffold. Many researchers have used different PLs for detailed investigations, and each researcher has identified a different PL as the best, possibly because each PL has its own distinct properties and the superiority of a PL depends upon the POI. Several research group have found that the size and flexibility of the PL are important criteria; the smaller the size is, the better the PL. In this regard, most of the studies report that DA is better than the others as it is very easy to incorporate DA-based probes near the active site. Another research groups have found that the chain length of the PL from the fluorophore is an important factor. Additionally, some studies have found that the shape of the linker matters, as branched chains are better than linear chains. It is also found that the abundance of the POI is another factor to consider when they choose the PL. In some cases, the wavelength required for photocrosslinking also makes a difference, e.g., in the case of DA, the wavelength is longer than that of AA; thus DA performed better than AA as it was less damaging to the POI. Probes with more than one PL in their structure (multivalent probes) are more useful photoprobes than those with only one PL with respect to photocrosslinking efficiency. Based on these case studies, it is recommended to examine series of photo-crosslinkers for each study to identify relevant PPI, and there is no universal tool to investigate endogenous PPI at this moment. It is also noteworthy that proper quantitative proteomic technique should be incorporated with PAL for successful intact PPI research. Careful selection of quantitative proteomic profiling together with PAL screening may lead to the discoveries of new biomarkers and novel therapeutic pathways.
Abbreviations
2-DE:

2-dimensional gel electrophoresis
AA:

Aryl azide
ABBP:

Activity-based protein profiling
BP:

Benzophenone
Bpa:

p-benzoylphenylalanine
DA:

Diazirine
GFP:

Green fluorescence protein
ICAT:

Isotope-coded affinity tags
iTRAQ:

Isobaric tag for relative and absolute quantification
LC-MS:

Liquid chromatography/mass spectrometry
PAL:

Photo-affinity labeling
Pls:

Photocrosslinkers
POI:

Protein of interest
PPI:

Protein-protein interaction
PPI:

Protein-protein interactions
PTM:

Post-translational modification
SILAC:

Stable isotope labeling by/with amino acids in cell culture
TMT:

Tandem mass tag
TPD:

Trifluoromethylphenyl DA
Declarations
Acknowledgments
This work was supported by intramural funding from KIST (2E26632/2E26110, CAP-16-02-KIST) and the Bio & Medical Technology Development Program of the National Research Foundation funded by the Ministry of Science, ICT & Future Planning (NRF-2016M3A9B6902060). Dr. Murale is supported by Korea Research Fellowship Program through the National Research Foundation of Korea (NRF) funded by the Ministry of Science, ICT and Future Planning (2015H1D3A1036045).
Funding
'Not applicable'.
Availability of data and materials
'Not applicable'.
Authors' contributions
All authors read and approved the final manuscript.
Competing interests
The authors declare that they have no competing interests.
Consent for publication
'Not applicable'.
Ethics approval and consent to participate
'Not applicable'.
Publisher's Note
Springer Nature remains neutral with regard to jurisdictional claims in published maps and institutional affiliations.
Open AccessThis article is distributed under the terms of the Creative Commons Attribution 4.0 International License (http://creativecommons.org/licenses/by/4.0/), which permits unrestricted use, distribution, and reproduction in any medium, provided you give appropriate credit to the original author(s) and the source, provide a link to the Creative Commons license, and indicate if changes were made. The Creative Commons Public Domain Dedication waiver (http://creativecommons.org/publicdomain/zero/1.0/) applies to the data made available in this article, unless otherwise stated.
Authors' Affiliations
(1)
Molecular Recognition Research Center, Korea Institute of Science and Technology, Seoul, Republic of Korea
(2)
Department of Biological Chemistry, KIST-School UST, Seoul, Republic of Korea