Brain region specific mitophagy capacity could contribute to selective neuronal vulnerability in Parkinson's disease
Received: 25 May 2011
Accepted: 23 September 2011
Published: 23 September 2011
Abstract
Parkinson's disease (PD) is histologically well defined by its characteristic degeneration of dopaminergic neurons in the substantia nigra pars compacta. Remarkably, divergent PD-related mutations can generate comparable brain region specific pathologies. This indicates that some intrinsic region-specificity respecting differential neuron vulnerability exists, which codetermines the disease progression. To gain insight into the pathomechanism of PD, we investigated protein expression and protein oxidation patterns of three different brain regions in a PD mouse model, the PINK1 knockout mice (PINK1-KO), in comparison to wild type control mice. The dysfunction of PINK1 presumably affects mitochondrial turnover by disturbing mitochondrial autophagic pathways. The three brain regions investigated are the midbrain, which is the location of substantia nigra; striatum, the major efferent region of substantia nigra; and cerebral cortex, which is more distal to PD pathology. In all three regions, mitochondrial proteins responsible for energy metabolism and membrane potential were significantly altered in the PINK1-KO mice, but with very different region specific accents in terms of up/down-regulations. This suggests that disturbed mitophagy presumably induced by PINK1 knockout has heterogeneous impacts on different brain regions. Specifically, the midbrain tissue seems to be most severely hit by defective mitochondrial turnover, whereas cortex and striatum could compensate for mitophagy nonfunction by feedback stimulation of other catabolic programs. In addition, cerebral cortex tissues showed the mildest level of protein oxidation in both PINK1-KO and wild type mice, indicating either a better oxidative protection or less reactive oxygen species (ROS) pressure in this brain region. Ultra-structural histological examination in normal mouse brain revealed higher incidences of mitophagy vacuoles in cerebral cortex than in striatum and substantia nigra. Taken together, the delicate balance between oxidative protection and mitophagy capacity in different brain regions could contribute to brain region-specific pathological patterns in PD.
Keywords
Parkinson's diseasemitophagyproteomicsPINK12DE
1 Introduction
Parkinson's disease (PD) is one of the most common neurodegenerative disorders in the elderly [1]. Approximately 4% of the population beyond age 65 years is affected by PD. An important clinical symptom of PD is impaired motor function manifested by resting tremor, rigidity, bradykinesia and postural instability [2]. One hallmark of PD is the selective degeneration of dopaminergic neurons in the substantia nigra pars compacta, one of the most important dopaminergic brain regions. Other brain regions, for instance cerebral cortex, are only affected in much advanced disease stages [3].
Although over 95% of the PD cases lack clear familial background [4], several recessive genetic mutations showing Mendelian inheritance pattern can lead to familial PD cases that demonstrate significant clinical overlaps with sporadic PD [5, 6]. Such genetic hotspots include PARK2 (Parkin), PINK1, DJ-1, UCHL1, LRRK2 (leucine-rich repeat kinase 2) and PARK1 (alpha-synuclein) [4]. Most remarkably, all these very distinct mutations can generate rather indistinguishable PD pathology respecting brain region specific neuron loss. Moreover, several oxidative stress inducers such as MPTP (1-Methyl-4-phenyl-1, 2, 3, 6-tetrahydropyridin), 6-hydroxydopamine (6-OHDA) or paraquat, can faithfully reproduce comparable neuronal death pattern similar to that observed in PD [7–9]. This indicates that some intrinsic brain structural dynamics set the tune in PD progression.
Different hypotheses exist regarding this selective cell loss in PD, which refer to region specific neurotransmitter synthesis, neuromelanin formation or the divergent presence of neurotoxic substances [10, 11]. Recently, it has become clear that mitochondrial dysfunction and oxidative damage represent a convergence point for PD and other neurodegenerative conditions [12]. In this respect, mutations in two familiar PD related genes, PARK2 (encoding Parkin) and PINK1 are both involved in the mitochondrial quality control machinery termed mitochondrial autophagy (also called mitophagy) [4, 13]. However, this makes even more peculiar why such ubiquitously present mutations can lead to PD-specific selective neuron loss.
Based on the rationale that brain region specificity could be intensively monitored via differential protein expression profiles, we conducted an in-depth proteomic study in a PD mouse model, the PINK1 knockout mice (PINK1-KO) [4, 14, 15]. Our aim was to clarify the mechanism underlying the PD brain region specificity. PINK1, or PTEN-induced kinase 1, encodes a mitochondrial located kinase, the mutation of which shows high penetrance to early-onset PD [16–18]. Recently, its mode-of-action was elucidated in its involvement of mitophagy [19, 20]. In our previous communication, we showed that the loss-of-function mutation of PINK1 leads to brain mitochondrial dysfunction and heightened susceptibility of neurons to oxidative stress [21]. Here, we analyzed the PINK1-KO mouse model by a two-dimensional difference gel electrophoresis (2D-DIGE) based approach to determine protein expression alterations in three distinct brain regions: the midbrain, which is the location of substantia nigra, the striatum, which is the major efferent region of substantia nigra, and the cerebral cortex, which is more distal, and thus less relevant to PD pathology. In addition, we used an immunostaining methodology to investigate the protein oxidation profiles in these different brain regions. Our results suggest that possibly, the differential mitophagy and oxidative protection capacity in different brain regions could contribute to region-specific neuronal death patterns in PD pathology.
4 Discussion
The manifestation of Parkinson's disease (PD) is initiated by a selective loss of dopaminergic neurons in the substantia nigra pars compacta (SN), a core complex in the midbrain. As dopamine is physiologically transported from the substantia nigra to the striatum by dopaminergic projections, this leads to a lack of dopamine in the striatum, which in turn causes prominent motor function disturbances [1]. In a sense, understanding of the selective vulnerability of dopamine neuron in substantia nigra could shed light on potential clues for PD therapeutic concept.
Emerging evidences have been strengthening the link between the integrity of the neuronal mitochondria to PD. Here, mitophagy, a form of autophagy for selective degradation of defective mitochondria represent one of the key aspects [
33
,
34
]. As a major player in mitophagy mechanism, PINK1 is a mitochondrial protein kinase with its enzymatic domain facing the cytosol [
14
]. According to the hypotheses of Narendra and others, expression of PINK1 on individual mitochondria is negatively regulated by Vdac1-dependent proteolysis to maintain low levels of PINK1 protein on intact mitochondria (Figure
5
, left). Loss of mitochondrial membrane potential, characterized by the Vdac1-downregulation, leads to the accumulation of PINK1 on mitochondria. This gives Parkin the signal to recruit the PINK1-flagged mitochondria to autophagosome for degradation (Figure
5
) [
20
,
35
].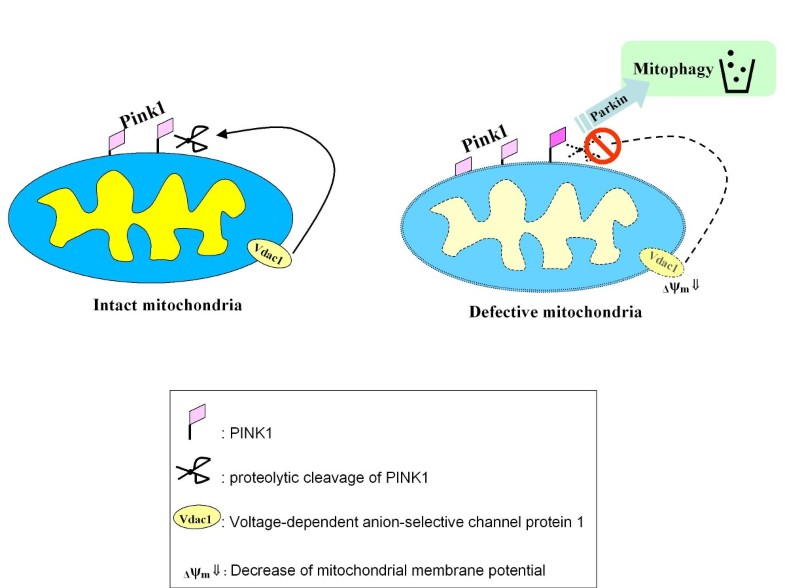 As typical post-mitotic cells, the neurons cannot distribute their damaged components to daughter cells, whereas cell death is unfavorable regarding tissue function [36]. This unique aspect of the neuron makes the finding of mitophagy-based cellular maintenance especially revealing concerning brain function perseverance [33]. Nevertheless, question remains regarding the formation of brain region specific neuronal loss in PD. With our current experimental setup, we aimed to interrogate the possible link between mitophagy functionality and the selective neuronal vulnerability in PD.
Among the available Parkinson's disease animal models, the mouse model with a loss-of-function mutation in PINK1 offers the most obvious link between mitophagy dysfunction and PD [21]. Unlike some other PD mouse models, the PINK1-KO mouse does not show dopaminergic neuron death. This was mirrored in our study by a missing observation of difference of oxidized protein levels in PINK1-KO in comparison to control. However, previous works have shown that loss of PINK1 causes clear-cut mitochondrial dysfunction and increased sensitivity of the neurons to oxidative stress, presumably through the blockage of mitophagy [21]. In the current study, different extents of proteomic shift was observed in different brain regions of our PD model, the PINK1-KO mice, with very little overlaps of protein expression alterations among brain regions. This reiterates the issue of brain region specificity in PD progression. Specifically, midbrain of PINK1-KO mice showed the highest number of non-redundant protein alterations. This correlates well with the higher vulnerability of this brain region that is specific for PD pathology.
Furthermore, our protein functional categorizations showed that there were significant down regulations of diverse mitochondrial energy metabolism pathways in the midbrain upon PINK1-KO (glycolysis, gluconeogenesis, pentose pathway, Krebs cycle, respiratory chain function). Lowered energy level can be considered as a general correlate to the accumulation of depolarized mitochondria, which is again associated with heightened oxidative stress [31, 37].
We next investigated the oxidative protein damage patterns in three distinct brain regions with and without PINK1-KO. Our redox proteomic analysis showed that the cortex tissue was subjected to less extent of overall protein oxidative damage at both basal (wild type) and dynamic (under PINK1-KO) level: On the one hand, the Oxyblot staining experiments demonstrated minor extent of oxidative damage in the cortex tissue irrespective to the transgene. On the other hand, higher oxidative defense in cerebral cortex region was mirrored by the up-regulation of antioxidant-related proteins in our PD mouse model (glutathione synthetase and peroxiredoxin 1). Gluthatione is considered as the most important intracellular antioxidant. Upon the lack of glutathion, highly toxic hydroxyl radicals (OH·) will be generated though Fenton reaction. In sequence with this, the feedback up-regulation of glutathione synthetase has been considered as one of the earliest detectable changes in presymptomatic PD development [38]. Under the insult of PINK1-KO, higher expression of the oxidative protection protein glutathione synthetase was observed in cortex and striatum tissues of the PINK1-KO mice. Importantly, such phenomenon was not observed in midbrain tissues. Together, our results suggest that cortex, and to a lesser extent striatum, could be better protected against oxidative damage.
Most intrinsically, the observed drastically reduced Vdac1 protein level in midbrain tissue of the PINK1-KO mice offer us signs of the loss of mitochondrial membrane potential in the midbrain of PINK1-KO mice. Remarkably, this phenomenon was absent in striatum, whereas an up-regulation of Vdac1 proteins was observed in cortex tissue under PINK1-KO, which could indicate certain compensation mechanism in cortex tissues upon PINK1-KO. Drastically reduced Vdac1 protein level in midbrain tissue of the PD mouse model could reflect the brain region specific depolarization of mitochondria in PINK1-KO mice. Although such speculation would need direct investigations on mitochondrial membrane potential, this could suggest that mitophagy dysfunction induced by PINK1-KO led to a severe accumulation of non-potentiated mitochondria predominantly in the midbrain tissue [39].
To test this hypothesis of "built-in" brain-region specific mitophagy capacity in mouse, we conducted an electron microscopy study on wild type mice. Here, the normal mouse cortex tissue showed a 60% higher occurrence of mitophagic vacuoles compared to substantia nigra, whereas the amount of mitophagic vacuoles in striatum was comparable to that of substantia nigra. Even more notably, SN indeed contained intrinsically higher number of defective mitochondria in comparison to striatum. These observations ultimately validate the intrinsic differential mitophagic capacity in different brain regions.
The fact that PINK1 knockout induced mitophagy disturbance did not adversely influence the cortex and striatum tissues in terms of mitochondrial energy metabolism suggests some compensatory mechanism regarding cellular maintenance. In this respect, recent reports showed that autophagy and ubiquitination/proteasome pathways are two closely interwired cellular catabolic machineries [40, 41]. We observed that two ubiqitination-related proteins were up-regulated in cortex and striatum tissues after PINK1-KO-induced mitophagy dysfunction. This implies that cortex and striatum tissues were able to respond to the mitophagy failure by stimulating the ubiquitin pathway as alternative catabolic mechanism, whereas midbrain did not. In the same scenario, the heat shock protein 70 (Hspa8), an important mediator of chaperone-mediated autophagy, was significantly up-regulated in cortex tissue, but not in striatum or midbrain under PINK1-KO. Together, this prompted us to suspect that the cerebral cortex tissue can compensate for mitophagic failure by stimulation of alternative catabolic process to rid the cell from oxidized proteins. Such capability could have increased the robustness of cortex tissue against oxidative damage.
In summary, using the PINK-KO mouse as a model, our hypothesis advanced in this work is that selective neuron vulnerability in Parkinson's disease could be co-determined by differential mitophagy capacity, differential oxidative protection, as well as differential feedback stimulation of alternative catabolic mechanisms in distinct brain regions. Our 2D-DIGE based study provides a starting point towards such advanced hypothesis, which will need to be scrutinized by subsequent investigations on mitochondrial membrane potential, metabolism functions and most importantly, direct studies on comprehensive mitotophagy pathway.
Abbreviations
2DE:

two-dimensional protein electrophoresis
2D-DIGE:

two dimensional difference gel electrophoresis
KO:

knock out mouse model
PD:

Parkinson's disease
SEM:

standard error of mean
SN:

substantia nigra.
Declarations
Acknowledgements
We acknowledge the excellent technical supports of Bettina Esch, Marion Herrmann and Janine Stuwe for 2D electrophoresis, Petra Schrade for electron microscopy and Sandra Techritz for immunonoblotting. This work was supported by grants from the DFG Graduate School GK754, DFG research grant KL237/12 and the European Union grand 37627 "AnEUploidy".
Authors' Affiliations
(1)
Institute for Medical Genetics and Human Genetics, Charité Universitätsmedizin Berlin, Berlin, Germany
(2)
Center for Neurologic Diseases, Brigham and Women's Hospital, Program in Neuroscience, Harvard Medical School, Boston, USA
Copyright
© Diedrich et al; licensee BioMed Central Ltd. 2011
This article is published under license to BioMed Central Ltd. This is an Open Access article distributed under the terms of the Creative Commons Attribution License (http://creativecommons.org/licenses/by/2.0), which permits unrestricted use, distribution, and reproduction in any medium, provided the original work is properly cited.